Resume / Site
15 Admirable jQuery Gallery Tutorial. Home » Bizarre » 15 Admirable jQuery Gallery Tutorial How to add Slideshow to jQuery lightbox plugin jQuery image slider and jQuery Carousel solutions have become an increasingly common ingredient in web pages over the last year or so.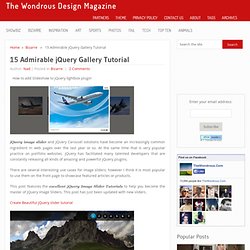 At the same time that is very popular practice on portfolio websites. jQuery has facilitated many talented developers that are constantly releasing all kinds of amazing and powerful jQuery plugins. There are several interesting use cases for image sliders; however I think it is most popular to use them on the front page to showcase featured articles or products. This post features the excellent jQuery Image Slider Tutorials to help you become the master of jQuery Image Sliders. Papa Sangre. Karate Club: Broken. Great Resume Designs that Catch Attention–and Got People Hired.
Inspiration June 21, 2011 When applying for a job, you have no choice but to do your best to outshine competition.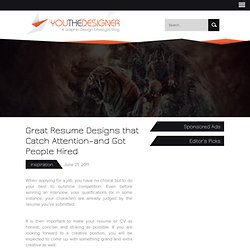 Even before winning an interview, your qualifications (or in some instance, your character) are already judged by the resume you've submitted. Prismgirl. Monki World.
---