Inspire. <3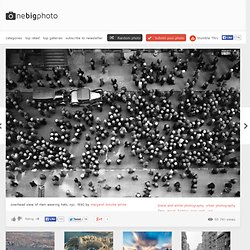 overhead view of men wearing hats, nyc, 1930 photo
Random photo Submit your photo Stumble Thru black and white photography, urban photography Tags: aerial
zoomquilt2.madmindworx.com/zoomquilt2.swf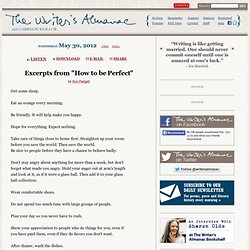 Excerpts from "How to be Perfect" by Ron Padgett
Share Get some sleep. Eat an orange every morning. Be friendly. It will help make you happy. Hope for everything.
www.tinymediaempire.com
Awesome Rooms « JinSpiration
Wind - Poem by Ted Hughes
This house has been far out at sea all night,The woods crashing through darkness, the booming hills,Winds stampeding the fields under the windowFloundering black astride and blinding wet Till day rose; then under an orange skyThe hills had new places, and wind wieldedBlade-light, luminous black and emerald,Flexing like the lens of a mad eye. At noon I scaled along the house-side as far asThe coal-house door.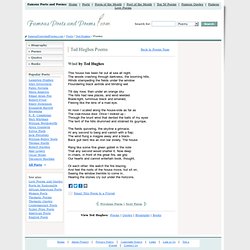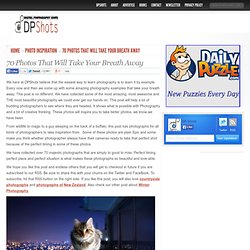 We here at DPShots believe that the easiest way to learn photography is to learn it by example. Every now and then we come up with some amazing photography examples that take your breath away. This post is no different. We have collected some of the most amazing, most awesome and THE most beautiful photography we could ever get our hands on. This post will help a lot of budding photographers to see where they are headed. It shows what is possible with Photography and a bit of creative thinking.
70 Photos That Will Take Your Breath Away
55 incredible examples of photo manipulation
The Top 75 'Pictures of the Day' for 2012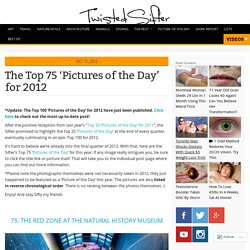 Oct 17, 2012 *Update: The Top 100 'Pictures of the Day' for 2012 have just been published. Click here to check out the most up-to-date post! After the positive reception from last year's "Top 50 'Pictures of the Day' for 2011", the Sifter promised to highlight the top 25 'Pictures of the Day' at the end of every quarter, eventually culminating in an epic Top 100 for 2012.
Cole Rise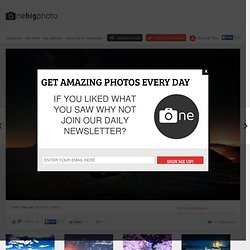 Random photo Submit your photo Stumble Thru nature photography Tags:
under the stars photo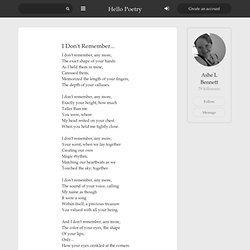 I don't remember, any more, The exact shape of your handsAs I held them in mine, Caressed them, Memorized the length of your fingers, The depth of your calluses. I don't remember, any more,Exactly your height, how muchTaller than meYou were, whereMy head rested on your chestWhen you held me tightly close. I don't remember, any more, Your scent, when we lay togetherCreating our ownMagic rhythm, Matching our heartbeats as weTouched the sky, together. I don't remember, any more, The sound of your voice, calling My name as thoughIt were a song Within itself, a precious treasure You valued with all your being.
I Don't Remember... by Ash L Bennett
post written by: Marc Chernoff Email These questions have no right or wrong answers. Because sometimes asking the right questions is the answer.
50 Questions That Will Free Your Mind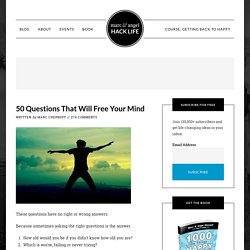 Pick Chur
Thom Byxbe is Publisher and Editor of Concepts, Ideas, Thoughts & Bullsh!t He is based in Southwest Detroit, MI, and is a Knowledge Evangelist, Futurist, National Speaker, Author, Entrepreneur, Coach and Expert Blogger. Thom has been a respected author for over 15 years. He has written extensively on the Internet, Technology and Lifestyle topics.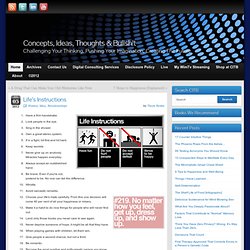 Life's Instructions » Concepts, Ideas, Thoughts & Bullsh!t | Concepts, Ideas, Thoughts & Bullsh!t
PoemHunter.Com - Thousands of poems and poets. Poetry Search Engine
Home
G A L L E R Y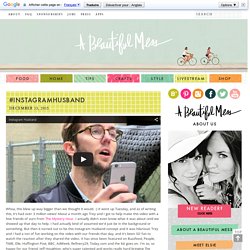 A Beautiful Mess
Here in southern Missouri, where we live, spring is tormenting us. One day it's nice and warm; you could totally wear sandals and no jacket at all (which excites me as I LOVE sandals). The next day it's cold, and I find myself pulling my coat back out of the closet. Also, one of my brulees got a little too toasty. Guess which one? I tend to do that to my first one almost every time.
The Art of Complex Problem Solving
Little Inspiration to keep rolling | Funny Pictures, Funny Images, Funny Quotes
The Art of Paul Kuczynski
Emily Carroll | Comics
Welcome to Poetry 180. Poetry can and should be an important part of our daily lives. Poems can inspire and make us think about what it means to be a member of the human race. By just spending a few minutes reading a poem each day, new worlds can be revealed.
Poetry 180 - Home Page
tickshady.com :: Home
Sometimes All You Need Is A Little Inspiration to Keep Rolling