Recipes
Pesto Zucchini "Spaghetti" You may have guessed that those "noodles" aren't really pasta, but julienned zucchini.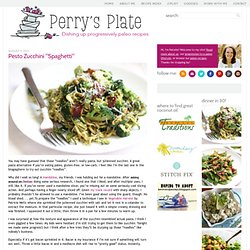 A great pasta alternative if you're eating paleo, gluten-free, or low-carb. I feel like I'm the last one in the blogosphere to try out zucchini "noodles". Why did I wait so long? A mandoline. Shakshuka - Recipe for Delicious Middle Eastern Egg Dish. When I say the word shakshuka, people often give me a strange look… like I've sneezed, or something.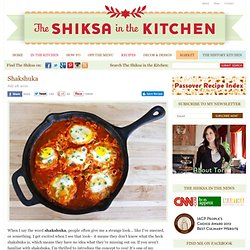 I get excited when I see that look– it means they don't know what the heck shakshuka is, which means they have no idea what they're missing out on. If you aren't familiar with shakshuka, I'm thrilled to introduce the concept to you! It's one of my favorite dishes—a simple, go-to meal that works as a breakfast, lunch, or dinner ("brinner" might be the more appropriate word, since eggs are the star of the dish).
I always have the ingredients for shakshuka on hand, and it never fails to make people say "yum!" In Israel shakshuka is often eaten for breakfast, but I usually find myself serving it with a side salad as a light evening meal. Smashed chickpea salad. It has been over one week since I told you about the Light Wheat Bread (and just as long since we've been out of it, sob), a post I ended with a promise to tell you about my new favorite sandwich next.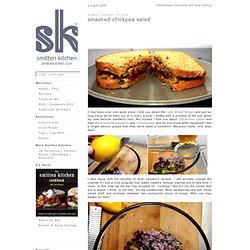 But instead I told you about Clementine Cakes and then Mushroom Bourguignon and Chouquettes and do you know what happened? Not a single person griped that they were owed a sandwich. Because really, who does that? I take issue with the banality of most sandwich recipes. Scallion meatballs with soy-ginger glaze. It's a fairly accurate indication of how charmed my life is these days that I considered the act of having to choose what I would make to bring to a New Years Party tomorrow difficult.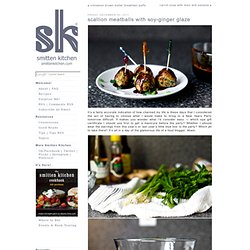 If makes you wonder what I'd consider easy — which spa gift certificate I should use first to get a manicure before the party? Whether I should wear the earrings from this year's or last year's little blue box to the party? Which jet to take there? Pumpkin and Eggplant Casserole recipe. Spaghetti with chickpeas. Anyone running the marathon this weekend?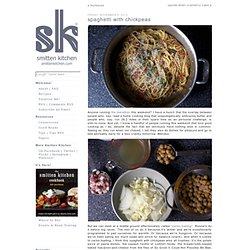 I have a hunch that the overlap between people who, say, read a home cooking blog that unapologetically embraces butter and people who, say, run 26.2 miles in their spare time as an personal challenge, is slim-to-none. And yet, I know a handful of people running this weekend that love good cooking as I do, despite the fact that we obviously have nothing else in common. Seeing as they run when not chased, I bet they also do dishes for pleasure and go to bed advisably early for a less cranky tomorrow.
Weirdos. Rigatoni with eggplant puree. Seeing as I am never short on opinion on anything–most especially when it comes to many FoodNetworkchefs that so often grace my television set, Alex calls the Sunday noontime shows my "stories"–I can't believe I haven't previously said a single word about Giada DeLaurentis.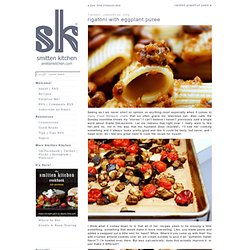 Let me redress that right now: I really want to like her–and no, not in the way that my husband does (busted!). I'll see her cooking something and it always looks pretty good and like it could be tasty, but never, and I mean ever, do I feel any great need to cook the recipe for myself. I think what it comes down to is that all of her recipes seem to be missing a little something, something that would make it more interesting. Like, you made pesto and added a swapped out a little mint for basil? Spiced Red Lentil, Tomato, and Kale Soup. This is the kind of soup with broth that tastes just as good, if not better, than the actual add-ins.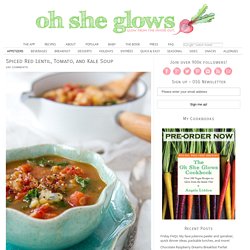 Is it normal to want to guzzle the broth? Well, it is now, my friends. It's actually a miracle I have any taste buds left because I've burned my tongue so many times since dedicating the last two weeks for cookbook soup makin'. Black Bean, Sweet Potato, and Red Quinoa Soup. Can winter fare be both vibrant and comforting?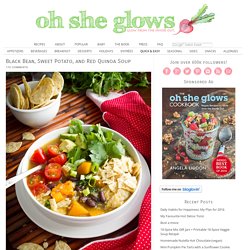 I think this colourful soup is proof that it can. Sometimes it feels difficult to pack in as many bright coloured vegetables and fruit into one's diet this time of the year, but it's certainly possible. Just think of all the bright colours in season right now – winter squash galore, sweet potatoes, kale, pomegranates, citrus, radish, apples, cranberries, pears, persimmons, etc. If you feel yourself in a cold weather food rut, try busting out some of these into your shopping cart each week.
The pop of colour will instantly boost your mood no matter what the weather is like outside. Mango Avocado Shrimp Salad Recipe. 19 listopada 2012. Dynie pomału znikają ze sklepów i rynków.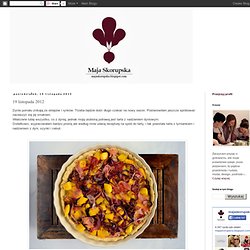 Trzeba będzie dość długo czekać na nowy sezon. Postanowiłam jeszcze spróbować nacieszyć się jej smakiem. Właściwie lubię wszystko, co z dynią, jednak moją ulubioną potrawą jest tarta z nadzieniem dyniowym. Dodatkowo, wypracowałam bardzo prostą ale według mnie udaną recepturę na spód do tarty, i tak powstała tarta z tymiankiem i nadzieniem z dyni, szynki i cebuli. How to make perfect mulled wine. On the first day of Christmas – well, December – I found myself waiting at an unusually fragrant bar.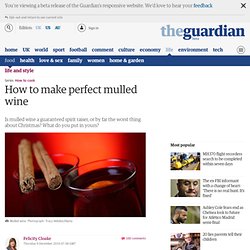 "Ooh, mulled wine! " said my friend, "brilliant! " Jamie's mulled wine. LAMB CUTLETS WITH CHILLI AND BLACK OLIVES. No one does lamb cutlets better than the Italians and this recipe, which comes to me by way of the great Anna Del Conte, is a case in point. The nuggets of pink meat are so tender and flavourful that you just want to gnaw every morsel right off the bone. And I can't tell you how heavenly these cutlets are, should you be lucky enough (and it's unlikely) to have some left over, snatched straight from the fridge the day after. CHICKEN, MANGO AND CHILLI SALAD. MIRIN GLAZED SALMON. This must be the fastest way there is to create a culinary sensation.
You do scarcely a thing - just dibble some salmon steaks in a dark glossy potion, most of which you get out of a jar - and what you make tastes as if you had been dedicating half your life to achieving the perfect combination of sweet, savoury, tender and crisp. If there are only two of you eating, I would be inclined to stick to the quantities given here, letting a couple of pieces or whatever you don't eat get cold, as it makes a fantastic salad the next day.
CHICKEN WITH SPRING ONIONS, CHILLI AND GREEK YOGURT.
6 sposobów na bakłażana. (dla 6 osób) Kruche ciasto: 125 g mąki szczypta soli 75 g schłodzonego masła 2 łyżki zimnej wody 1 łyżeczka świeżego lub suszonego oregano Farsz: Sposób przygotowania Robimy ciasto. Spaghetti with broccoli cream pesto. Surely, you didn't think I was going to stop my hasty populating of the broccoli archives with just one new recipe, right?
I mean, sure, the slaw is still a star. The fritters were great. But when your kid likes broccoli, you will always be on the hunt for new and more advanced Methods of Broccoli Implementation. Creamy Garlic Penne Pasta Recipe - Food.com - 43023. Hearty pasta soup recipe. Squished tomato pasta sauce recipe. Tagliatelle with vegetable ragu recipe. Lemon and Garlic Grilled Chicken. Garlic and Herb Grilled Sweet Potato Fries Recipe : Bobby Flay. Baked Lemon Pasta. 15 Minute Creamy Avocado Pasta. Broccoli parmesan fritters. Cod potato and spring onion stew. Jamie Oliver | Member Recipes | Risotto | French Onion Soup Secret Recipe.
Baked new potatoes with sea salt and rosemary.
---