ScottishHistory
Fae the post-Ice settlers an ages o warrin Caledonian tribes, the kingdom o Alba/Scotland formed in the 9th century, fought tae keep its Independence in the 14th century, gave up that Independence in the 17th century, an fought tae regain that Independence in the 21st century. We're a complicated nation, an a fightable yin, wi a history fu o noise, colour, an drama... Feb 20
This is a timeline of Scottish history, comprising important legal and territorial changes and political events in Scotland and its predecessor states. To read about the background to these events, see History of Scotland. See also the list of Scottish monarchs, list of British monarchs, list of First Ministers of Scotland, and list of years in Scotland. 1st century[edit] 2nd century[edit]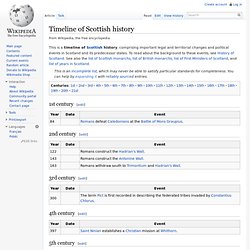 Timeline of Scottish history
Undiscovered Scotland: Timeline of Scottish History
Timeline of Scottish History Wherever you turn in Scotland you come across signs of an incredibly complex and remarkably violent history. It might be one of the 2700 castles built in an often vain attempt to defend land, property and lives: or one of the innumerable battlefields where ordinary Scots fought, often with one another, and usually in pursuit of someone else's ambitions or beliefs. Or it might be one of the seemingly endless succession of castles and houses, large and small, in which Mary Queen of Scots is said to have spent the night. Some understanding of Scottish history is essential if you are to get any real feel for a country with such a turbulent past.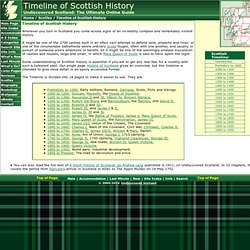 Scottish History Timeline: Scotland's Past
Scottish History Scottish Clans Tartans Kilts Crests and Gifts
having seen the invasion of the Vikings, Normans and Irish tribes, Scotland began its troublesome relationship with its southern neighbour. England's troubles with France led us into an alliance that provided mixed fortunes. Great leaders such as William Wallace and Robert the Bruce (above) led Scotland in overwhelming victories over England at Stirling and Bannockburn, however these victories were matched by many crushing defeats such as those at Falkirk and Halidon Hill.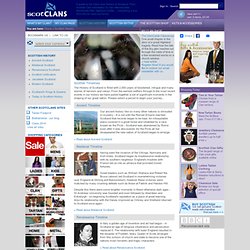 A Timeline of Scottish History Scotland has a long and intriguing history. This timeline chronicles the major events in Scotlands history starting at the beginning and reaching the birth of St Ninian in A.D. 350. Pre Romans- See article below(its easier than explaining) A.D 79 - Julius Agricola begins the Roman conquest of Northern Britain A.D. 84 - Battle of Mons Graupius A.D. 85 - Start of the building of a line of forts between the Clyde and the Forth by Agricola A.D. 105 - Romans forced out of Southern Scotland A.D. 126 - Disappearance of the 9th Legion A.D. 127 - Completion of Hadrians Wall A.D. 139 - Antonine Wall begun A.D. 143 - Completion of Antonine Wall A.D. 180 - Romans retreat behind Hadrians Wall A.D. 196 - Maetae overrun Hadrians Wall A.D. 208 - Emperor Septimius Severus rebuilds Hadrians Wall and invades Caledonia A.D. 350 - St Ninian is born (it is believed that this date is accurate)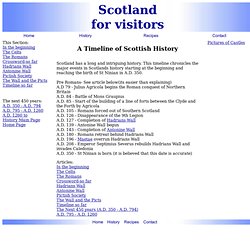 Scotland For Visitors -History - Timeline - Beginning to St Ninian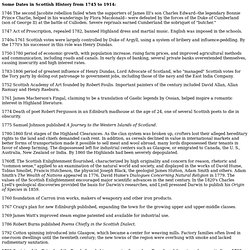 Some Dates in Scottish History from 1745 to 1914: 1746 The second Jacobite rebellion failed when the supporters of James III's son Charles Edward--the legendary Bonnie Prince Charlie, helped in his wanderings by Flora Macdonald-- were defeated by the forces of the Duke of Cumberland (son of George II) at the battle of Culloden. Severe reprisals earned Cumberland the sobriquet of "butcher." 1747 Act of Proscription, repealed 1782, banned Highland dress and martial music. English was imposed in the schools.
scottish history timeline
SINCLAIR HISTORY AND GENEALOGY: Timeline of Scottish History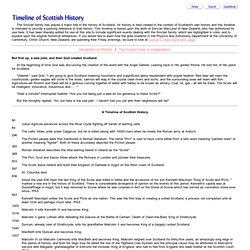 The Sinclair family has played a major role in the history of Scotland. Its history is best viewed in the context of Scotland's own history and this timeline is intended to provide a passing reference to that history. This timeline is based upon the work of Duncan MacLeod of New Zealand, who has authorized its use here. It has been liberally edited for use at this site to include significant events dealing with the Sinclair family, which are highlighted in color, and to expand upon the original historical references. If you would like to learn how the grad students in the Physics and Astronomy Department at the University of Canterbury, Christ Church, New Zealand, are spending their Friday evenings, be sure to look at Duncan's "Beer Seminars" page! Declaration of Arbroath | The Scottish Wars of Independence
84 AD The Romans defeat the native people at Mons Graupius. However the Roman army withdraws shortly afterwards. 197 A Roman writer mentions a race he called Picti or painted men. We call them the Picts.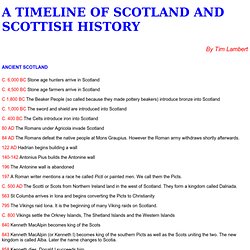 Scottish History Timeline
Skyelander's COMPLETE Scottish History Timeline
1601 Lowland "Adventurers" in Isle of Lewis are soundly defeated. 1602 Battle of Glenfruin. 1603 Union of the Crowns James VI of Scotland becomes James I of England, bringing about the Union of the Crowns. This was not an altogether welcome move in much of Scotland or England. 1605 Renewed attempt to colonise the Isle of Lewis by Lowland "Adventurers".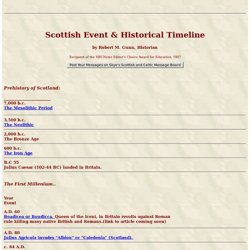 Scottish History: Time Line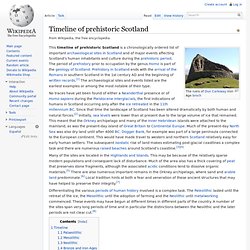 Timeline of prehistoric Scotland
This timeline of prehistoric Scotland is a chronologically ordered list of important archaeological sites in Scotland and of major events affecting Scotland's human inhabitants and culture during the prehistoric period. The period of prehistory prior to occupation by the genus Homo is part of the geology of Scotland. Prehistory in Scotland ends with the arrival of the Romans in southern Scotland in the 1st century AD and the beginning of written records.[1] The archaeological sites and events listed are the earliest examples or among the most notable of their type. No traces have yet been found of either a Neanderthal presence or of Homo sapiens during the Pleistocene interglacials, the first indications of humans in Scotland occurring only after the ice retreated in the 11th millennium BC.
Gazetteer for Scotland: Scottish Timeline
Scottish Ancestry, Key dates in Scottish History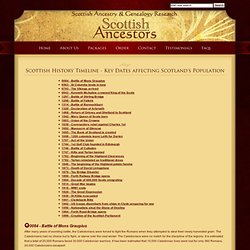 After many years of avoiding battle, the Caledonians were forced to fight the Romans when they attempted to steal their newly harvested grain. The Caledonians had no choice but to fight, or starve over the next winter. The Caledonians were no match for the discipline of the legions. It is estimated that a total of 20,000 Romans faced 30,000 Caledonian warriors. It has been estimated that 10,000 Caledonian lives were lost for only 360 Romans. 20,000 Caledonians escaped!
Whether its MacBeth or Hardie, the Reformation or Post-war Reconstruction, you are one click away from discovering Scotland's historical wealth. It's all here - the people, places and events that made Scotland what it is today, in summary form as well as full feature overviews, linked to related places to visit, books and Great Scots. We've broken it down for you by century or by historical period, but you can also search with keywords like a person's name, a place, or even a specific year, which makes this timeline a handy reference for research. Jump to Show a century of Scottish history | or to Describe a period of Scottish History
Scottish History Timeline | History
Scottish Historical Timeline
Scotland's History Timeline on KlickThis.com
Structure of the TimelineThis Timeline contains over 700 precisely dated events from Scottish history of the last 2,000 years. Wherever possible, links have been provided to other Web sites where you can learn more about the events and the people that have made Scotland what it is today. The events have been organised into two sets of data - a chronological sequence and also the events which have occured in particular calendar months - "This Day in January" etc. Chronology This Day in...
History Timeline - Scottish Culture
1000-1500 - Timeline - Scotland's Pages
Follow the links to read about a historic event or see an image of an important document. 1040 Accession of Macbeth, King of Scotland. Around the world ... 1042 Accession of Edward the Confessor, King of England. circa 1070 Malcolm III marries Queen (later Saint) Margaret. Around the world ... 1066 Battle of Hastings: Norman conquest of England.
Disability Timeline - Disability History Scotland
Early History Prehistory Evidence exists that shows that there were impaired individuals living in prehistoric subhuman primate groups.
Edinburgh history timeline 17th century
1600: Scotland adopts the Gregorian calendar. 1603: The Union of the Crowns: James VI of Scotland becomes James I of England. 1614: John Napier invents logarithms and publishes a book promoting their use in mathematics.
Scotland For Visitors -History - Timeline - Vikings to 12 Century Scotland
Scottish History Timeline | Газета «Английский язык» № 16/2008
History of Scotland
Scotland's History - Explore 5000 years of Scottish history
A Brief History Of Scotland
Scottish History (scottishhistory) on Twitter
ScottishHistory.com
ScottishHistory.com
BBC - Scotland History - On This Day
Historic Scotland - the official website
Story of Scotland's History, Online Book of Scottish History.
Scottish History
Scotland: A Brief History
History - Scottish History
Scotland's History
Scottish History Online, Pictish Pages, Scotland - UK History
The Bruce murders the Red Comyn
St Andrews Cathedral & St Rule's Tower
Dunfermline Abbey & Palace