ScottishHistory
Fae the post-Ice settlers an ages o warrin Caledonian tribes, the kingdom o Alba/Scotland formed in the 9th century, fought tae keep its Independence in the 14th century, gave up that Independence in the 17th century, an fought tae regain that Independence in the 21st century. We're a complicated nation, an a fightable yin, wi a history fu o noise, colour, an drama... Feb 20
This is a timeline of Scottish history , comprising important legal and territorial changes and political events in Scotland and its predecessor states.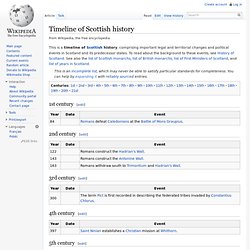 Timeline of Scottish history
Undiscovered Scotland: Timeline of Scottish History
Timeline of Scottish History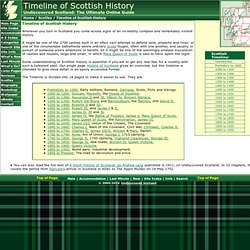 Scottish History Timeline: Scotland's Past
Scottish History Scottish Clans Tartans Kilts Crests and Gifts
having seen the invasion of the Vikings, Normans and Irish tribes, Scotland began its troublesome relationship with its southern neighbour. England's troubles with France led us into an alliance that provided mixed fortunes. Great leaders such as William Wallace and Robert the Bruce (above) led Scotland in overwhelming victories over England at Stirling and Bannockburn, however these victories were matched by many crushing defeats such as those at Falkirk and Halidon Hill.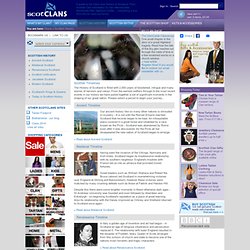 A Timeline of Scottish History Scotland has a long and intriguing history.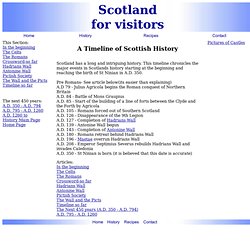 Scotland For Visitors -History - Timeline - Beginning to St Ninian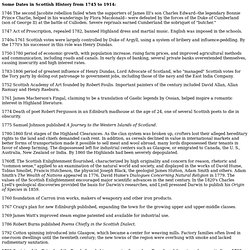 Some Dates in Scottish History from 1745 to 1914:
scottish history timeline
SINCLAIR HISTORY AND GENEALOGY: Timeline of Scottish History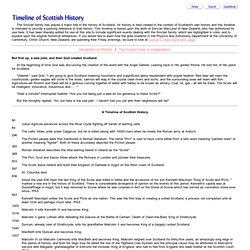 The Sinclair family has played a major role in the history of Scotland. Its history is best viewed in the context of Scotland's own history and this timeline is intended to provide a passing reference to that history.
C. 6,000 BC Stone age hunters arrive in Scotland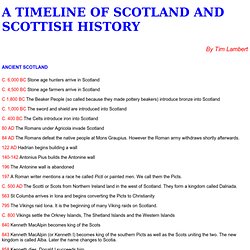 Scottish History Timeline
Skyelander's COMPLETE Scottish History Timeline
1601 Lowland "Adventurers" in Isle of Lewis are soundly defeated.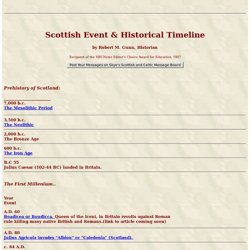 Scottish History: Time Line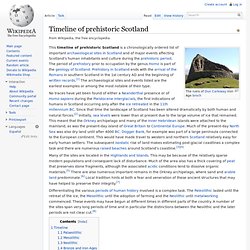 Timeline of prehistoric Scotland
This timeline of prehistoric Scotland is a chronologically ordered list of important archaeological sites in Scotland and of major events affecting Scotland's human inhabitants and culture during the prehistoric period .
Gazetteer for Scotland: Scottish Timeline
Scottish Ancestry, Key dates in Scottish History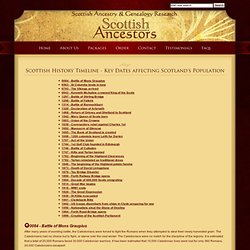 After many years of avoiding battle, the Caledonians were forced to fight the Romans when they attempted to steal their newly harvested grain.
Scotland's History timeline - Scotlands History
Whether its MacBeth or Hardie, the Reformation or Post-war Reconstruction, you are one click away from discovering Scotland's historical wealth. It's all here - the people, places and events that made Scotland what it is today, in summary form as well as full feature overviews, linked to related places to visit, books and Great Scots.
Scottish History Timeline | History
Scottish Historical Timeline
Scotland's History Timeline on KlickThis.com
Structure of the Timeline This Timeline contains over 700 precisely dated events from Scottish history of the last 2,000 years. Wherever possible, links have been provided to other Web sites where you can learn more about the events and the people that have made Scotland what it is today.
History Timeline - Scottish Culture
1000-1500 - Timeline - Scotland's Pages
Follow the links to read about a historic event or see an image of an important document.
Disability Timeline - Disability History Scotland
Early History Prehistory Evidence exists that shows that there were impaired individuals living in prehistoric subhuman primate groups.
Edinburgh history timeline 17th century
1600: Scotland adopts the Gregorian calendar. 1603: The Union of the Crowns: James VI of Scotland becomes James I of England. 1614: John Napier invents logarithms and publishes a book promoting their use in mathematics.
Scotland For Visitors -History - Timeline - Vikings to 12 Century Scotland
Scottish History Timeline | Газета «Английский язык» № 16/2008
History of Scotland
Scotland's History - Explore 5000 years of Scottish history
Scotland: Notable Dates in History
A Brief History Of Scotland
Scottish History (scottishhistory) on Twitter
ScottishHistory.com
ScottishHistory.com
BBC - Scotland History - On This Day
Historic Scotland - the official website
Story of Scotland's History, Online Book of Scottish History.
Scottish History
Scotland: A Brief History
History - Scottish History
Scotland's History
Scottish History Online, Pictish Pages, Scotland - UK History
The Bruce murders the Red Comyn