Laffs
Anti-Chicken song - Mongrels - BBC. Wimbledon 2013: Scotsman Andy Murray wins, Britain celebrates!? The Always Amusing Euphemism Generator. The Euphemism Generator can create up to 513,740,850 unique phrases!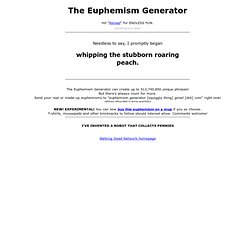 But there's always room for more. Send your real or made-up euphemisms to "euphemism.generator [squiggly thing] gmail [dot] com" right now! (address obfuscated to annoy spambots) The One Where The Weather Lady Freaks Out On Live TV. Cardinal stops using letters G, A and Y. Od will hve his revene come the d of judement Cardinal Keith O'Brien stressed he was embarking on the phonetic moratorium because he did not want to be 'prt of the problem'.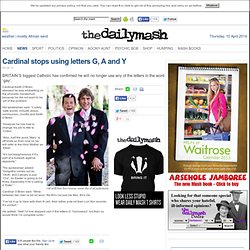 His spokesman said: "Luckily 'safe words' include Jesus, communion, crucifix and Keith O'Brien. 45-year-old salesman apologises for closing ceremony. It's like something from a Nick Hornby book Hayes, who organisers deemed to be the most typical man in Britain, curated the ceremony via special electrodes attached to his head which fed details of everything he likes into a giant computer.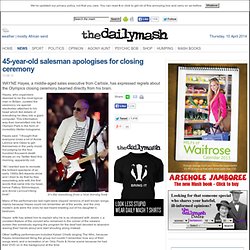 This information was then transmitted into the Olympic Park in the form of incredibly lifelike holograms. Hayes said: "I thought that everyone loves a bit of Annie Lennox and Oasis to get themselves in the party mood but judging by the four hundred thousand death threats on my Twitter feed this morning, apparently not. 30 Unintentionally Inappropriate Domain Names. In theory, choosing a domain name is a simple task.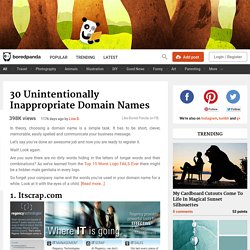 It has to be short, clever, memorable, easily spelled and communicate your business message. Let's say you've done an awesome job and now you are ready to register it. Wait! Look again. Jon Stewart loves Karl Rove's meltdown on Fox when Obama wins. By Sunny Hundal 10:09 am - November 10th 2012 One of the best moments from the US election night was that of Karl Rove disagreeing with Fox News analysts that Barack Obama was going to be re-elected.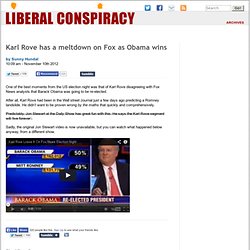 After all, Karl Rove had been in the Wall street Journal just a few days ago predicting a Romney landslide. This is quite brilliant. What The Sun newspaper wrote about t. Tips for Single Women, 1938.
Krankies+John+Barrowman+cause+mischief+aboard+tVmES8-RROyl.jpg (JPEG Image, 594x446 pixels) The Steamie: Jennifer O'Mahony: Scottish Independence - Taiwan animated version [WATCH] They have covered everything from Charlie Sheen's breakdown to Osama Bin Laden's death.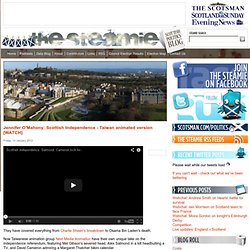 Now Taiwanese animation group Next Media Animation have their own unique take on the independence referendum, featuring Mel Gibson's severed head, Alex Salmond in a kilt headbutting a TV, and David Cameron admiring a Margaret Thatcher bikini calendar. Cartoon politics: the way forward? Let us know in the comments, or tweet me @jaomahony. The CV « Curriculum Vitae. Personal Statement My name is BENEDICT LE GAUCHE and I was born on 02/05/83 which makes me 28 and ripe as a lemon.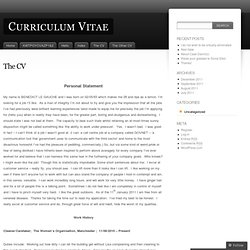 I'm looking for a job I'll like. As a man of integrity I'm not about to try and give you the impression that all the jobs I've had previously were brilliant learning experiences tailor-made to equip me for precisely the job I'm applying for (hello you) when in reality they have been, for the greater part, boring and drudgerous and disheartening. I should state I was not bad at them. Vintage underwear knitting patterns available from The Retro Knitting Company.
---