Edinburgh Fun
The Innertube timelapse - life in Edinburgh's fastlane | Edinburgh Innertube Map. Edinburgh's off-street cycle paths run through the city like rabbit warrens – their entrances often difficult to find, taking you down tunnels and paths to unexpected parts of the city.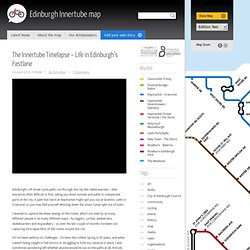 A path that starts at Haymarket might spit you out at Granton, Leith or Cramond, or you may find yourself whizzing down the Union Canal right out of town. I wanted to capture the sheer energy of the routes, which are used by so many different people in so many different ways – by joggers, cyclists, pedestrians, skateboarders and dog walkers – so over the last couple of months I've been out capturing time-lapse films of the routes around the city. It's not been without its challenges – it's been the coldest Spring in 50 years, and when I wasn't being caught in hail storms or struggling to hold my cameras in place, I was sometimes wondering left whether anyone would be out on the paths at all. Jenny Colgan: what I'm thinking about ... the psychogeography of Edinburgh.
"It's just weird" a friend says as we stride down the grey boulevard under a angry-looking sky.
"Edinburgh always makes me feel unfeasibly nostalgic. And I've never even lived here". But misty Edinburgh somehow does that to people. I did live here, and visit all the time, but am constantly suffused with a melancholy sense of something lost which I never get passing through, say, Stoke Newington. "Oh there's where I stayed out that magical night with Alex and Catriona" I'll think, evocatively, even though I saw Alex last week and Catriona is standing over there. Facts about Edinburgh.
EDINBURGH has witnessed some momentous events over the centuries – but there is plenty your history classes never told you about: the best cure for baldness in the city in the 17th century, or why a bunch of medieval monks went on strike, for example.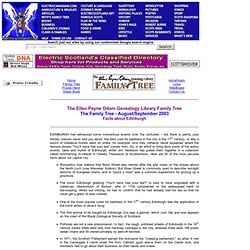 And they certainly never explained where the famous phrase "You'll have had your tea" comes from. So, in an effort to bring alive some of the quirky events, tales and myths of Edinburgh, writer Jim Hewitson has pulled them together in a collection called Astonishing Scotland! A Cheeky Thesaurus of Scottishness. Here are 50 of the most peculiar facts about our capital city. The Royal Mile Edinburgh - Top Ten Facts. There are hundreds of interesting facts about the Royal Mile.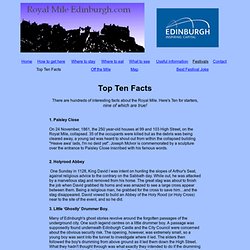 Here's Ten for starters, nine of which are true! 1. Edinburgh Facts - Interesting Facts about Edinburgh. Edinburgh Facts - Interesting Facts About Edinburgh, United Kingdom. Interesting Facts about Edinburgh 1.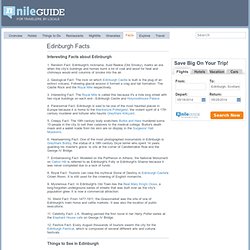 Random Fact: Edinburgh's nickname, Auld Reekie (Old Smoky), marks an era when the city's buildings and homes burnt a lot of coal and wood for heat and chimneys would emit columns of smoke into the air. 2. Edinburgh's Camera Obscura - beside Edinburgh Castle - fun for all the family. Edinburgh 5K Fun Run, Holyrood Park 5k Run, Holyrood Park Edinburgh 5k - Bigfunrun.com. Big Fun Run at a glance Run for fitness, run for charity, run for fun...just run!!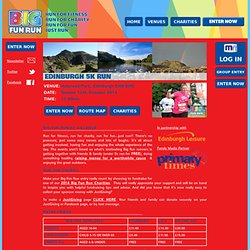 There's no pressure, just some easy moves and lots of laughs. 20 great things to do in Edinburgh - Time Out Edinburgh. By Time Out editors 1.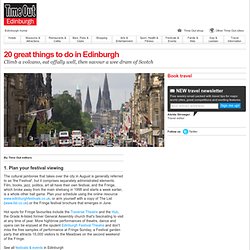 Plan your festival viewing The cultural jamboree that takes over the city in August is generally referred to as 'the Festival', but it comprises separately administrated elements. Film, books, jazz, politics, art all have their own festival, and the Fringe, which broke away from the main shebang in 1998 and starts a week earlier, is a whole other ball game. Paper Trail | A modern mystery of poetry, intrigue and art.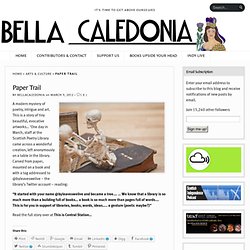 This is a story of tiny beautiful, evocative artworks… 'One day in March, staff at the Scottish Poetry Library came across a wonderful creation, left anonymously on a table in the library. Carved from paper, mounted on a book and with a tag addressed to @byleaveswelive – the library's Twitter account – reading: Mysterious paper sculptures - Central Station Blog post. Those of you who don't keep up with Edinburgh's literary world through Twitter may have missed the recent spate of mysterious paper sculptures appearing around the city.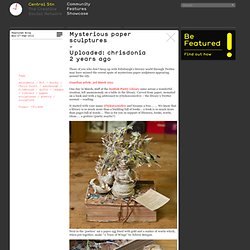 Guardian article, 3rd March 2011. One day in March, staff at the Scottish Poetry Library came across a wonderful creation, left anonymously on a table in the library. Carved from paper, mounted on a book and with a tag addressed to @byleaveswelive – the library's Twitter account – reading: It started with your name @byleaveswelive and became a tree.… … We know that a library is so much more than a building full of books… a book is so much more than pages full of words.… This is for you in support of libraries, books, words, ideas….. a gesture (poetic maybe?)
Next to the 'poetree' sat a paper egg lined with gold and a scatter of words which, when put together, make "A Trace of Wings" by Edwin Morgan. Book Sculptures: The Full Set. During Book Week Scotland an exciting treasure hunt through classic and well-loved Scottish books took place - with clues posted online and loads of people taking part to solve the mystery of the sculptures' locations.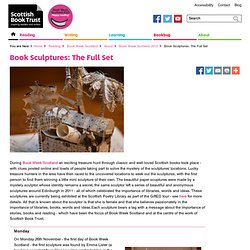 Lucky treasure hunters in the area have then raced to the uncovered locations to seek out the sculptures, with the first person to find them winning a little mini sculpture of their own. The beautiful paper scuptures were made by a mystery sculptor whose identity remains a secret, the same sculptor left a series of beautiful and anonymous sculptures around Edinburgh in 2011 - all of which celebrated the importance of libraries, words and ideas. These sculptures are currently being exhibited at the Scottish Poetry Library as part of the GiftED tour - see here for more details.
Flying bin down Leith Walk 03-Jan-2012.
---