Edinburgh Festivals
Edinburgh is the Festival City. Since the inception o the International Festival in 1947, Festivality has spread like a rash tae cover the entire city, burstin oot fae the '3 weeks in August' tae be a year-roond affair. There are Festivals fer Arts (mainstream an leftfield) Film, Literature, Comedy, Television, Jazz & Blues, Politics, Storytellin, Science, Magic, Spirituality, Multiculturalism, History, Marketin, Tango, Harp-playin, an there's the Military Tattoo... Jul 19
Edinburgh - Festival City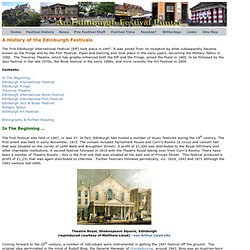 A History of the Edinburgh Festivals
A History of the Edinburgh Festivals The first Edinburgh International Festival (EIF) took place in 1947. It was joined from its inception by what subsequently became known as the Fringe and by the Film Festival. Pipes and Dancing also took place in the early years, becoming the Military Tattoo in 1950.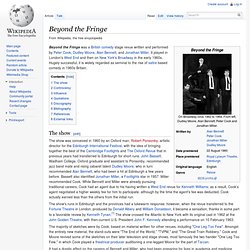 Beyond the Fringe was a British comedy stage revue written and performed by Peter Cook, Dudley Moore, Alan Bennett, and Jonathan Miller. It played in London's West End and then on New York's Broadway in the early 1960s. Hugely successful, it is widely regarded as seminal to the rise of satire based comedy in 1960s Britain. The show[edit] The show was conceived in 1960 by an Oxford man, Robert Ponsonby, artistic director for the Edinburgh International Festival, with the idea of bringing together the best of the Cambridge Footlights and The Oxford Revue that in previous years had transferred to Edinburgh for short runs. John Bassett, Wadham College, Oxford graduate and assistant to Ponsonby, recommended jazz band mate and rising cabaret talent Dudley Moore, who in turn recommended Alan Bennett, who had been a hit at Edinburgh a few years before.
Beyond the Fringe
where you can get all sorts of excellent stuff. If you're interested in , the people who made it, or just British comedy in general, it's well worth a look... although I would say that, wouldn't I? Oh, go on... take a gander, do.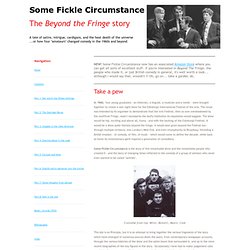 The Beyond the Fringe story: Home
Festival History | Festivals Edinburgh
Edinburgh Festivals: History and Timeline 1947: Three Festivals are Born Edinburgh's reputation as a global festival city has deep roots.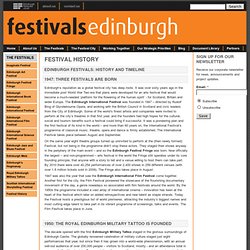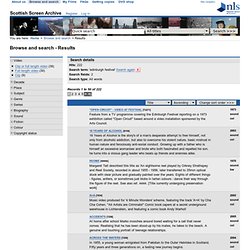 Scottish Screen Archive - Search - Results
As a schoolboy in the 1950's, Bill Dobson won two national awards in a cine-film competition run by Amateur Cine-World film magazine. Bill's first acclaimed film, HIS CRUMBLING WORLD, made when he was just 16 years old, recounts the attempts of an old estate worker to preserve a long abandoned property from the ravages of time. FISHER'S ALL, his second successful film, made two years later, went further than national recognition and was selected to represent Britain in an international cine-film competitio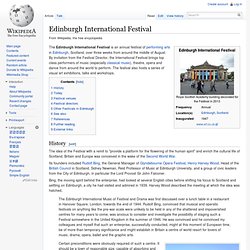 The Edinburgh International Festival is an annual festival of performing arts in Edinburgh, Scotland, over three weeks from around the middle of August. By invitation from the Festival Director, the International Festival brings top class performers of music (especially classical music), theatre, opera and dance from around the world to perform. The festival also hosts a series of visual art exhibitions, talks and workshops.
Edinburgh International Festival
Edinburgh International Festival
Royal Edinburgh Military Tattoo
The 2011 Edinburgh Military Tattoo The Royal Edinburgh Military Tattoo is an annual series of Military tattoos performed by British Armed Forces, Commonwealth and International military bands and display teams on the esplanade of Edinburgh Castle in the Scottish capital, Edinburgh. The event takes place annually throughout August, as part of the wider Edinburgh Festival (a collective name for many independent festivals and events held in Edinburgh during August). History and etymology[edit]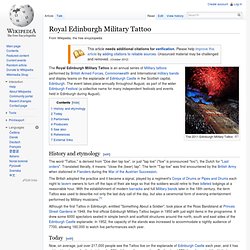 Royal Edinburgh Military Tattoo
The Edinburgh Festival Fringe (The Fringe) is the world's largest arts festival, with the 2012 event spanning 25 days totalling over 2,695 shows from 47 countries in 279 venues.[1][2][3] Established in 1947 as an alternative to the Edinburgh International Festival, it takes place annually in Scotland's capital, in the month of August.[4] The Fringe is a showcase for the performing arts, particularly theatre and comedy (which has seen substantial growth in recent years), although dance and music are also represented. In 2012, 36% of shows were comedy and 28% theatrical productions.[4] Theatrical productions range from the classics of ancient Greece to William Shakespeare, Samuel Beckett and contemporary works. In 2012, 1,418 shows were having their world premiere.[4] The Fringe is an unjuried festival – with no selection committee, and therefore any type of performance may participate.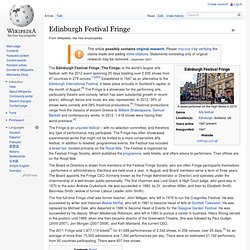 Edinburgh Festival Fringe
Edinburgh Art Festival
Home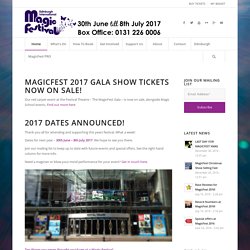 Welcome to the Edinburgh International Magic Festival! MagicFest 2014 will take place from the 27th June - 4th July 2014. You can buy some tickets now before our launch in April 2014.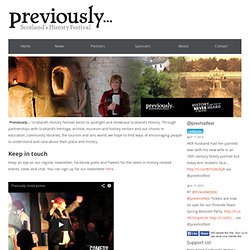 Previously... Scotland's Festival of History :: Home
'Previously...' Scotland's History Festival is over for another year. Our most challenging yet but it's been a cracker. Our thanks to everyone involved in making it a success. We're having a wee lie down now and will ponder 'what next' over the coming months over a mince pie or two. Previously...
Edinburgh International Television Festival
MediaGuardian Edinburgh International Television Festival - MGEITF
Edinburgh International Harp Festival
The Scottish Storytelling Centre // Storytellers
About the Festival The Scottish International Storytelling Festival (SISF) is a 10 day celebration of live storytelling, oral traditions and cultural diversity, bringing together a large number of Scottish and international storytellers and musicians. The Festival takes place in and around Edinburgh.
2013 « Annuale.org
home
West Port Book Festival — Edinburgh
Welcome The West Port is Edinburgh's Soho, a heady mix of booze, bosoms, bespoke tailoring and BOOKS. It would be churlish not to celebrate this profusion of pages so we run an annual book festival that plays out over a number of wonderful venues, ranging from singular second-hand bookshops to crisp art spaces and whisky-scented pubs. Latest news Welcome to St Cuthbert's
Edinburgh International Centre for Spirituality and Peace
unnamed pearl
The Free Edinburgh Fringe Festival: Free Fringe Comedy, Theatre, Cabaret and much more every August
Edinburgh Comedy Festival
Edinburgh Jazz Festival - Brian Kellock Copenhagen Trio
Edinburgh Peoples Festival
Traverse Theatre Festival 2013
Festival of Politics:
Edinburgh International Marketing Festival (EIMF)
Forest Fringe |
Edinburgh International Film Festival
Edinburgh International Film Festival
Edinburgh International Book Festival
Edinburgh International Book Festival
Edinburgh Mela
Edinburgh International Science Festival
Edinburgh International Science Festival