Email Overload
Get flash to fully experience Pearltrees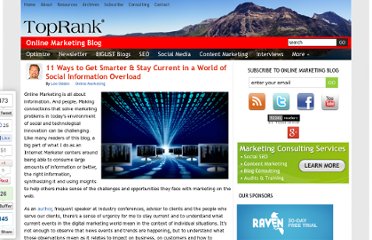 Online Marketing is all about information. And people. Making connections that solve marketing problems in today's environment of social and technological innovation can be challenging. Like many readers of this blog, a big part of what I do as an Internet Marketer centers around being able to consume large amounts of information or better, the right information, synthesizing it and using insights to help others make sense of the challenges and opportunities they face with marketing on the web.
Watch your back, Outlook! Everybody's grabbing headlines by calling time on email. First, French firm Atos banned internal email.
6 December 2011 Last updated at 14:52 ET Mr Breton says he has no plans to force the internal email ban onto his firm's clients Thierry Breton caused a sensation last week when he told an interviewer that he planned to ban internal email at the information technology services giant, Atos. In fact the chief executive was only repeating a strategy he had already outlined earlier in the year .
According to Gene Evans, Senior Vice President at USAmeriBank in Clearwater, having a day without email has improved internal communication and has allowed the bank to become more efficient. By now, we've all heard about Atos doing away with internal email. Evans says he implemented his own 'No Email' policy 6 months ago within his bank's retail division. The reason? "I think that as technology has improved we've gotten lazy about communicating verbally," he says.
Workplace Email. It's out of control. You'd love to spend your day doing your job so that maybe, just maybe you could get home and enjoy uninterrupted time with your family or get out with friends. Instead, you spend so much time every day managing your inbox that everything else in your life--real work, family, play--is practically an afterthought. It's not a pretty situation for employees or employers. So why do we all put up with it?