Entreprenariat
"Les start-up de Rocket Internet accélèrent leur développement en France" Bamarang, Westwing, DropGifts et HelloFresh...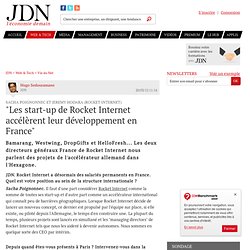 Les deux directeurs généraux France de Rocket Internet nous parlent des projets de l'accélérateur allemand dans l'Hexagone. JDN. Rocket Internet a désormais des salariés permanents en France. Quel est votre position au sein de la structure internationale ? Sacha Poignonnec. Les huit start-up sélectionnées par l'Accélérateur sont... L'Accélérateur a fait sa rentrée dans les locaux du Journal du Net.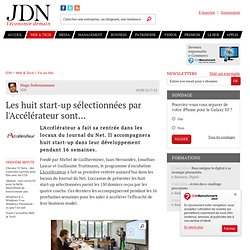 Il accompagnera huit start-up dans leur développement pendant 16 semaines. Fondé par Michel de Guilherminer, Juan Hernandez, Jonathan Lascar et Guillaume Truttmann, le programme d'incubation L'Accélérateur a fait sa première rentrée aujourd'hui dans les locaux du Journal du Net. L'occasion de présenter les huit start-up sélectionnées parmi les 150 dossiers reçus par les quatre coachs. Ces derniers les accompagneront pendant les 16 prochaines semaines pour les aider à accélérer l'efficacité de leur business model. On Women In Tech. Editor's Note: This guest post is written by Matthew Prince, the co-founder & CEO of CloudFlare, the web performance and security company.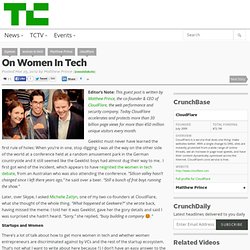 Today CloudFlare accelerates and protects more than 30 billion page views for more than 450 million unique visitors every month. Geeklist must never have learned the first rule of holes: When you're in one, stop digging. I was all the way on the other side of the world at a conference held at a random amusement park in the German countryside and it still seemed like the Geeklist boys had almost dug their way to me. I first got wind of the incident, which appears to have reignited the women in tech debate, from an Australian who was also attending the conference. "Silicon valley hasn't changed since I left there years ago," he said over a beer.
---