Soph147
Blogs fashion.
Pearltrees videos
Help. Cool stuff. Luxury Brands, Social Networks and Building Communities «FMM. Luxury Brands and their adoption of social media is the topic du jour.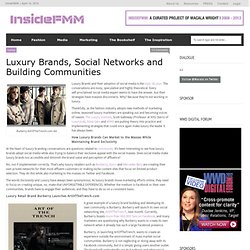 The conversations are noisy, speculative and highly theoretical. Every self-proclaimed social media expert seems to have the answer, but their strategies have massive disconnects. Fashion Marketing. Building a Solid Foundation for Luxury Online - Fashion and Desi. Fashion Brands, Social Media and Real Time Live Streaming «FMM.
Alexander McQueen A few announcements in the past couple of weeks have made me ponder the place that real-time social media plays in fashion events.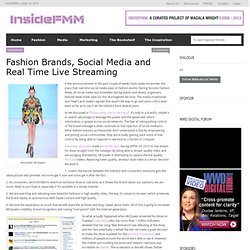 During Toronto Fashion Week, all social media was forbidden during events and shows; organizers blamed weak ticket sales for this shortsighted decision. The media (traditional and "new") and readers agreed that wasn't the way to go and some critics even went as far as to say it set the industry back several years. Luxury Lab The Art and Science of Luxury. Fashion in France.
---