Recherche sur application
Du marketing mobile au m-commerce
Marketing mobile, le décollage du m Marketing
M-commerce et mobile marketing
by Artmail on 05/02/09 at 6:47 A l' échelle mondiale , le parc de téléphones mobiles a dépassé aujourd'hui la barre des 3 milliards , ce qui représente un potentiel extraordinaire pour le m-commerce et m-marketing .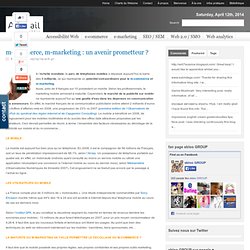 m-commerce, m-marketing : un avenir prometteur ? | Webzine Art'mail | La Communication digitale | e-business
En juin dernier, le cabinet d'études sectorielles Xerfi rendait public les conclusions de son étude intitulée « Le m-commerce, nouvel eldorado de la distribution ? ». Cette étude menée sur les 100 principales chaînes de distribution françaises est formelle : le m-commerce via les smartphones va exploser dans les prochaines années !
Le m-commerce : se lancer maintenant ou attendre encore ?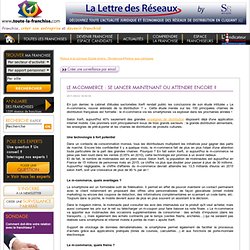 Marketing Mobile, le site d'informations
Applications et sites sur iPhone : les meilleures pratiques - etude Benchmark Group
1dis37
oftware engineering is all about choices. Choices have to be weighed: performance vs. scalability, complexity vs. flexibility, pros vs. cons, and good vs. poor design.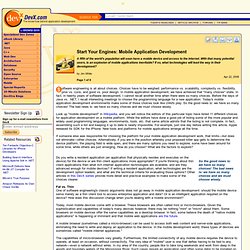 Start Your Engines: Mobile Application Development
Alors que l'Hexagone compte près de 18 millions de mobinautes, 3,3 millions de Français se sont déjà essayés au m-commerce , selon l'Observatoire des nouvelles tendances de consommation de CCM Benchmark (éditeur du Journal du Net).
Les enseignes déjà prêtes pour le m-commerce - Grande distribution et mobile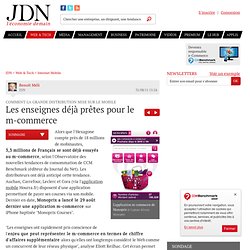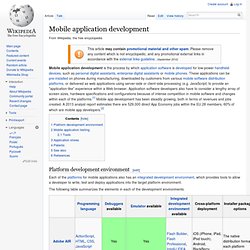 Mobile application development is the process by which application software is developed for low-power handheld devices , such as personal digital assistants , enterprise digital assistants or mobile phones . These applications can be pre-installed on phones during manufacturing, downloaded by customers from various mobile software distribution platforms , or delivered as web applications using server-side or client-side processing (e.g. JavaScript) to provide an "application-like" experience within a Web browser.
Sign In