Testing
Fivesecondtest. Low cost usability testing - UserTesting.com. Data collection for usability research. Taking notes in usability tests Anyone who has ever conducted a usability evaluation of a web site, software application, or consumer product, knows that human behaviour research often produces reams of data that can take significant time to analyse.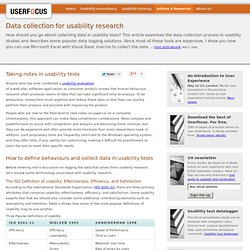 To be productive, researchers must organize and reduce these data so that they can quickly perform their analysis and proceed with improving the product. People who are new to the field tend to take notes on paper or on a computer. Unfortunately, this approach can make data compilation cumbersome. More complex and powerful tools to assist with compilation and analysis are becoming more common, but they can be expensive and often provide more functions than most researchers need.
Eyetracking
Website Usability Testing Service - Feedback Army.
---