Security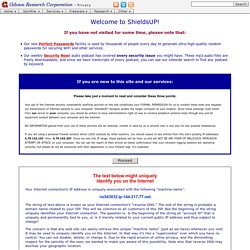 Your Internet connection's IP address is uniquely associated with the following "machine name": The string of text above is known as your Internet connection's "reverse DNS." The end of the string is probably a domain name related to your ISP. This will be common to all customers of this ISP. But the beginning of the string uniquely identifies your Internet connection.
SoftPerfect Network Scanner is a free multi-threaded IP, NetBIOS and SNMP scanner with a modern interface and many advanced features. It is intended for both system administrators and general users interested in computer security. The program pings computers, scans for listening TCP/UDP ports and displays which types of resources are shared on the network, including system and hidden ones. In addition, it can mount shared folders as network drives, browse them using Windows Explorer, filter the results list, and more.
Network Scanner: fast and free network scanner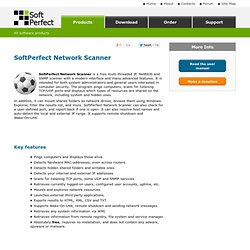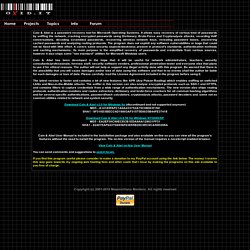 Cain & Abel is a password recovery tool for Microsoft Operating Systems. It allows easy recovery of various kind of passwords by sniffing the network, cracking encrypted passwords using Dictionary, Brute-Force and Cryptanalysis attacks, recording VoIP conversations, decoding scrambled passwords, recovering wireless network keys, revealing password boxes, uncovering cached passwords and analyzing routing protocols. The program does not exploit any software vulnerabilities or bugs that could not be fixed with little effort. It covers some security aspects/weakness present in protocol's standards, authentication methods and caching mechanisms; its main purpose is the simplified recovery of passwords and credentials from various sources, however it also ships some "non standard" utilities for Microsoft Windows users.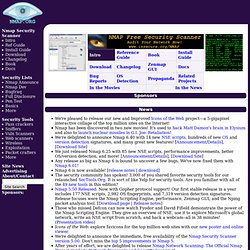 Free Security Scanner For Network Exploration & Security Audits.
We're pleased to release our new and Improved Icons of the Web project—a 5-gigapixel interactive collage of the top million sites on the Internet! Nmap has been discovered in two new movies! It's used to hack Matt Damon's brain in Elysium and also to launch nuclear missiles in G.I.
Thawte - cert authority
Certificates & Public Key Infrastructure - StartSSL™ Home