Configuration
LVM HOWTO
Linux Config
Details Published: 20 July 2013 There may be a time that you wish to clear a Memory on your server. Normally you do not want to fiddle with it so do it only you are sure that it is necessary and that it would not affect your server's performance. For this we can use sysctl command which allows linux admins to configure kernel parameters at runtime. This command will clear pagecache: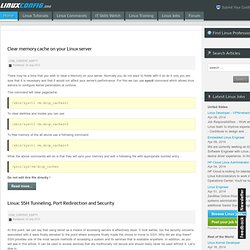 Linux Tutorial - Managing Group Access on Linux and UNIX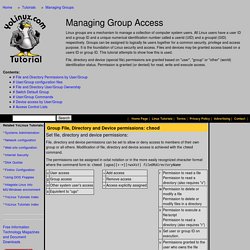 Set file, directory and device permissions: File, directory and device permissions can be set to allow or deny access to members of their own group or all others. Modification of file, directory and device access is achieved with the chmod command.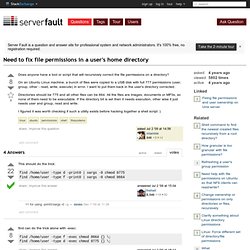 Does anyone have a tool or script that will recursively correct the file permissions on a directory? On an Ubuntu Linux machine, a bunch of files were copied to a USB disk with full 777 permissions (user, group, other - read, write, execute) in error. I want to put them back in the user's directory corrected.
linux - Need to fix file permissions in a user's home directory
Linux Config