Adobe_Alternatives
DVDStyler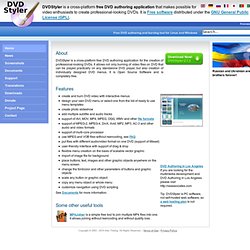 About DVDStyler is a cross-platform free DVD authoring application for the creation of professional-looking DVDs. It allows not only burning of video files on DVD that can be played practically on any standalone DVD player, but also creation of individually designed DVD menus. It is Open Source Software and is completely free. Features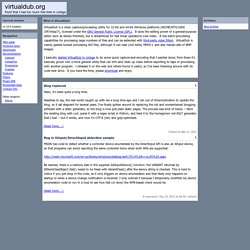 What is VirtualDub? VirtualDub is a video capture/processing utility for 32-bit and 64-bit Windows platforms (98/ME/NT4/2000/XP/Vista/7), licensed under the GNU General Public License (GPL). It lacks the editing power of a general-purpose editor such as Adobe Premiere, but is streamlined for fast linear operations over video.
jahshaka.org - Home
Parallels is a worldwide leader in virtualization and automation software that optimizes computing for consumers, businesses, and Cloud services providers across all major hardware, operating systems, and virtualization platforms. For the Cloud, Parallels automation and virtualization software enables cloud services providers to rapidly and profitably deliver the widest range of cloud services that small businesses want and need. Our software includes key building blocks of cloud service delivery - self service control panels, billing, cloud service provisioning and virtualization. We enable the delivery of all types of services that small businesses need - shared web hosting and web applications, messaging and collaboration services, virtualized infrastructure services and thousands of other applications.
Official Release Packages Stable release 0.48.4 intended for production use is available: Source Tarball — .gz See README to install, or CompilingInkscape for troubleshooting help.Source Tarball Bzip — .bz2 See README to install, or CompilingInkscape for troubleshooting help.OpenSUSE 12.3 one-click install.Ubuntu Software Centre has a one-click install for Inkscape.Mac OS X 10.6, Snow Leopard — Universal .dmg (requires Apple's X11/Xquartz 2.3.4 or higher)Windows — installer, portable, 7zip , builds of the 64-bit application are currently found on www.partha.com OSS-Marketplace.com Download any of the above (as well as .sig files and previous releases) at the Sourceforge Downloads page, or through your distro's update capabilities.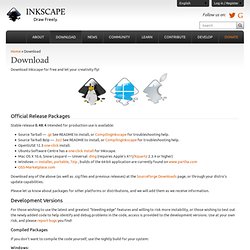 Draw Freely.
Linux Users KompoZer is a GTK application, it has nothing to do with KDE — though it can be installed on KDE, too. Komodo and the Kernel aren't KDE applications either. ;-) KompoZer 0.7.10 is not compatible with GTK ≥ 2.14, hence the crashes on some recent Linux distros like Ubuntu 8.10 and 9.04. Please upgrade to KompoZer 0.8.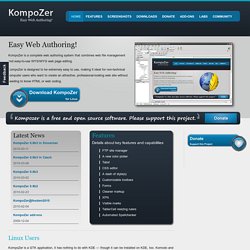 Scribus is an Open Source program that brings professional page layout to Linux, BSD UNIX, Solaris, OpenIndiana, GNU/Hurd, Mac OS X, OS/2 Warp 4, eComStation, Haiku and Windows desktops with a combination of press-ready output and new approaches to page design. Underneath a modern and user-friendly interface, Scribus supports professional publishing features, such as color separations, CMYK and spot colors, ICC color management, and versatile PDF creation.