Other Desserts
Happy Saint Patrick's Day!
Desserts With Benefits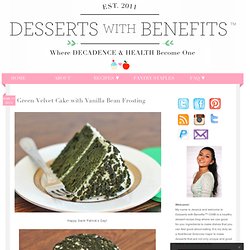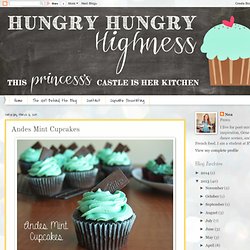 I've been really into mint lately. Not just the flavor, either.
Andes Mint Cupcakes
Glazed Mint & Chip Cupcakes
Irish Tea Cake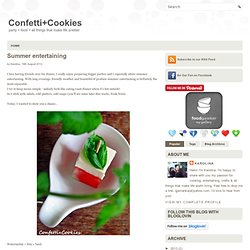 by Karolina, 19th August 2012 I love having friends over for dinner, I really enjoy preparing bigger parties and I especially adore summer entertaining. With long evenings, friendly weather and bountiful of produce summer entertaining is definitely the most enjoyable. I try to keep menu simple - nobody feels like eating roast dinner when it's hot outside!So I stick with salads, cold platters, cold soups (you'll see some later this week), fresh fruits.
Summer entertaining ~ Confetti+Cookies
Shugary Sweets: Peanut Butter Fudge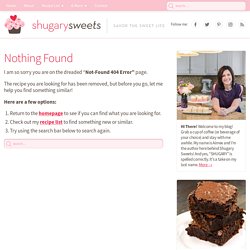 I couldn't decide how I wanted to garnish this fudge. Even afterwards, both style's held a special place in my heart, and my stomach. The chocolate and peanut butter drizzle on the first one is just a classic combination. But the peanut butter drizzle alone? It's almost like a bag of reese's pieces.
Milk and Honey: Croissants and Pan au Chocolat
Do you ever run 10 kilometres then come home and eat a brownie? Do you ever unexpectedly bump into your arch nemesis from high school (you know, the popular, pretty one) and wish you'd applied lip gloss and mascara before you went out? Do you ever lose your phone, then look in the fridge and find it?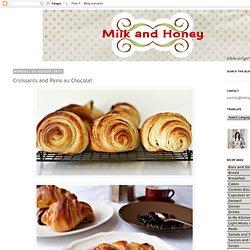 15 Memorable Disney Movie Songs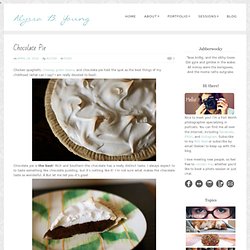 Chocolate Pie « In the Wabe
Chicken spaghetti, cheesey green beans, and chocolate pie hold the spot as the best things of my childhood (what can I say? I am really devoted to food). Chocolate pie is the best!
S'mores Cookies
Chocolate Yogurt Cakes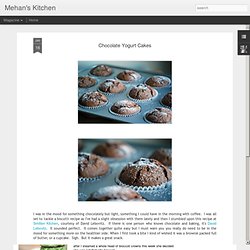 I was in the mood for something chocolately but light, something I could have in the morning with coffee. I was all set to tackle a biscotti recipe as I've had a slight obsession with them lately and then I stumbled upon this recipe at Smitten Kitchen, courtesy of David Lebovitz. If there is one person who knows chocolate and baking, it's David Lebovitz. It sounded perfect. It comes together quite easy but I must warn you you really do need to be in the mood for something more on the healthier side.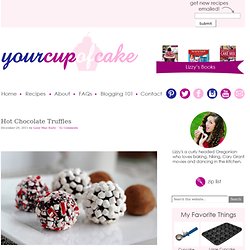 Your Cup of Cake: Hot Chocolate Truffles
The Story: Truffles have always scared me. They just seem like something you get during the holidays from fancy stores, not something I could do myself.
But if you're like me, you've gotten bored with the old "roll, cut, sprinkle" routine.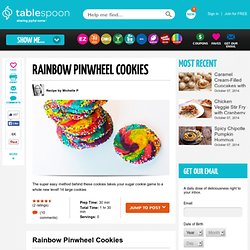 Rainbow Pinwheel Sugar Cookies Recipe
And than a warm chocolate chip cookie? If you answered, "Katie, is better than a warm chocolate chip cookie," you've obviously never met a cookie pie. (Above, topped with a super-healthy ice cream recipe I'll post next week.) This pie is everything you'd want in a cookie.
Healthy Deep Dish Cookie Pie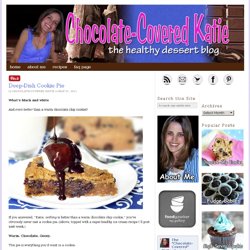 I know you want one =). When I first began to create the recipe for this cookie I started with a chocolate cookie dough made from scratch.
Marshmallow Brownie Cookies
Once again, Pinterest is amazing. If not for my little virtual bulletin board, I probably wouldn't have stumbled across these gems. They are peanut butter-pretzel truffles, or as I aptly named them – Chubby Hubby Truffles, after the famous Ben & Jerry's ice cream.
Peanut Butter-Pretzel Truffles | Chubby Hubby Truffles
Red Velvet Whoopie Pies « Recipes Remembered
Today, 1 December 2011, is World AIDS Day. Having lived and worked in Kenya, East Africa with one of the most comprehensive HIV treatment programs in the world and assisted an amazing Pediatric HIV Researcher here in the U.S., this issue is one close to my heart. Instead of writing about my experiences (as they are limited), I will refer you to a few other resources you might find interesting:
My fiance invited me to his co-workers house the other night to play tons of boardgames. I volunteered to make cake pops for everyone. I learned a few tricks and tips to making cake pops more easy, since I made tons.
Cake Pops Tips and Tricks | Gwen's Kitchen Creations
Preheat the oven to 425°F. Dry toasted pine nuts: Lightly dry toast the pine nuts in a small skillet over medium high heat until slighted golden. You have to be very careful; otherwise the pine nuts could burn easily. Transfer to a plate. Keeping a bright green color: Blanch (dip for 10 seconds in boiling water then transfer to an ice-cold bath) the basil, drain, then dry thoroughly of all water, pat dry on a paper towel. Roughly chop - you'll get approximately 1 cup of greens.
Pesto Palmiers (Basil Pesto Elephant Ears
Blog Archive » Recipe: Candy Cane Truffles
Easy Parmesan Knots