Desserts
No-Bake Chocolate Peanut Butter Oat Squares
If you happen to have just returned home from a vacation…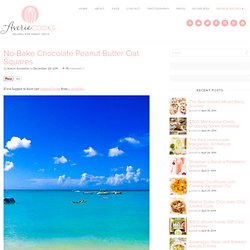 Every Christmas, at least for the past 5 years or so, I make a big batch of cookies, and package them up for my workmates. Last year I made Nicciolini, the year before that I made Lavendar & Lemon, and for a few years before that I made plain shortbread. This year I was confident enough to "invent" my own recipe, even though I'm positive its been done before.
Christmas cookies – Again! « Lauren's Cooking and Gardening Journal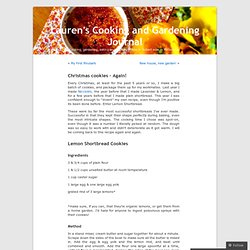 No-Bake Peanut Butter S'mores Bars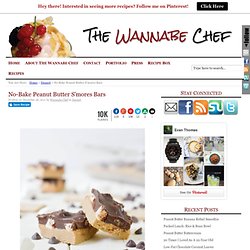 I love it when people request certain desserts for parties because it makes it so much easier to decide what to bring. This year my cousin asked for Christmas Eve that I bring the same dessert I brought last year: Peanut Butter S'mores Bars. These are absolutely one of my favorites, too. I've also been meaning to make them all year because I wanted to take better pictures than the old ones I had for this recipe, so it was an all around win. The bars are a layer of peanut butter graham cracker crust with a peanut butter and marshmallow filling topped with soft chocolate ganache.
Gluten-Free Blueberry and Cream Cheese Scones
Gluten-Free Blueberry and Cream Cheese Scones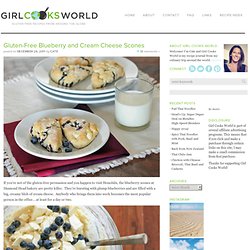 Bridesmaid Baby Cakes Recipe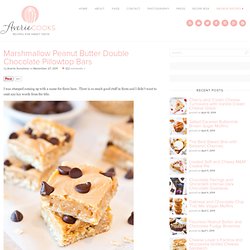 Marshmallow Peanut Butter Double Chocolate Pillowtop Bars
I was stumped coming up with a name for these bars. There is so much good stuff in them and I didn't want to omit any key words from the title.
i 18 Votes Spanish Bread I don't know why this is called Spanish bread as I guess it does not have anything to do with any Spanish types of bread. Anyways for those who know why, please let me know, I can't find any resource on why is it named such.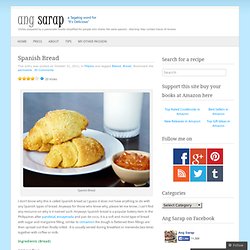 Spanish Bread
100 Calorie Chocolate Chip Cookies
This week is my brother's last week in New York, so we celebrated last night with a picnic dinner on the terrace of my parent's apartment building, overlooking Herald Square. I'd wanted to try this cookie recipe for a while, so I figured it was the perfect excuse. The recipe comes from Cook's Illustrated Healthy Recipe book. For 100 calories a cookie, I think they're great: light and cake-y, with a strong vanilla taste. My brother and I certainly had no trouble eating through half the batch. I'd recommend using quality chocolate chips (I used hershey's mini dark chocolate kisses, but ghirardelli would be even better), to add a little decadence.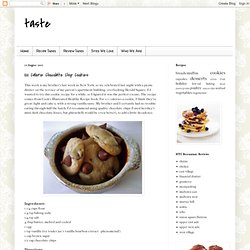 Une Gamine dans la Cuisine: Mint Chocolate Chip Cookies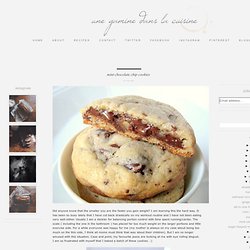 Did anyone know that the smaller you are the faster you gain weight? I am learning this the hard way. It has been so busy lately that I have cut back drastically on my workout routine and I have not been eating very well either.
Chocolate Mug Cake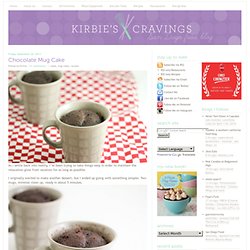 Friday, September 30, 2011 Chocolate Mug Cake As I settle back into reality, I've been trying to take things easy in order to maintain the relaxation glow from vacation for as long as possible. I originally wanted to make another dessert, but I ended up going with something simpler. Two mugs, minimal clean up, ready in about 5 minutes.
Lemon Bars
My original thinking with these beauties was that they would become the modern day Welsh Love Spoon. The one you'd actually like to receive on Valentine's Day, as opposed to one of those outrageously over-priced and overwhelmingly useless, hideous, hand crafted, wooden goodfornothings. Those of you not in the same country as I am might not know what a Welsh Love Spoon is, and in this case, Google is your best friend - he's found this for you.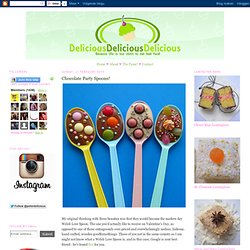 Chocolate Party Spoons!
This is part IV in a mini-series of Harry Potter snacks from the books brought to life (part I is on Honeydukes treats, part II is all about the cauldron cakes, and part III features every wizard's favorite drink—butterbeer!). I confess that Butterbeer Cupcakes aren't actually mentioned in the Harry Potter series. In my defense, if JK Rowling had been given one of these while writing the books, she would have found a way to fit them in. They are so exceptional, I wouldn't be surprised if she featured them as a major plot point. I'm only half joking. Humor aside, the release of the final movie is upon us.
The Pastry Affair - Home - Butterbeer Cupcakes