Crafts
This tree is for websites i found in crafts section of www.stumblleupon.com hope you enjoy
Holder for Charging Cell Phone (made from lotion bottle) My husband and I both have cell phones.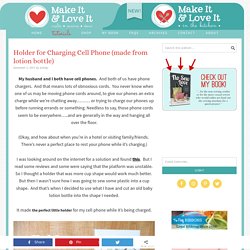 And both of us have phone chargers. And that means lots of obnoxious cords. You never know when one of us may be moving phone cords around, to give our phones an extra charge while we're chatting away……… or trying to charge our phones up before running errands or something. Needless to say, those phone cords seem to be everywhere…..and are generally in the way and hanging all over the floor. Make-up Magnet Board. We all know with craft blogs that original ideas are often hard to come by, we find ideas we love and make them our own but we didn't come up with the idea ourselves.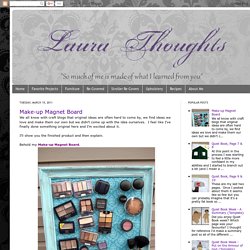 I feel like I've finally done something original here and I'm excited about it. I'll show you the finished product and then explain. Behold my Make-up Magnet Board. How to make gift bags from newspaper. When I bought something at a store recently, the clerk handed me my purchase in a bag made from a newspaper.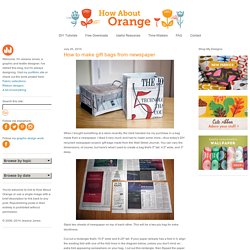 I liked it very much and had to make some more—thus today's DIY recycled newspaper project: gift bags made from the Wall Street Journal. You can vary the dimensions, of course, but here's what I used to create a bag that's 5" tall, 4.5" wide, and 3" deep. Stack two sheets of newspaper on top of each other. Easy Button Earrings Tutorial. Did you know...that you can make new earrings with a button and a paperclip?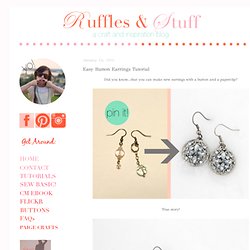 True story! I've been trying to think of a way for us to make some earrings without having to buy supplies. Easy and Unique DIY VasesInspiring Pretty. Everyone loves vases, but it's difficult to find one that is unique and not the same old run of the mill vase you've seen 1000 times before.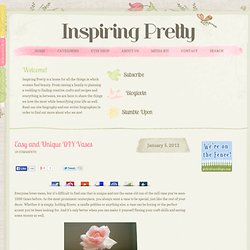 As the most prominent centerpiece, you always want a vase to be special, just like the rest of your decor. Whether it is empty, holding flower, a candle pebbles or anything else, a vase can be boring or the perfect accent you've been looking for. And it's only better when you can make it yourself flexing your craft skills and saving some money as well. This lovely vase is simple and its beauty is its simplicity. All it takes is a cute vase, some sequins and some glue. How-To: Duct Tape Roses. If you're celebrating Love Day this year, and could't make it to the Kwik-E-Mart before they sold out of Lord Huggington, you might consider going the handmade route, in which case you could probably do a lot worse than a dozen of these realistic duct tape roses from Instructables user DIYHacksAndHowTos.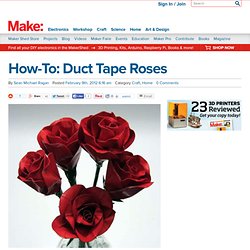 Now, if you'll excuse me, I have to go outside and assemble Love Land. [via CRAFT] More Design Please - MoreDesignPlease - DIY Doily&Lamp. Soap Making Instructions | Soap Making Recipes and Tutorials | Teach Soap - StumbleUpon. UpCycled Window Shutters - DIY Inspiration. Posted by ScrapHacker.com on fredag, mars 16, 2012 · 6 Comments Open your eyes to the possibilities of upcycling old shutters into new awesome creations.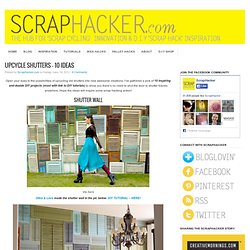 I've gathered a pick of 10 inspiring and doable DIY projects (most with link to DIY tutorials) to show you there's no need to shut the door to shutter futures anywhere. Hope the ideas will inspire some scrap hacking action! How to Make Cherry Blossom Lights. I love the way the cherry trees outside my building bloom cheerfully each Spring.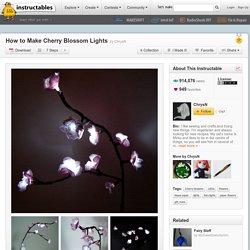 I wanted to bring the beauty of those cherry blossoms indoors so I made some out of tissue paper and to make them even more special I added LEDs These pretty lights are inexpensive and easy to make. They are made mostly from material found at a dollar store. You can make several branches for a spray of cherry blossoms to decorate your room. Lollies - a little ART CANT HURT. A perfect rainy day thing to do!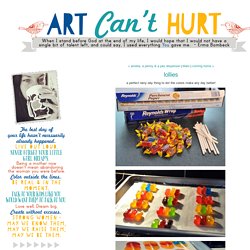 The colors make any day better! How to make LOLLIESyou will need: jolly ranchers, candy sticks, parchment paper, foil & a cookie sheet 1) lay a piece of foil on cookie sheet. cover foil with a piece of parchment paper.2) unwrap candies and place side by side on parchment paper in your choice of color & flavor combinations. use three candies together for extra large lollies, and only two candies together for regular lollies.3) heat candies in oven for about 5 minutes at 200 degrees. keep a close eye on the candies and take them out as soon as they've barely melted together. if you leave them in too long they will melt too much and you won't be able to put a stick into the lollie. alter the cook time accordingly.4) carefully take cookie sheet out of oven. immediately lay candy sticks into place on melted candies. slowly twirl in melted candy to coat the stick and so it will hold in the lollie. they're hot!
It's a good idea to use free paint chips: Check out the 31 ways paint chips are used in all kinds of projects!!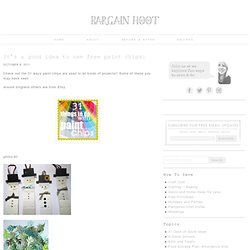 Some of these you may have seen around blogland others are from Etsy. Fun and Crafty Uses for Newspaper. How to Make Crayon Monogram | Tutorial. Explore more. Web pages, photos, and videos | StumbleUpon.com. You knew i was going to make one.
They are all over pinterest.... (i still am not signed up for pinterest because i don't have time for one more thing but browsing is fun!) So we made one. i took a box of 64 crayons and took out the blacks and browns.i used another small box and doubled up on the good colors i liked and hot glued them to the top of our canvas. Tutorials for Recycling Books. We rode bikes around our neighborhood this weekend and stopped at all the garage sales we found along the way. I love doing this because it's like exercise and shopping in one! Plus, my bike basket is perfect for holding whatever treasures I find. On this particular trip I was noticing a lot of old books for sale. My DIY craving kicked in and I knew I had to do some research on the projects I could use old books for.
---