News
New pearl. A "gold-rush-like" buzz has spread across Germany in the last week over tentative plans to invest the staggering sum of 400 billion euros to harvest solar power in the Sahara for energy users across Europe and northern Africa.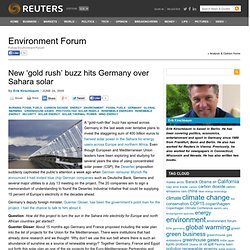 Even though European and Mediterranean Union leaders have been exploring and studying for several years the idea of using concentrated solar power (CSP), the Desertec proposition suddenly captivated the public's attention a week ago when German reinsurer Munich Re announced it had invited blue chip German companies such as Deutsche Bank, Siemens and several major utilities to a July 13 meeting on the project. The 20 companies aim to sign a memorandum of understanding to found the Desertec Industrial Initiative that could be supplying 15 percent of Europe's electricity in the decades ahead. Germany sees political gain from Sahara Solar plan | Funds | Reu. BERLIN, July 10 Fri Jul 10, 2009 8:18pm IST BERLIN, July 10 (Reuters) - A 400-billion euro renewable energy project linking northern Africa and the European Union could spur political cooperation across the region, German Foreign Minister Frank-Walter Steinmeier said on Friday.
"It's a visionary project in many ways," Steinmeier, a key proponent of the Desertec project to be launched on Monday, told a group of journalists from the Foreign Press Association (VPA). A group of companies from Europe and northern Africa will meet in Munich on Monday to map out large-scale projects that would harvest solar thermal energy from the deserts of northern Africa and the Middle East for use there and in Europe. New pearl. New pearl. New pearl. Berlin attend aussi du projet Desertec des avancées politiques | BERLIN, 10 juillet (Reuters) - L'Allemagne attend du plan solaire méditerranéen, un projet énergétique de 400 milliards d'euros liant l'Union européenne et des pays d'Afrique du Nord, qu'il contribue aussi à une meilleure coopération politique dans la région.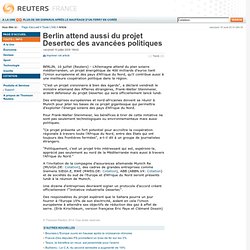 "C'est un projet visionnaire à bien des égards", a déclaré vendredi le ministre allemand des Affaires étrangères, Frank-Walter Steinmeier, ardent défenseur du projet Desertec qui sera officiellement lancé lundi. Des entreprises européennes et nord-africaines doivent se réunir à Munich pour jeter les bases de ce projet gigantesque qui permettra d'exploiter l'énergie solaire des pays d'Afrique du Nord. Pour Frank-Walter Steinmeier, les bénéfices à tirer de cette initiative ne sont pas seulement technologiques ou environnementaux mais aussi politiques. JDLE.
---