Arts
IN BED WITH INVADER
militantvibes
Play La Fouine est un gamer à l'ancienne. Plus à l'aise sur les jeux-vidéo de plateforme super facile avec 2 boutons et la direction. Un bon vieux Sonic semble faire l'affaire.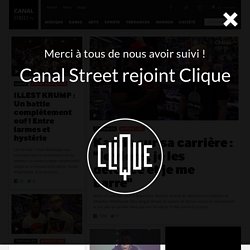 Smells Like Hip Hop - La Chapelle
Apprenez toute l'histoire du graffiti & du steet art en 10 minutes. | Graphisme & interactivité blog par Geoffrey Dorne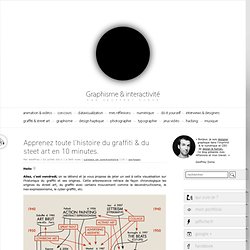 Hello Allez, c'est vendredi, on se détend et je vous propose de jeter un oeil à cette visualisation sur l'historique du graffiti et ses origines. Cette arborescence retrace de façon chronologique les origines du street art, du graffiti avec certains mouvement comme le deconstructivisme, le neo-expressionisme, le cyber-graffiti, etc. Personnellement, j'ai découvert énormément de choses avec cette petite visualisation bien réalisée.
Bomb it the movie graffiti documentary (PART 1)
Bomb it the movie graffiti documentary (PART 2)
Bomb it the movie graffiti documentary (PART 3)
The United States of America is going out of business! But here at the U.S. Department of Homeland Graffiti, we want to turn this moment of national embarrassment and hard times into real savings for you and your family. From June 4th through the 28th, the U.S.D.H.G and the Graffiti Research Lab are liquidating all confiscated, high-tech graffiti artifacts and tools, expunged evidence, court exhibits, redacted documents and office furnishings, priced to sell. So grab a handful of Euros or Mao Bucks (U.S. currency still accepted while supplies last) and head on down to Gallery Anno Domini located between U.S. Routes 101 and 280 in Silicon Valley, California.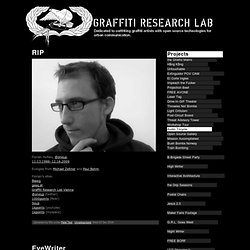 Wide Open Walls 2011
Niels Shoe Meulman presents Calligraffiti
| Studio Hush
larmeesonges
L'ATLAS - LA VRAIE VIE EST AILLEURS - - une vidéo Art et Création
De Van Gogh à Nowart : des Flowers et des Hommes - une vidéo Art et Création
Cinéma et Propagande de Guerre Américaine part 1
Cinéma et Propagande de Guerre Américaine part 2
HOME - liberame1 Jimdoページ
namastjiha els art
Robert Janitz
TIMOTHY PERKINS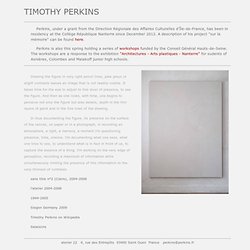 Perkins, under a grant from the Direction Régionale des Affaires Culturelles d'Île-de-France, has been in residency at the Collège République Nanterre since December 2012. A description of his project "sur la mémoire" can be found here. Perkins is also this spring holding a series of workshops funded by the Conseil Général Hauts-de-Seine.
Jérôme Mesnager
//// www.nkdm.com / Nikodem / Peintre / Illustrateur / Graphiste ////
le mouvement de la carotte
There are these wounds in our heart which we carry around everywhere. Sometimes they bleed so much, it hurts to even admit their existence and you push them to dark corners of your mind. You wish never to see them, you never turn on the lights. It keeps building. All the moments you have lived cast an impact on you, are registered and stored in your mind forever.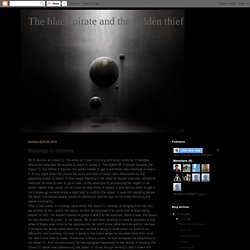 The black pirate and the golden thief
The message arrives at the last minute via email, and the tone is commanding. Meeting place: McDonald's. The conditions: No mobile phones or recording devices. The meeting time: now. It's night in St.
Russia's Art Revolution: Voina Challenges Putin with Imagination - SPIEGEL ONLINE - News - International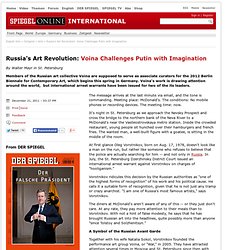 Ressources pour ecrivains