"Vorthos"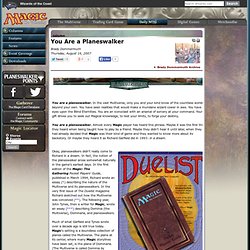 You Are a Planeswalker
You are a planeswalker. In the vast Multiverse, only you and your kind know of the countless worlds beyond your own. You have seen realities that would make a mundane wizard cower in awe.
Vorthosian Inquisition - a Magic: The Gathering webcomic for Vorthoses...
List of Magic: The Gathering characters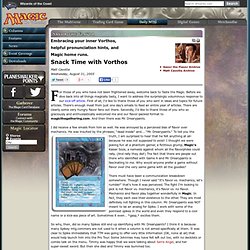 or those of you who have not been frightened away, welcome back to Taste the Magic. Before we dive back into all things magically tasty, I want to address the surprisingly voluminous response to our kick-off article . First of all, I'd like to thank those of you who sent in ideas and topics for future articles. There's enough meat from just one day's emails to feed an entire year of articles.
Snack Time with Vorthos
Vorthos - MTG Salvation Wiki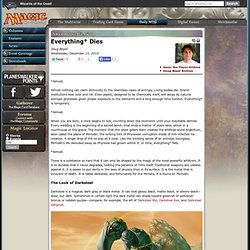 *Almost. Almost nothing can claim immunity to the relentless claws of entropy. Living bodies die.
Everything* Dies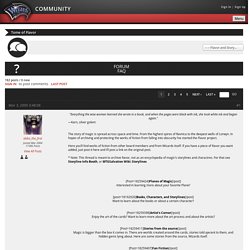 Tome of Flavor > Flavor and Storylines
Anomaly by Dav Flamerock There was an anomaly. Hani knew it immediately—it was a trick she had picked up from her time studying and interacting with the winds of Esper. Not far away, the air had suddenly become significantly altered.
Richard Garfield Archive : Magic Magazine : Magic: The Gathering