Peacekeeping
Ited Nations Official Document. MOGIP Facts and Figures - United Nations Military Observer Group in India and Pakistan. Ited Nations Department of Political Affairs - Peacemaking and Conflict Prevention. Since its establishment more than six decades ago, the United Nations has played a preeminent role in the peaceful resolution of armed conflict around the world.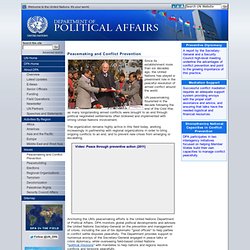 UN peacemaking flourished in the decade following the end of the Cold War, as many longstanding armed conflicts were brought to an end through political negotiated settlements often brokered and implemented with strong United Nations involvement. The organization remains highly active in this field today, working increasingly in partnership with regional organizations in order to bring ongoing conflicts to an end, and to prevent new crises from emerging or escalating. ITED NATIONS INDIA-PAKISTAN OBSERVATION MISSION (UNIPOM) GOMAP: United Nations Good Offices Mission in Afghanistan and Pakistan. Ited Nations Stabilization Mission in Haiti (MINUSTAH) Restoring a secure and stable environment .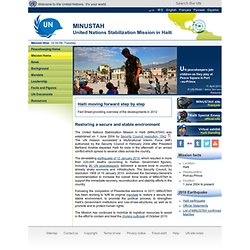 The UN mission succeeded a Multinational Interim Force (MIF) authorized by the Security Council in February 2004 after President Bertrand Aristide departed Haiti for exile in the aftermath of an armed conflict which spread to several cities across the country. The devastating earthquake of 12 January 2010, which resulted in more than 220,000 deaths (according to Haitian Government figures), including 96 UN peacekeepers, delivered a severe blow to country's already shaky economy and infrastructure. The Security Council, by resolution 1908 of 19 January 2010, endorsed the Secretary-General's recommendation to increase the overall force levels of MINUSTAH to support the immediate recovery, reconstruction and stability efforts in the country.
Www.un.org/en/peacekeeping/documents/factsheet.pdf. Security Council Briefed by Force Commanders of Missions in Liberia, Sudan, Haiti, Democratic Republic of Congo, Middle East Truce Supervision Organization. Security Council 6370th Meeting (AM) Peacekeeping Head, Introducing Discussion, Says Peacekeeping Surge Has Reached Plateau, Priority Now on Consolidation of Existing Missions, Accelerating Reform The expansive "surge" of United Nations peacekeeping of past years had reached a plateau and the priority now was consolidation of existing missions and accelerating reforms, the Under-Secretary-General of Peacekeeping Operations said today, as he introduced briefings by five Force Commanders to the Security Council.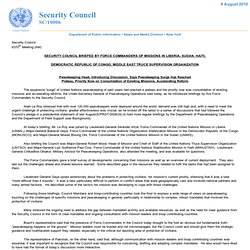 Security Council and Peacekeeping. Pbpu.unlb.org/pbps/Library/Capstone_Doctrine_ENG.pdf. Ited Nations Peacebuilding Commission. <p style="color:#FF1F00; font-size:120%; padding-bottom: 0; padding-top: 0; margin-top: 0px; margin-bottom: 2px;"><strong>Javascript is not enabled.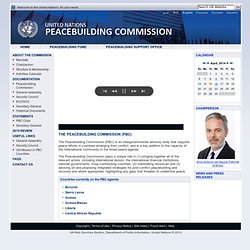 <a href="slideshow.shtml">View accessible HTML version. </a></strong></p> The Peacebuilding Commission (PBC) is an intergovernmental advisory body that supports peace efforts in countries emerging from conflict, and is a key addition to the capacity of the International Community in the broad peace agenda. The Peacebuilding Commission plays a unique role in (1) bringing together all of the relevant actors, including international donors, the international financial institutions, national governments, troop contributing countries; (2) marshalling resources and (3) advising on and proposing integrated strategies for post-conflict peacebuilding and recovery and where appropriate, highlighting any gaps that threaten to undermine peace.
United Nations Peacebuilding Fund.
---