Savory
Coconut Bacon - Fettle Vegan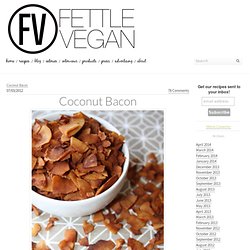 As a vegan, I don't usually 'miss' meat. I don't crave it, or wish I still ate it- mostly. Bacon is my exception.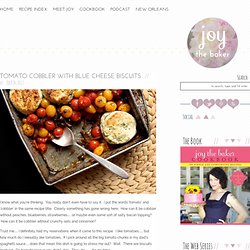 Tomato Cobbler with Blue Cheese Biscuits
I know what you're thinking. You really don't even have to say it. I put the words 'tomato' and 'cobbler' in the same recipe title.
Ingredients 2 cups of day old cubed bread*1 Tbsp butter2 Tbsp pine nuts1 very large zucchini (about 2 pounds), otherwise known as a baseball bat zucchini1/4 cup prepared basil pesto1/4 cup grated Parmesan cheese4 ounces fresh mozzarella, cut into cubesA handful of cherry tomatoes, roughly choppedSalt *The bread should be a little dry, this way it will toast better.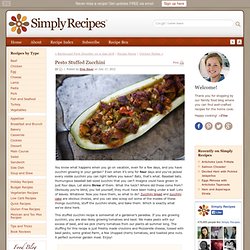 Pesto Stuffed Zucchini Recipe
Cheese, Herbs, Butter! 10 Homemade Cracker Recipes
When my nephew comes to stay with us he likes to stand in the big front window to watch the buses come up the hill.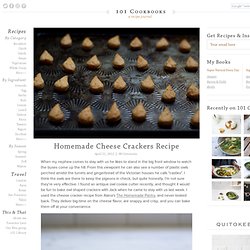 Homemade Cheese Crackers Recipe
We're super crazy busy. You're super crazy busy.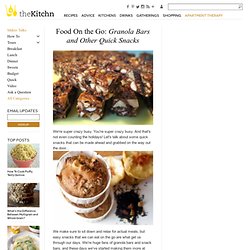 Food On the Go: Granola Bars and Other Quick Snacks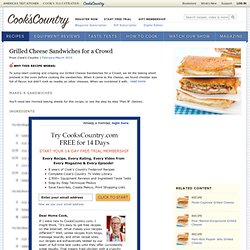 Why this recipe works: To jump-start cooking and crisping our Grilled Cheese Sandwiches for a Crowd, we let the baking sheet preheat in the oven before cooking the sandwiches. When it came to the cheese, we found cheddar was full of flavor, but didn't melt as readily as other cheeses.
Grilled Cheese Sandwiches for a Crowd - Recipe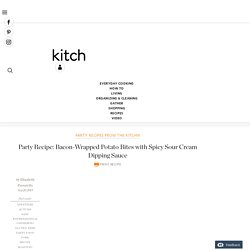 Okay, we're not going to win any awards for thinking up this combination. But hey, these potato bites are easy, delicious, and perfect for a Final Four-loving crowd, should you find yourself surrounded by one this weekend.
Macaroni & Cheese Muffins | The Baking Robot
Do humans ever wake up and say, "I think I'll take my favorite savory home style classic dinner in the form of a muffin today"?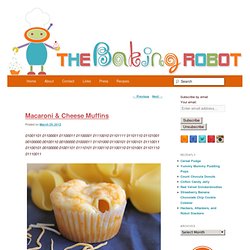 Asparagus Salad with Shrimp Recipe
We like using little salad shrimp for this recipe because they are sustainably caught in North America, but you could use any shrimp.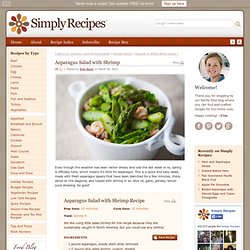 Food is always coming out of my kitchen.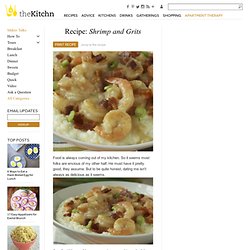 Recipe: Shrimp and Grits
You can also add some chopped fresh parsley to the colcannon mix. Here's a fun idea for breakfast, serve the colcannon cakes with a poached egg on top!
Colcannon Cakes Recipe
Colcannon Recipe
Have you ever had colcannon? A St. Patrick's day favorite, it's a mixture of creamy mashed potatoes and usually kale or cabbage.
Crispy Seasoned Oven Fries Recipe at Epicurious
French Dip Sandwich Recipe
Difficulty:Easy | Total Time: | Makes:6 sandwiches The French dip, supposedly created in Los Angeles in the early 1900s, is a classic sandwich composed of nothing more than a French roll stuffed with roast beef that's been dipped in roast beef juices or jus, with more jus served on the side for extra dipping. A good jus is the foundation of a tasty French dip sandwich, and the CHOW test kitchen has developed an easy, flavorful one by simmering browned beef bones with red wine and beef broth.
Mustard Caviar: Recipe
Cheese on Toast: a comforting dish for St. David's Day
Hapus Dydd Gŵyl Dewi!
One-Pot Chicken Rice for Lovely Weekend » Print