Recipes
Being a good cook isn't just a matter of knowing the big, impressive skills you can show off to friends and family, like roasting a turkey or making challah bread. It's also about the small habits you practice daily, the ones that transform cooking into a more effortless and joyful part of your day. These 8 simple habits are easy to pick up, yet make a major difference in your cooking. 1. Make your cutting board non-slip.
8 Small Cooking Habits That Make a Big Difference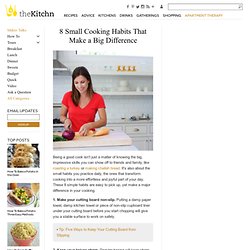 Get Your Grain Ratios Right on The Eater's Digest
If you can boil water, cooking up grains should, in theory, be pretty simple. And yet, if you've ever wound up with a pot of goopy rice or quinoa the consistency of Grape-Nuts, you know that remembering the right water ratios can be a bit tricky. Enter our helpful grain infographic… our grainfographic! Print it out, post it on the fridge, and you'll forever have a cheat sheet for grain success. Let no grain go mis-cooked! Download the pdf here.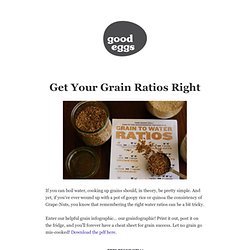 What are your recipe essentials? This time last year we shared a dozen of the recipes that we and our readers find indispensable. So indispensable are they, in fact, that we don't lean on the printed word. These are recipes we commit to memory. But a dozen really isn't enough, and we all have our favorites, so we're revisiting our lineup, with ten more recipes that many of us truly know by heart.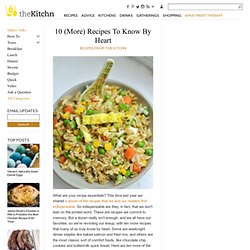 10 (More) Recipes To Know By Heart Recipes from The Kitchn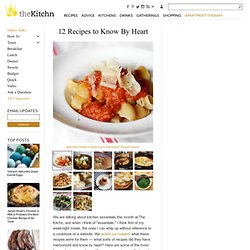 12 Recipes to Know By Heart
We are talking about kitchen essentials this month at The Kitchn, and when I think of "essentials," I think first of my weeknight meals, the ones I can whip up without reference to a cookbook or a website. We asked our readers what these recipes were for them — what sorts of recipes did they have memorized and know by heart? Here are some of the most frequent answers, along with our own versions so that you too can learn these by heart.
Apps. It's a semi-word thrown around quite easily these days, usually referring to smart phone applications ("apps") like Instagram, Words with Friends, or Angry Birds (which apparently is at the top of the app popularity totem pole). But when the holidays roll around, "app" means only one thing to me: appetizer, quite possibly my favorite food group. Chips and dip, cheese and crackers, crostini and baked artichoke spread… Anything crunchy/salty/savory paired with anything rich/creamy/spreadable is a welcome break from the holiday cookies, candy, and other sweets so ubiquitous right about now. So, without further ado, enjoy this tasty baker's dozen of our favorite holiday appetizers.
Holiday Appetizers: savory favorites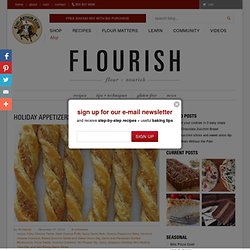 Want Perfectly Round Cookies? Use a Paper Towel Roll CHOW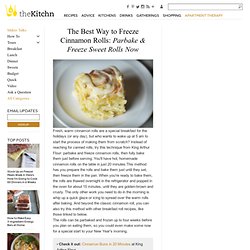 The Best Way to Freeze Cinnamon Rolls: Parbake & Freeze Sweet Rolls Now
Fresh, warm cinnamon rolls are a special breakfast for the holidays (or any day), but who wants to wake up at 5 am to start the process of making them from scratch? Instead of reaching for canned rolls, try this technique from King Arthur Flour: parbake and freeze cinnamon rolls, then fully bake them just before serving. You'll have hot, homemade cinnamon rolls on the table in just 20 minutes.This method has you prepare the rolls and bake them just until they set, then freeze them in the pan. When you're ready to bake them, the rolls are thawed overnight in the refrigerator and popped in the oven for about 15 minutes, until they are golden-brown and crusty.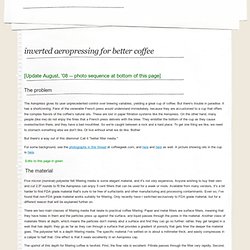 null - scottmarquardt
I'd suggest letting the filter dry whenever possible, ideally in the sun that shines on your window sill over the sink. ;-) [Yet another update: put the used filter in a small Ziploc and store it in the freezer. This prolongs the life of the filter substantially. How long does a filter last? Sniff it before use.
Easy Rainbow Pasta Recipe
3 Essential Tips for Successfully Growing Herbs Indoors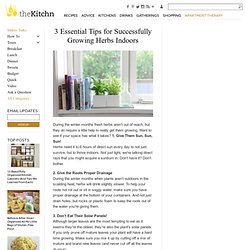 During the winter months fresh herbs aren't out of reach, but they do require a little help to really get them growing. Want to see if your space has what it takes? 1. Give Them Sun, Sun, Sun! Herbs need 4 to 6 hours of direct sun every day to not just survive, but to thrive indoors.
It's fall, which means it's time to pull out the ol' slow cooker! We've shared a few of our favorite slow cooker recipes in the past, including tried-and-true recipes for barbacoa beef, lemon garlic chicken, and curried vegetable stew. But did you know you can also use your slow cooker to make cheesecake? Fruit butters? Even bread? Yes, indeed.
10 Surprising Foods You Can Make in a Slow Cooker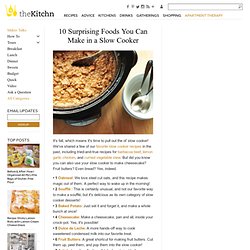 20 Smoothie Tips, Hints, and Recipes
Drink Your Oats: 5 Nourishing Whole-Grain Smoothie Recipes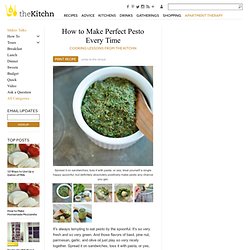 How to Make Perfect Pesto Every Time Cooking Lessons from The Kitchn
Previous image Next image Spread it on sandwiches, toss it with pasta, or yes, treat yourself a single happy spoonful, but definitely absolutely positively make pesto any chance you get. It's always tempting to eat pesto by the spoonful.
Taco seasoning is one of those convenience foods that I kept buying long after I had eliminated lots of other stuff. It's silly, really. But it was so easy to just buy a pouch of mystery dust for taco night. A couple years ago, though, I started to make my own taco seasoning.
taco seasoning recipe
Drip… Drip… Drip… This is definitely NOT the sound you want to hear in the middle of a dark and stormy night, with the wind howling and tugging at those old shingles on your roof – you know, the ones you meant to replace last year only you spent your income tax refund on a stand mixer and a week at the beach. This is also not the sound you want to hear when, against your better judgment, you left the dog alone in the kitchen with a pot of cooling soup barely within inquisitive nose reach on the counter.
Orange Sweet Rolls: tangy twist on a favorite classic
Bake Your Day Spinach Salad Pizza
Monday, August 13, 2012 Spinach Salad Pizza We are still going strong – but only a few weeks left of our #TomatoLove recipe exchange, in conjunction with IJM's Recipe for Change. It's never been more important to speak out – advocate for tomato farmers by speaking out. Sign a petition, send a letter to your local supermarkets, and share the campaign with others.
I am in love. With a fluffy, light, cinnamon-sugary, fruity, buttery muffin remiscent of my favorite pie EVER. Peach pie, nothing comes close to you.
peach pie muffins with brown butter glaze.
25 Time-Saving Freezer Tips
Remember these? Oh, how I loved these as a kid. Sure, I probably ate as much paper as candy, but I adored the things. As I was brainstorming ideas for the butterfly party, I remembered these favorite childhood treats, and thought of the idea of making my own in my party colors. To make this project, you will need: One batch royal icing food coloring icing bags (I prefer the disposable KopyKake brand) and round tips (optional) Freezer Paper Graph Paper Pretzel bags Scrapbook paper stapler and glue
DIY Project: How to Make Homemade Candy Buttons | TikkiDo.com
Random Thoughts - Sliding during pool time. (Photo by somewhiteguy)
Infographic: The level of mercury in fish
How To Peel, Cut, Core, and Dice: 20 Tips & Techniques for Fruit and Vegetable Prep
Weight Conversions For Flour, Sugar, and Other Common Baking Ingredients
How to cook onions: Why recipe writers lie and lie about how long they take to caramelize
Homemade Wine Jelly
Making Hard-Cooked Eggs? Don't Boil Them. Bake Them!
Copycat Recipe: DIY Nutri-Grain Fruit and Nut Bars
The Spontaneous Invitation: 3 Tips for Last-Minute Hospitality
The Do-Not-Freeze-These-Foods List Freezer Friendly
Easy Homemade Mayonnaise | Dollar Store Mom - Frugal Fun - Crafts for Kids