Recipes
Being a good cook isn't just a matter of knowing the big, impressive skills you can show off to friends and family, like roasting a turkey or making challah bread. It's also about the small habits you practice daily, the ones that transform cooking into a more effortless and joyful part of your day. These 8 simple habits are easy to pick up, yet make a major difference in your cooking. 1. Make your cutting board non-slip.
8 Small Cooking Habits That Make a Big Difference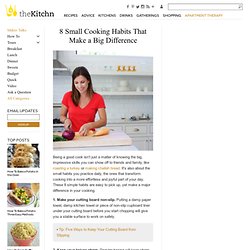 Get Your Grain Ratios Right on The Eater's Digest
If you can boil water, cooking up grains should, in theory, be pretty simple. And yet, if you've ever wound up with a pot of goopy rice or quinoa the consistency of Grape-Nuts, you know that remembering the right water ratios can be a bit tricky. Enter our helpful grain infographic… our grainfographic! Print it out, post it on the fridge, and you'll forever have a cheat sheet for grain success. Let no grain go mis-cooked! Download the pdf here.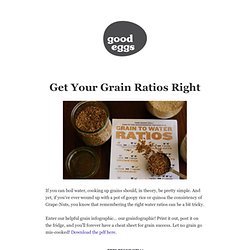 What are your recipe essentials? This time last year we shared a dozen of the recipes that we and our readers find indispensable. So indispensable are they, in fact, that we don't lean on the printed word. These are recipes we commit to memory. But a dozen really isn't enough, and we all have our favorites, so we're revisiting our lineup, with ten more recipes that many of us truly know by heart.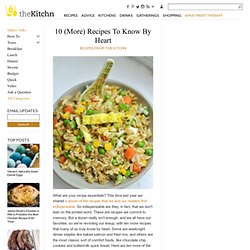 10 (More) Recipes To Know By Heart Recipes from The Kitchn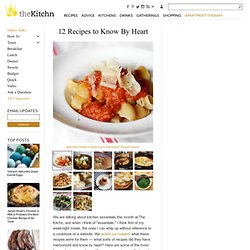 12 Recipes to Know By Heart
We are talking about kitchen essentials this month at The Kitchn, and when I think of "essentials," I think first of my weeknight meals, the ones I can whip up without reference to a cookbook or a website. We asked our readers what these recipes were for them — what sorts of recipes did they have memorized and know by heart? Here are some of the most frequent answers, along with our own versions so that you too can learn these by heart.
Apps.
Holiday Appetizers: savory favorites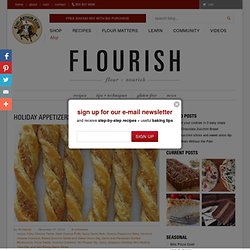 Want Perfectly Round Cookies? Use a Paper Towel Roll CHOW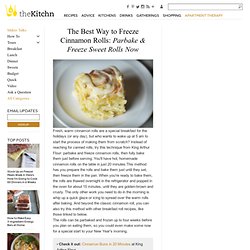 The Best Way to Freeze Cinnamon Rolls: Parbake & Freeze Sweet Rolls Now
Fresh, warm cinnamon rolls are a special breakfast for the holidays (or any day), but who wants to wake up at 5 am to start the process of making them from scratch?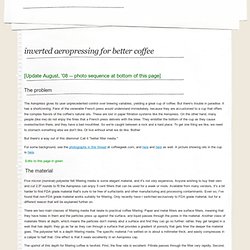 null - scottmarquardt
I'd suggest letting the filter dry whenever possible, ideally in the sun that shines on your window sill over the sink. ;-)
Easy Rainbow Pasta Recipe
The rainbow recipes on Tablespoon continue today with this fun new one – Rainbow Pasta! Plain spaghetti was by far one of my favorite foods as a kiddo, especially being an uber picky eater. But I'm pretty sure our spaghetti never looked like THIS! In fact, if it had, I'm imagining my mom could have hidden all sorts of extra veggies and good stuff in there without us kids noticing. But regardless of what sauce, veggies, or other ingredients you might like to serve with this pasta, the fun rainbow technique will definitely make this rainbow pasta the talk of the dinner table. And to complete the "rainbow", I've also included a quick tutorial for making these quick and easy little Parmesan "clouds".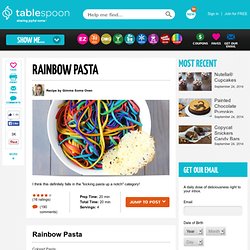 3 Essential Tips for Successfully Growing Herbs Indoors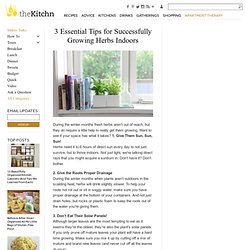 During the winter months fresh herbs aren't out of reach, but they do require a little help to really get them growing.
It's fall, which means it's time to pull out the ol' slow cooker! We've shared a few of our favorite slow cooker recipes in the past, including tried-and-true recipes for barbacoa beef, lemon garlic chicken, and curried vegetable stew.
10 Surprising Foods You Can Make in a Slow Cooker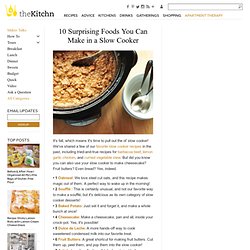 20 Smoothie Tips, Hints, and Recipes
Drink Your Oats: 5 Nourishing Whole-Grain Smoothie Recipes
In the early fall as the mornings get just a touch cooler, the breakfast options can get all the more hectic.
How to Make Perfect Pesto Every Time Cooking Lessons from The Kitchn
Spread it on sandwiches, toss it with pasta, or yes, treat yourself a single happy spoonful, but definitely absolutely positively make pesto any chance you get.
Taco seasoning is one of those convenience foods that I kept buying long after I had eliminated lots of other stuff.
taco seasoning recipe
Drip… Drip… Drip… This is definitely NOT the sound you want to hear in the middle of a dark and stormy night, with the wind howling and tugging at those old shingles on your roof – you know, the ones you meant to replace last year only you spent your income tax refund on a stand mixer and a week at the beach. This is also not the sound you want to hear when, against your better judgment, you left the dog alone in the kitchen with a pot of cooling soup barely within inquisitive nose reach on the counter.
Orange Sweet Rolls: tangy twist on a favorite classic
Bake Your Day Spinach Salad Pizza
Monday, August 13, 2012
peach pie muffins with brown butter glaze.
25 Time-Saving Freezer Tips
DIY Project: How to Make Homemade Candy Buttons | TikkiDo.com
Random Thoughts - Sliding during pool time. (Photo by somewhiteguy)
Infographic: The level of mercury in fish
How To Peel, Cut, Core, and Dice: 20 Tips & Techniques for Fruit and Vegetable Prep
Weight Conversions For Flour, Sugar, and Other Common Baking Ingredients
How to cook onions: Why recipe writers lie and lie about how long they take to caramelize
Homemade Wine Jelly
Making Hard-Cooked Eggs? Don't Boil Them. Bake Them!
Copycat Recipe: DIY Nutri-Grain Fruit and Nut Bars
The Spontaneous Invitation: 3 Tips for Last-Minute Hospitality
The Do-Not-Freeze-These-Foods List Freezer Friendly
Easy Homemade Mayonnaise | Dollar Store Mom - Frugal Fun - Crafts for Kids