Lunch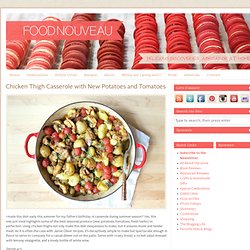 I made this dish early this summer for my father's birthday. A casserole during summer season? Yes, this one-pot meal highlights some of the best seasonal produce (new potatoes, tomatoes, fresh herbs) to perfection. Using chicken thighs not only make this dish inexpensive to make, but it ensures moist and tender meat. As it is often the case with Jamie Oliver recipes, it's deceptively simple to make but spectacular enough in flavor to serve to company for a casual dinner out on the patio.
Chicken Thigh Casserole with New Potatoes and Tomatoes | Food Nouveau
When I was little, there was a formula for school lunches: main course, fruit, and a Third Thing. Bento boxes and the expanding palates of modern children have challenged the status quo, and lunch looks different these days. On a busy week, though, we fall back on the formula for our three boys, making a sandwich for each one and letting them choose a piece of fruit and a Third Thing on their own. As an aside, the Third Thing has always annoyed me a little. At home, we rarely offer more for lunch than one plate of food, perhaps a piece of fruit if they crave something sweet after the meal. But the Third Thing?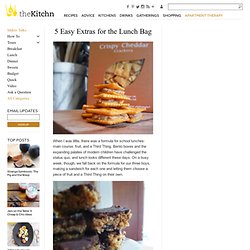 5 Easy Extras for the Lunch Bag
No More Soggy Salads: A Guide to the Perfect Salad In a Jar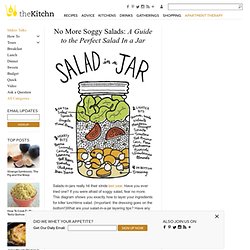 Salads-in-jars really hit their stride last year . Have you ever tried one? If you were afraid of soggy salad, fear no more. This diagram shows you exactly how to layer your ingredients for killer lunchtime salad.
Pasta is a generous, abundant sort of meal. The best pasta dishes feel lush, like you can't believe there's such a big bowl of deeply delicious food in front of you. You can sink a whole day into pasta — kneading, rolling, and cutting fresh dough into sheets so thin the light shines through; slowly cooking sauce redolent of garlic and browned meat; patiently layering it all together into a heavenly stack of noodles, sauce, and cheese.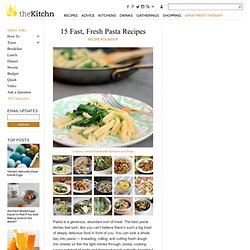 15 Fast, Fresh Pasta Recipes Recipe Roundup
Peanut Butter Popcorn & Oatmeal Cookies: 10 Peanut Butter Treats for Fall Recipe Roundup
Nutty, creamy (or chunky!) peanut butter is associated with fall lunch boxes, and with classic autumn treats like thick, chewy peanut butter cookies. I grew up in a family that always had a jumbo-sized jar of natural peanut butter in the fridge ( do you refrigerate peanut butter? ), and the quintessential movie night snack was peanut butter popcorn.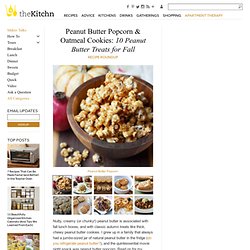 Peanut butter and jelly never gets old. My fondness for this classic combo has only grown stronger since my days of pulling crustless peanut butter and jelly sandwiches from my Care Bears lunch box. These baked pockets give us just the slightest twist on the classic. All the great peanut flavor and sticky jam, but made ahead (and frozen!) for easy lunches through the week. There's a double dose of peanut in these calzone-like sandwiches.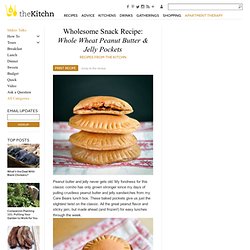 Wholesome Snack Recipe: Whole Wheat Peanut Butter & Jelly Pockets Recipes from The Kitchn
Chicken Dumplings with dipping Sauce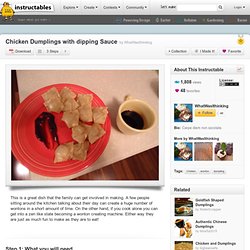 The best thing about dumplings is you can put anything in them from savory to sweet. I don't think I have ever made the same ones twice because there are so many things to try! For these chicken dumplings I am using the following:
This is one of the tastiest snack named Chicken Samosa that kills your time in making it.Those who wants to try this out please set some hours free before you start on it.I make my pastry sheets a day early so that I need not stay for long hours in the pantry. I always love spicy and hot,so I have used chili powder and green chili.If you do not want it hot ,you can use paprika powder instead of chili powder and skip the green chillies. I like to publish my projects step by step with lots of photos ,so that every one can understand well, looking at the pictures alone.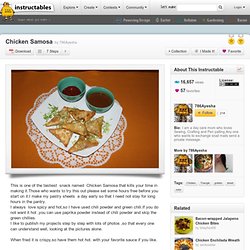 Chicken Samosa
Are you grilling out tomorrow, July 4th? Or maybe you're doing a more casual picnic — just you, a friend, a basket with some sandwiches, and bottle of Prosecco. If that's the case, let us offer a few ideas for sandwiches, from the sublime yet simple tomato-mozzarella sandwich, to a bánh mì stuffed with lemongrass tofu, to the classic farmer's lunch of apples, mustard, and cheese. Oh, and we throw in that famous Smörgåstårta (aka Sandwich Cake), just for fun! TOP ROW • 1 Tomato Mozzarella Sandwich - A favorite from summers in Italy. • 2 Bánh Mì with Lemongrass Tofu - The classic Vietnamese sandwich. • 3 Boiled Egg, Seared Asparagus and Pickled Onion Sandwiches - Fresh and colorful. • 4 Farmer's Lunch Sandwich - Best with sharp cheddar and Granny Smith apple. • 5 Thin-Sliced Roasted Pork Sandwiches with Southwestern Spices - A heftier sandwich.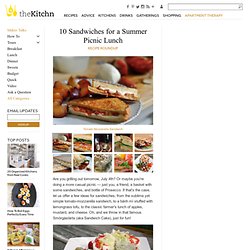 10 Sandwiches for a Summer Picnic Lunch Recipe Roundup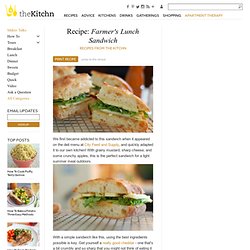 Recipe: Farmer's Lunch Sandwich
We first became addicted to this sandwich when it appeared on the deli menu at City Feed and Supply , and quickly adapted it to our own kitchen! With grainy mustard, sharp cheese, and some crunchy apples, this is the perfect sandwich for a light summer meal outdoors. With a simple sandwich like this, using the best ingredients possible is key. Get yourself a really good cheddar - one that's a bit crumbly and so sharp that you might not think of eating it on its own.
Breakfast, Lunch, and Dinner: 10 Beautiful Beet Recipes
Beets shouldn't be relegated to cold salads or simple roasted vegetable medleys. There are so many wonderful ways to use beets that span each meal of the day, so when readers asked for some new beet recipes that weren't your standard simple beet salads, we jumped at the chance to offer a few of our favorites. The nice thing about these recipes are their variety and the fact that many of them encourage using the whole beet.
Spring Recipe: Spaghetti Pan-Fried with Ramps & Mint
Ramps: Those tender wild onions, shot with pink and flopping over every table at the spring farmers' markets. They are a symbol of spring cooking — but what do you do with them? I often pass them by, glad for their symbolic welcome to spring, but happier with heartier leeks and onions.
Slow-braised Short Rib Tacos with "quick-pickled" red onion | Simply Delicious
With Autumn very quickly making her way back into our lives (double yay!), I find myself needing comforting yet light food. I want something with 'body' but I need to feel like it's not going to give me more body…if you know what I mean!
Smoothies at Lunch: Five Great Recipes
If your job leaves you little time to eat, even snacks or finger foods can be tricky to consume while working. Eating in a rush will leave you with a sick stomach, so if your time is short, why not drink your lunch instead? Drinking a smoothie at work is an easy way to keep your hands clean and your belly full. Make them at home and keep them refrigerated at work or invest in a great double wall thermos container. They'll need a quick shake before consuming, but you'll love the benefits of being able to eat without every leaving your office — wherever that might be. Check out a few of our favorite smoothie recipes below (and a few tips on making them here ):
Wraps are pretty much on par with salads in the battle of sexy lunch dishes. Bust out of the boring wrap rut with this sweet and savory combination: sweet potatoes coated with pesto, rounded off with caramelized onions, roasted cherry tomatoes, and parmesan. And better yet, make two weeks' worth and stock up your freezer! I don't have many wraps in my recipe book; they tend to center around last resorts. However, this combination of ingredients transforms the dish.
Lunch Recipe: Roasted Sweet Potato Wraps with Caramelized Onions and Pesto Recipes from The Kitchn
Beyond Sandwiches: 10 Delicious and Portable Lunch Recipes
Sandwiches, Salads & Soups: 15 Hearty, Homemade Lunch Recipes Recipe Roundup
Leisurely Lunch Recipe: Chicken Cordon Bleu-Croque Monsieur Recipes from The Kitchn
Chilled Veggie Salad. Rainbow Roast
Make your own freezer burritos! › shutterbean
From the Files: Recipes that Freeze Well
5 Easy Pantry Meals with Cauliflower
Recipe: Roasted Cauliflower Soup with Dill Whipped Cream