Dinner
An Italian Polenta Supper Party Gatherings From The Kitchn. This week I've been sharing one of the most fun dinner parties I've ever hosted — we invited six friends over and threw an Italian polenta party anchored by a four-foot-long board in the middle of the table!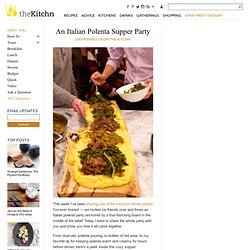 Today I want to share the whole party with you and show you how it all came together. From dramatic polenta pouring, to bottles of red wine, to my favorite tip for keeping polenta warm and creamy for hours before dinner, here's a peek inside this cozy supper. The Day Before The best dinner parties, in my opinion, are the ones where the food is made well in advance. I shared my recipe for shredded beef in red wine with you yesterday, and this is what I made the day before the party. Spicy Chicken Burgers Recipe at Epicurious. Photo by Kana Okada yield Makes 4 servings Low-cal 'shrooms up the heartiness factor of these patties, for burgers that are backyard barbecue-worthy.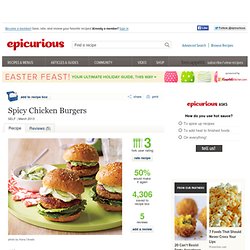 Preparation Heat oven to 400°F. Cook Once, Eat Twice! 15 Dinner Recipes to Double and Freeze Recipe Roundup. Repeat after me: The freezer is my friend .
That's right — the freezer can be like the best friend of all, one who drops off a pot of soup on an evening you're not feeling well, or a dish of pasta after a busy day of work, when you really don't feel like cooking. Of course, that friend is really you , doing a little extra work now so you can have an easy meal later. There are so many recipes that can make a little extra to be squirreled away in the freezer for a later time.
These little packages from the past are a huge gift to your future self, setting a nourishing table before you at times when you are busy, stressed, and in need of a quick fix. It's Pi Day! 10 Savory Pies, Quiches, and Pasties You Can Pack For Lunch Recipes from The Kitchn. Chicken and Biscuits Recipe at Epicurious. For soup: Preheat oven to 400°F.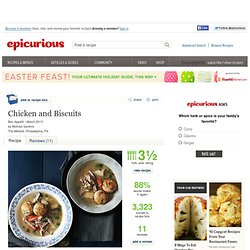 Heat oil in a large pot over medium-high heat. Season chicken with salt and pepper. Cook skin side down until skin is golden, 8-10 minutes; transfer to a plate. Carefully drain all but 2 tablespoons fat from pot. Add carrots, celery root, onion, and leek; stir frequently until softened and beginning to brown, 8-10 minutes. Spinach-Ricotta Calzone: pizza in principle. Calzone: the prim & proper pizza eater's answer to the ooze and drip of melted cheese, hot sauce, and ungainly toppings.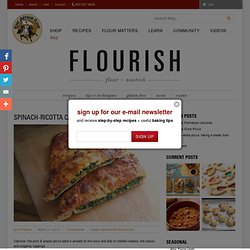 Let's just call it outside-in pizza. If you're a lover of thin-crust pizza, you know that it can be a bit fragile, structurally speaking. Scalloped Potatoes: LIKE! Scalloped potatoes – gotta love 'em.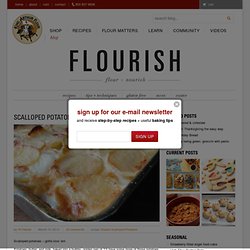 Potatoes, butter, and milk, baked into a bubbly, golden pan of "I'll have some more of those potatoes, please" – what's not to like? When's the last time you made scalloped potatoes? Last week? Christmas? Never? Parmesan Chicken Cutlets Recipe at Epicurious. Photo by Gentl & Hyers yield Makes 4 servings If you cut the chicken into smaller pieces before breading, they're nuggets—the guilt-free kind.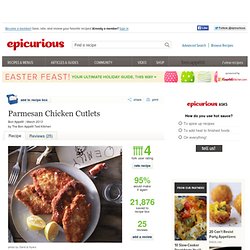 Preparation Place flour in a shallow bowl. Beat eggs in a second shallow bowl. Setting a Formal Table: A Visual Guide! 10 Easy Supper Side Dishes That Sing Kitchn Recipe Roundup. Gluten-Free Cornmeal Crusted Pizza with Chili: bowls and spoons need not apply. We all love the efficiency and ease of the one-pot wonder: a meal that's made in one vessel – thrown together and baked or cooked – ready for the after-skiing (or in my case, snowboarding) meal.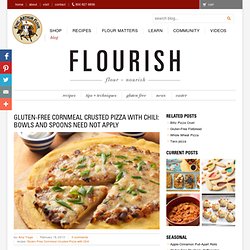 A steaming hot pot of spicy chili was always on the menu, waiting for my family when we got home from the mountain – the best thing to fill my hungry tummy after a long day of racing. Thawing out to a great comfort meal is an important part of life here in the Northeast, and we Vermonters certainly participate in plenty of bone-chilling cold-weather winter activities. Everything has been turned into pizza toppings these days: tacos, BBQ, breakfast, even dessert! Chicken Mango Lettuce Wraps Recipe. Why the corn starch?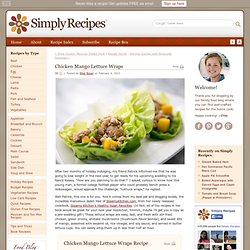 It's a cooking trick that you often find in Chinese recipes. The corn starch helps the chicken hold in its moisture and keep it from drying out in the high heat of the stir frying. 10 Ways to Eat Chicken Breast for Dinner Recipes from The Kitchn. Chicken Chili Stew to Warm You Up. Okay, friends.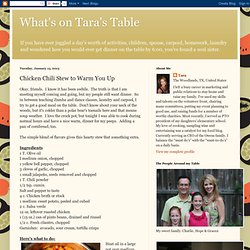 I know it has been awhile. The truth is that I am meeting myself coming and going, but my people still want dinner. So in between teaching Zumba and dance classes, laundry and carpool, I try to get a good meal on the table. Don't know about your neck of the woods, but it's colder than a polar bear's toenails here and that means soup weather. Oven-Baked Salmon, Quicker Pot Roast, Shepherd's Pie, Beef and Bean Chili, Shortbread Toffee Bars, Hot Cocoa with Whiskey, and Tofu Kimchi Dumplings New Recipes from The Kitchn. How To Bake Salmon Fillets in the Oven Cooking Lessons from The Kitchn. The fresh herb layer adds flavor, complementing the taste of the salmon without over powering it, as well as protecting the fish from harsh heat. It also means that you don't have to make a sauce since the herb layer provides plenty of flavor and texture.
The herbs are up to you but I like to use parsley, basil, and dill. Tarragon is also nice. Mixing it Up: 5 Delicious Alternatives to Mashed Potatoes. Dumplings! 8 Warming Dishes with Soft Dumplings. More Bang for the Buck: 8 Dinner Party Dishes with Cheaper Cuts of Meat. Pork and Poblano Stew Recipe. Toasted shelled pumpkin seeds make a nice accent to this hearty stew. Use them if you have them, if not, don't worry, the stew will not suffer from their absence. Method 1 Char the chile peppers on all sides, directly over a gas flame, or broil, turning every minute or so until the chiles are blackened on all sides.
Place in a bowl and cover with a clean dish towel. Angela's Food Love - Food Blog - crispy cumin salmon and braised lentils with tomato-caper vinaigrette: a return to center. After a week of tight deadlines, doctors appointments, bills, and last minute travel preparations, I needed good food to restore me. Even more: good wine, a nice steep pour. You know the kind of week? This is my go-to dish to return to center state. It's healthy enough to make me feel virtuous and rich enough to serve as an indulgence. It's also wine-friendly and pairs well with anything from pinot noir to Cotes du Rhone and Corbières. Dutch Oven Recipe: White Bean & Chicken Sausage Stew Recipes from The Kitchn. This is the time of year when Dutch ovens come into their own.
Even if you use your big, heavy Dutch oven year-round, as I do, it still seems to come down off its shelf a little more often in the fall. Today I want to show you my favorite Dutch oven — and a soup to cook in it. From Slow-Cooked Bolognese to No-Cream Wild Mushroom: 10 Sauces For Your Pasta Kitchn Recipe Roundup. DIY Recipe: Quick Red Pizza Sauce Recipes from The Kitchn. Basic Square Pan Pizza Dough Recipe (Sicilian-Style Dough) [Photographs: J. Kenji Lopez-Alt] Note: To make without a stand mixer, combine flour, salt, yeast, and olive oil in a large bowl.
Whisk to combine, then add water. stir together vigorously with a wooden spoon until homogeneous, about 3 minutes. Slow-Roasted Tomato Sauce. Carroty Mac and Cheese Recipe at Epicurious. 10 Ways To Use Good Ol' Ground Beef Recipe Roundup. Pad Thai Recipe at Epicurious. Summer Squash and Red Quinoa Salad with Walnuts Recipe at Epicurious. African Beef & Peanut Stew Recipes from The Kitchn. Chicken & Artichokes in Wine Sauce Recipes from The Kitchn. Weeknight Suppers from Italy: 20 Dinner Recipes Inspired by Italy. The Amazing Incredible Broccoli Surprise Sauce. Make Korean Food at Home: 15 Great Recipes, from Bibimbap to BBQ Short Ribs Kitchn Recipe Roundup. Honey Mustard Chicken Recipe. Family Recipe: Baked Beans with Pineapple and Bacon Recipes from The Kitchn. Chicken Drumsticks, Ethiopian Style Recipe. Chicken Under a Brick with Avocados and Chiles Recipe at Epicurious. Cooking with Beer: 10 Delicious Recipes. How To Cook Fluffy, Tasty Quinoa Cooking Lessons from The Kitchn.
One-Pot Recipe: Easy French Ratatouille Recipes from The Kitchn. Quinoa Tabbouleh Recipe at Epicurious. 10 Foods You Thought You Couldn't Grill. Sweet, Smoky & Unexpected: Carrots on the Grill. Coconut Shrimp: Bake it! 7 Light Meals That Aren't Just Lettuce. 15 Awesome Slow Cooker Recipes. 14 Simple, Delicious Recipes with Just 6 Ingredients (Plus Salt) Recipe Roundup.
10 Wonderful Ways To Cook Chicken Tonight. Cook Once, Eat Twice: 7 Recipes That Make Great Leftovers. Cauliflower Pizza Crust | Food Loves Writing. Smoked Salmon Potato Cakes with Herb Crème Fraîche Recipes from The Kitchn. Easy Weeknight Recipe: Lentil Soup with Lemon Yogurt Cream Recipes from The Kitchn. 'Tis the Season (Finally!): 6 Great Dinners Featuring Asparagus. Roasted Balsamic Vegetable Pasta with Mint & Yogurt Recipes from The Kitchn. Easy Dinner Recipe: Slow-Cooker Lemon Garlic Chicken Recipes from The Kitchn. 15 Crowd-Pleasing Potluck Recipes Recipe Roundup. What to Feed the Babysitter: 7 Ideas. Spinach Lasagna Recipe at Epicurious. Broccoli, Chicken, and Almond Sauté Recipe. More Date Night Dinners! 8 Recipes for a Cozy Evening In. Dutch Oven Chicken and Rice. A food blog: Home-made fish fingers and mushy peas. Dinner Tonight: 10 Fresh Ideas For Spaghetti. How to Make Great Risotto at Home. Parmesan Chicken with Caesar Roasted Romaine Recipe at Epicurious.
Eggs for Dinner: 10 Delicious Dinner Recipes with Eggs. 25 Tasty Ways to Enjoy Beans and Rice. 10 Dinner Recipes That Make Great Lunch Leftovers. Vegan Dinners! 15 Vegan Dinner Recipes from The Kitchn Recipe Roundup. How to Cook Broccoli. Salmon with Lemon Cream Sauce Recipe. 10 Cheap and Delicious Marinades. How to Make Diner-Style Hash Browns. Daniel Boulud's Chicken Lasagna Recipe on ELLEDECOR.com. Pasta for Picky Eaters: 8 Recipes Kids Can Easily Pick Apart. What Can I Make That Uses Saffron? Ingredient Questions. I Breathe...I'm Hungry...: Zero Net Carb Flax & Parmesan Pizza Crust. Shepherd's Pie with Cheddar-Spiked Mashed Potatoes. Make 46 Freezer Meals In 4 Hours A Turtle's Life For Me.
---