Starting a floatation centre
floatation center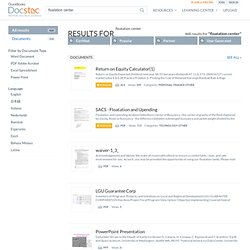 Congratulations! You Have Discovered a Docstoc Certified Search Term We've carefully selected these results for "floatation center" from our premium content Filter by Document Type Language Results for
Palletline also offer a full import and export service to 28 countries for delivery to Europe. Using our extensive network of high quality members, the Europe delivery service is seamless and delivers excellent value for money. Whether it's one pallet to Brussels or a pallet of stock you need collecting in Venice for delivery back into the UK, we've got it covered. Palletline Europe provides Customers with a reliable and cost effective solution for all their European palletised delivery requirements.
Europe delivery | Shipping & Delivery to Europe | Palletline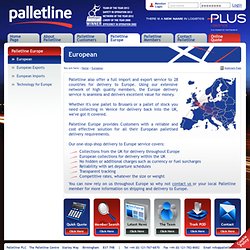 waterproof wall panels uk
multiPANEL distributors
Google Maps
Floatation Tanks & Float Spas
Garden Studios, Garden Offices & Garden Rooms - Green Retreats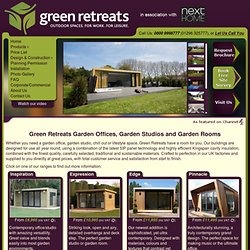 Garden rooms are commonly used as studios for artists, who appreciate the natural light, remoteness and the inspiration that the connection with the garden, that a garden room creates. Buckinghamshire's largest business park, Westcott Venture Park, announces the arrival of new tenant, Green Retreats, a company which specialises in design and production of contemporary garden rooms to make use of outdoor space all year round, as featured on Channel 4. The company recently relocated 50 staff from Buckingham and Winslow to set-up a bigger and stronger presence...
The first isolation tank was developed by Dr.John C.Lilley when working for the National Institute for Mental Health(USA) to find out what would happen to the brain if it were deprived of external stimuli. Isolation tanks function by allowing a user to float in a concentrated solution of Epsom Salts maintained at such a temperature that the user feels neither hot nor cold.This temperature has to be very precise as after prolonged floating variations of over half a degree can cause either sweating or shivering. The correct temperature is approximately 4 degrees Fahrenheit below normal body temperature. At the same time the tank user is shielded from all external sounds and the interior of the tank is kept completely dark. Float-Tank-PainRelief
Home-Fiberglass-Epsom-Salt-Floatation-Chambers and Tanks-Fiberglass-Proudly made in the USA 800-535-7946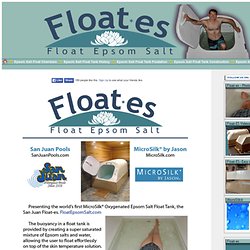 Experience the Quality of a Vitamix Blender
This video is currently unavailable. Sorry, this video is not available on this device. by $author
▶ Floatation Tank Therapy shown and explained using an Ocean Float Room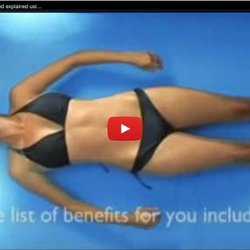 About Floating | FTA
Floatation REST, otherwise referred to as Floating, was developed in America and is for many Europeans a fairly new concept. Floating is relaxing on a bed of salt water in an atmosphere of total calm and warmth. Floating can be used for several reasons such as a means to total relaxation, a tool within a medical therapeutic program, as well as preventive reasons such as against stress, sport injuries etc. But what does Floating mean exactly, how was it developed and who uses the float tanks?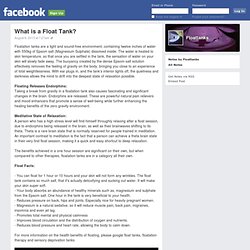 What is a Float Tank?
Floatation tanks are a light and sound-free environment, containing twelve inches of water with 550kg of Epsom salt (Magnesium Sulphate) dissolved inside. The water is heated to skin temperature, so that once you are settled in the tank, the sensation of water on your skin will slowly fade away. The buoyancy created by the dense Epsom-salt solution effectively removes the feeling of gravity on the body, bringing you close to an experience of total weightlessness. With ear plugs in, and the tank's interior lights off, the quietness and darkness allows the mind to drift into the deepest state of relaxation possible.
What to Know Before Purchasing a Floatation System First, the terminology. Floatation tanks (spelled flotation in many parts of the world), isolation tanks, float pods and sensory deprivation tanks all refer to the same thing: a large vessel containing a shallow pool of water which is super-saturated with Epsom salts, making you float. Float tanks are specifically designed to help people relax, de-stress and explore their inner selves. A floatation therapy system can be open or enclosed, though traditionally the term "float tank" refers to a cocoon-like device with a lid, hatch or door. These days, the term is generic and also refers to systems which are large rooms or walk-in cabins, systems which have no walls at all (such as step-in pools or baths) and other innovative designs.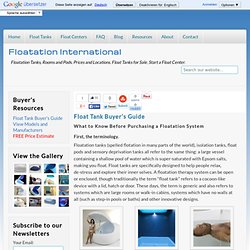 Float Tank Buyer's Guide | Floatation International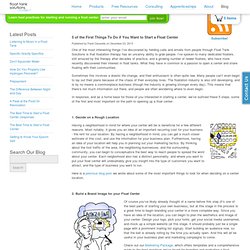 5 of the First Things To Do if You Want to Start a Float Center Published by Frank Ciavarello on December 23, 2013 One of the most interesting things I've discovered by fielding calls and emails from people through Float Tank Solutions is that floatation therapy has an uncanny ability to grab people. I've spoken to many dedicated floaters, still amazed by the therapy after decades of practice, and a growing number of newer floaters, who have more recently discovered their interest in float tanks.
Float Tank Solutions — 5 of the First Things To Do if You Want to Start a Float Center
Isolation Chambers: Healing for the Mind and Soul