Technology
Crowd Investing for Startups | Wefunder | Crowdfunding
Gamification Co | The Leading Source for Gamification News & Info
Future Technology 500 - Predictions Trends Inventions
steampunk.jpg (JPEG Image, 750 × 3599 pixels)
HackPittsburgh
MAKE | DIY projects, how-tos, and inspiration from geeks, makers, and hackers
Crowdsourcing and Crowdfunding - The Industry Website
Wired.com
Engadget
Master of 500 Hats
TREND HUNTER - #1 in Trends - Fashion Trends, Technology, Style,
Seb's Open Research: How to Become a Culture Hacker (in 5 min.)
I gave a talk at Ignite Montreal last week. The slides in Ignite talks are set to auto-advance every 15 seconds, no more, no less, and every talk must last exactly five minutes. For the occasion, I challenged myself to pack a high-level view of everything I've learned so far about into that constrained 5-minute format.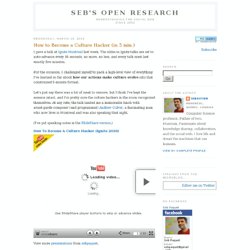 io9. We come from the future.
Technological evolution
TechCrunch
Springwise | New business ideas from around the world