Technology
Congress changed the law Thanks to the JOBS Act, we're allowed to show you startups that are raising funding. Right now, only accredited investors ($200k+ a year in salary) may invest.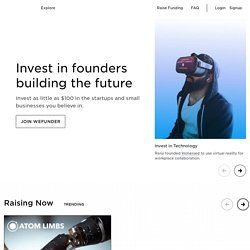 Crowd Investing for Startups | Wefunder | Crowdfunding
Gamification Co | The Leading Source for Gamification News & Info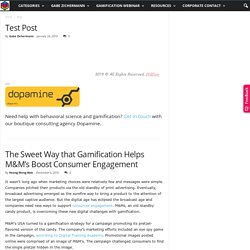 Gartner Redefines Gamification: What Do You Think? Gamification is considered a relatively new term. As a new term, its definition is in flux and is continually changing.
Future Technology 500 - Predictions Trends Inventions
This site features predictions of future technology based upon current emerging tech and inventions plus trends. Emerging tech is exciting in and of itself, but it is nothing compared to future technology 5, 10, 50 and 100 years from now. One can only envision the future technology that our kids and grandkids will be able to use on a daily basis. Future technology will allow the generation of today to live longer due to advances in medicine, use more high tech computers and electronics than we can now imagine, and drive future cars with no emissions and zero carbon footprints. Not only that but our grandchildren will take advantage of future energy, smart homes and cars, robots and bionics to serve them and make life easier. Future weapons will actually be smarter, more precise and reduce the need for machismo among countries and will encourage non-proliferation.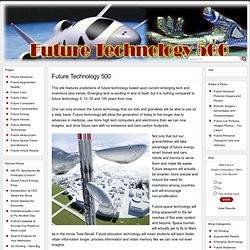 steampunk.jpg (JPEG Image, 750 × 3599 pixels)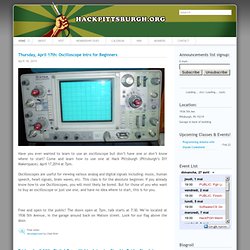 Do you want to play around with high voltage, and lightning that plays music? Have you ever wanted to create your own lightning right in your room? Are you a fan of Nikola Tesla? Are you fascinated by the concept of wireless energy transmission?
HackPittsburgh
MAKE | DIY projects, how-tos, and inspiration from geeks, makers, and hackers
Web's Largest listing of crowdsourcing and crowdfunding events Web's Largest Directory of Sites 2,558 crowdsourcing and crowdfunding sites
Crowdsourcing and Crowdfunding - The Industry Website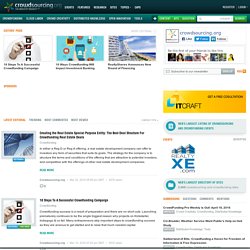 Wired.com
The 1 percent have long had smartphones from Porsche and Vertu to quench their high-end thirst, but when it comes to dual-SIM handsets, the elite have had to settle for something a little more ordinary. For those in need, Gresso created Azimuth, the first dual-SIM luxury handset. Starting at $2,000, the phone is made of titanium, with both the keys and logo crafted out of 18K or white gold. Since appearances are all that matter, you're getting some pretty low-end specs under the hood, including 2GB of "internal memory," a 1.3-megapixel camera, Bluetooth 2.0 and a tiny 1,100mAh battery. To put things in perspective, Samsung's Galaxy S5 starts with 16GB of built-in storage, a 16-megapixel camera and a 2,800mAh battery. The difference being, anyone can buy an S5.
Engadget
Master of 500 Hats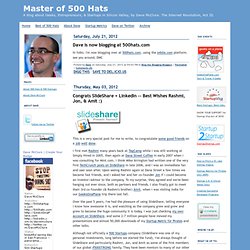 (ok folks, i've gotta take the kids to basketball practice in a few hours, so will try to power through this -- that means limited crazy fonts, profanity, wild pix... sorry little monsters, next time ;) 3 major points i plan to cover in this post: 1) Angel List Fucking Rocks. Period. it's the single greatest innovation in our industry in the last 5 years (aside from LinkedIn, Facebook, Twitter, & Quora) and it's great for almost all participants. and while social proof can be abused / misused, so can gasoline... doesn't mean you shouldn't fill up your gas tank and go back to riding horses. if you want to effect change, either Engage Fully, or Compete. inaction/boycotts are rarely useful & should be largely be ignored.
TREND HUNTER - #1 in Trends - Fashion Trends, Technology, Style,
Seb's Open Research: How to Become a Culture Hacker (in 5 min.)
I gave a talk at Ignite Montreal last week. The slides in Ignite talks are set to auto-advance every 15 seconds, no more, no less, and every talk must last exactly five minutes. For the occasion, I challenged myself to pack a high-level view of everything I've learned so far about into that constrained 5-minute format.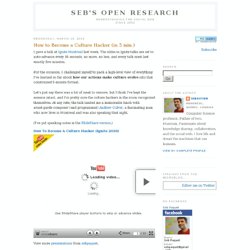 io9. We come from the future.
Greetings, loyal readers of me reading other people's mail! I had a weird occurrence the other day — I finally got a letter that I couldn't deliver. I have no idea how this is the first time that this has come up, it being the post-apocalypse and all, but there it was. The letter had a return address on it, so I knew immediately what I had to do — burn it. New postal rule: No backsies.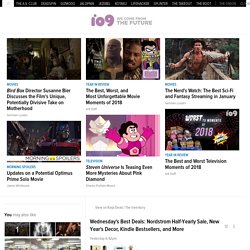 Technological evolution
TechCrunch
Springwise | New business ideas from around the world