Video
Sigur Rós - Valtari. Sight. À ne pas manquer - Cannes Lions 2012, Episode 4: Les meilleures vidéos créatives selon Saatchi & Saatchi! Pour la 22ème année consécutive, The Saatchi & Saatchi New Director's Showcase, intitulé "Meet your Creators" a enflammé le grand auditorium de Cannes.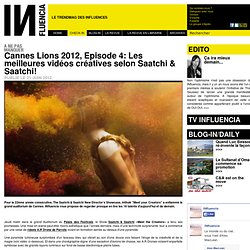 INfluencia vous propose de regarder presque en live les 18 talents d'aujourd'hui et de demain. Jeudi matin dans le grand Auditorium du Palais des Festivals, le Show Saatchi & Saatchi«Meet the Creators» a tenu ses promesses. Une mise en scène peut-être moins esthétique que l'année dernière, mais d'une technicité surprenante: tout a commencé par une valse de robots A.R Drone de Parrots volant en formation serrée au dessus d'une pyramide. Une pyramide lumineuse surplombée d'un faisceau bleu qui vibrait au son d'une douce voix faisant l'éloge de la créativité et de la magie (voir vidéo ci-dessous). Et dans une chorégraphie digne d'une escadron d'avions de chasse, les A.R Drones volaient enparfaite symbiose avec de grands rayons lumineux sur fond de basse électronique pleins tubes. PARIS - The Cross-over. Demdike Stare - Hashshashin Chant.
XXIT. Kid Cudi x S2A - "Mr Rager" by Surface to Air. Gil Scott-Heron // New York is Killing Me - une vidéo Musique. KANYE WEST Power (Unofficial) Experience Human Flight. TV On The Radio - Nine Types of Light. Echo. La Jetée (1962) - une vidéo Art et Création. Queen Adreena pretty - like drugs. SPOEK MATHAMBO – MSHINI WAM. Neurosonics Audiomedical Laboratories. Cycles of Light.
Guillaume Nery base jumping at Dean's Blue Hole, filmed on breath hold by Julie Gautier. TURF FEINZ "RIP Rich D" | YAK FILMS | ERK THA JERK | TURF DANCING in the RAIN | DANSE SOUS LA PLUIE. Guy Walks Across America.
The Pyre(Official Trailer)" Themselves - "poison pit" Squarepusher presents - Shobaleader One - d'Demonstrator. Shy FX - Raver (feat. Kano, Donaeo & Roses Gabor) Herbie Hancock - Rockit. Valse avec Bachir - une vidéo TV. CashBack vostfr - une vidéo Cinéma. SCINTILLATION. Esther's (dir. Charles De Meyer) The Original Human PAC-MAN Performance by Guillaume Reymond. Bileebob - Get A Phone! Une Petite Mort. TOKiMonsta - Fool. Rye Rye - Sunshine ft. M.I.A. Jeremy Messersmith - Tatooine. Weather balloon GPS space flight iPhone camera footage homemade spacecraft 100,000 ft altitude.
Chilean miners face up to life underground 智利礦工的地下生活. Rye Rye - Bang ft. M.I.A. M.I.A - /\/\/\Y/\ - CAPS LOCK. Nuit Blanche. Bach, Toccata and Fugue in D minor, organ. E4 | Flashmobbed. A Normal Day 3. Bedroomtothehallwaytotheroadtotheworldbedroomtothehallwaytotheroadtotheworldbedroomtothehallwaytotheroadtotheworldbedroomtothehallwaytotheroadtotheworldbedroomtothehallwaytotheroadtotheworldbedroomtothehallwaytotheroadtotheworld.
Raquel Welch: Space-Girl Dance. BIG BANG BIG BOOM - the new wall-painted animation by BLU. Nosaj Thing "Us (Jon Hopkins Remix)"
---