Tunes
▶ MR RAOUL K PhonanzaFM radio mix HH by Mr Raoul K
ARK (Guillaume Berroyer)'s sounds on SoundCloud
LIVE AT QUAI BRANLY MUSEUM - GOIN THRU THE CATALOGUE , PARIS / 2012-07-15 by Sam Tiba (Club Cheval) on SoundCloud
wankelmut's sounds on SoundCloud
▶ Nicolas Jaar - John the Revelator by Nicolas Jaar
TriAngleRecords's sounds on SoundCloud
Cécille Records's sounds on SoundCloud
▶ 21.10.11 - SIS at Cirque Bonheur Paris - live recorded Pt. 2 by DJSIS
▶ Um dia 2013-Dj znobia o coiso by dj znobia o coiso
LV feat Okmalumkoolkat: Sebenza (Hyperdub 2012) on Vimeo
▶ BANG THE PARTY - BANG BANG YOU'RE MINE (Full Vocal Remix) by Strut
▶ Pim Pam Poum / Nu Disco by Wiky
Unu - Fire And Ice - Techno Session 5.12 by Unu on SoundCloud
▶ Modeselektor - Shipwreck (feat. Thom Yorke) by Modeselektor
POUVOIR MAGIQUE's sounds on SoundCloud
shooknite's sounds on SoundCloud
▶ 10 SEX TAPE by #BODYGUARD
Sarasvati-trio's sounds on SoundCloud
DJ PINCH's sounds on SoundCloud
▶ Stereo Conspiracy - Bass Face by StereoConspiracy
Logorythme's sounds on SoundCloud
Azealia Banks's sets on SoundCloud
Electric Cowbell's sounds on SoundCloud
DJ Djeff & Maskarado - Elegom Bounsa (Los Carlos Kuduro Bootleg) by Akwaaba Music on SoundCloud
▶ Love and Machines (feat. Spaceape) by Mixmag
massive attack vs burial 'four walls'
▶ EL HIJO DE LA CUMBIA - PARA BAILAR (Alika y Nueva Alianza rmx) by yabastarecords
▶ Rone - Nakt [IF2034/2011] by Rone
Search Tracks on SoundCloud
Eyes and Teeth - iLLKid by eyesandteeth on SoundCloud
‪KDS vs Crystal Distortion @ fullvibes festival‬‏
▶ Forensic Shimmy by WUGAZI
sole...'s sets on SoundCloud
John Tejada - Fritz Nightflight - 19-06-2011 by R_co on SoundCloud
▶ Aphex Twin - Forbidden Fruit June 5th 2011 by Korrrrrr!
Brian Eno - Drums Between The Bells by Warp Records on SoundCloud
Infectiouz's music at amazingtunes.com
free drum n bass, techno, techhouse podcasts ~ fabric nightclub, london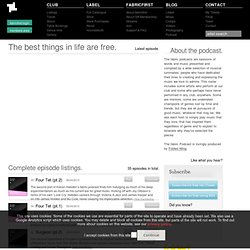 The fabric podcasts are sessions of words and music presented and compiled by a wide selection of musical luminaries; people who have dedicated their lives to creating and expressing the music we love to admire. This roster includes some artists who perform at our club and some who perhaps have never performed in any club, anywhere. Some are mentors, some are underrated champions of genres lost by time and trends, but they are all purveyors of good music, whatever that may be.
newsongs by sole... on SoundCloud
▶ DJ SPOKO // GRAVE MIX by SOUNDTRAVELS
Panteros666 - Horreo ft. Club Cheval (Naysayer and Gilsun Video Mix)
BAR25's sets on SoundCloud
▶ CHINESE MAN - DJ Set @ Laura Leishman Project sur Le Mouv' by llplemouv
▶ 03 March For Everyone by Maya Jane Coles
Etienne Daho_Amoureux Solitaires_Siskid's Sunset Version_Extended Mix by SISKID on SoundCloud
sans titre
Warren G- Regulate
You are listening to Los Angeles
Soundcloud
Phloen Phromdaen – "Ruedu Haeng Khwam Rak (Season of Love)" by dusttodigital on SoundCloud
Ellume's sounds on SoundCloud
SaladUK's sounds on SoundCloud
James Blake - Limit To Your Love
BR #42 Loefah by BOILER ROOM on SoundCloud
I Walk Alone (Graham O'Brien Remix) by sole... on SoundCloud
Greenville Massive's sets on SoundCloud
F (7even Recordings)'s sounds on SoundCloud
Xmas Day Swagger by SKREAMIZM on SoundCloud
zzkrecords - Chancha Via Circuito - Rio Arriba 2010 on SoundCloud
A-Trak - Robot Rock - Lollapaloosa 2009
Video: Systema Solar, "Malpalpitando"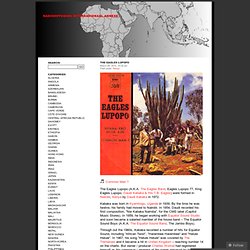 The Eagles Lupopo March 26, 2013, 10:34 am Filed under: Kenya ♬ Common Man ? The Eagles Lupopo (A.K.A. The Eagles Band, Eagles Lupopo 77, King Eagles Lupopo, Daudi Kabaka & His T.B.
Radiodiffusion Internasionaal Annexe
Pupajim - I Am A Robot (Maffi / Jahtari 7")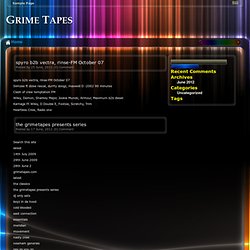 spyro b2b vectra, rinse-FM October 07 Slimzee ft dizee rascal, durrty doogz, maxwell D -2002 90 minutes Clash of crew temptation FM Wiley, Demon, Sharkey Major, Jookie Mundo, Armour, Maximum b2b diesel Karnage Ft Wiley, D Double E, Footsie, Scratchy, Trim Heartless Crew, Radio one Search this site latest 14th July 2009
grimetapes.com
FACT magazine: music and art
URB.COM | URB Magazine :: Music | Style | Culture
Rinse FM
all night long music
ambientblog
MUTEK: News
Dubstep and HeavyBass Music | DJ百窓 / DJ100mado | mix
今回dubstepではありませんが!昨年10月に代官山saloonで行われたD&Bパーティー「JUNGLE SCAPE」に出演した際のmixを公開します。 中東なメロディーとキレまくりのマイクさばきが最高!な反戦ダンスホールの一曲目から、dubstep界の中心人物・PinchiによるTectonicのMoving Ninjaを経て、Half StepスタイルのD&Bをメインに選曲!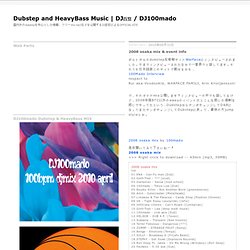 Tranquera.org
Headphone Commute
DUBLAB Sounds of Symmetry Proton Drive
Paving his way in the music scene since '06, Seano began as an assistant teacher at the Scratch DJ Academy in Los Angeles, where he fell under the tutelage of… Read More » DJ SEANO - The Tree House (10.21.13) The Future Perfect is a future focused dance music transmission hosted by semi/precious featuring the latest electronic releases from the US and overseas. This is warehouse music, rooted in the… Read More »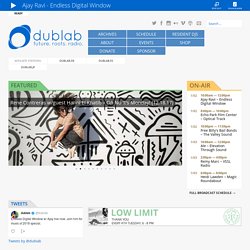 solesides.com
the bomarr blog
mp3 blog « dublab
Chroniques électroniques - Chroniques de disques, de concerts, de festivals, de soirées de musiques électroniques, rap et bien d'autres...
Le blog que vous cherchez n'est plus accessible depuis cette adresse. Vous pouvez le consulter à l'adresse suivante : chroniques-electroniques.over-blog.com Liste des articles du blog chroniques-electroniques.over-blog.com :
»
Sutemos - subjective music reviews, articles, free electronic music, popular net label
Silent ~ making no sound; quiet; still: a silent forest. Season ~ One of the four periods of the year (spring, summer, autumn, and winter), beginning astronomically at an equinox or solstice, but geographically at different dates in different climates. Silent Season is a music label influenced by our natural surroundings in British Columbia.
Silent Season // British Columbia ~ Canada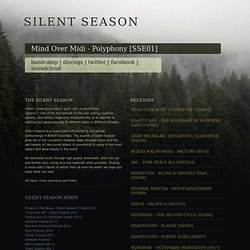 Droid Behavior - Eat.Sleep.Shit.Techno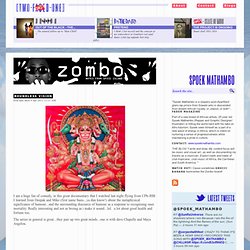 Words by Jesse Serwer, Photos by Kevin Ornelas For years, "What ever happened to Patra?" has been one of the great mysteries of dancehall music.
zombo blog | 2faced1
BBE 2.0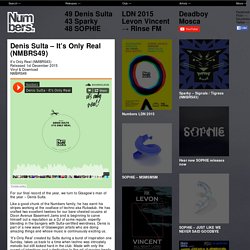 To coincide with Deadboy's latest release, we present the full length video for the title track – Return. Download 'Return' now http://glnk.it/2i9 – Taken from the new 4 track Return EP. Directed by Thomas Traum Watch on YouTube Deadboy – Return (NMBRS33) Released 28th April on 12″ & digital 1.
Numbers. New releases by Jessie Ware & SBTRKT and Taz
GRANDGOOD
Contact Information Last modified on May 09, 2007 Audio Examples (out of print CDs, free CDs. previews and original sound files) The faster your connection, the better! Many of the these CDs are out of print. For in print CDs only some of the songs are available for downloading. Original sound files not available on any CD will be here for downloading soon, including some live concerts & workshops.
Audio Examples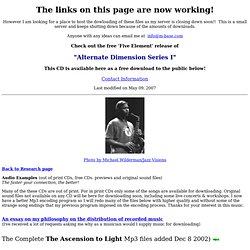 Detroit Techno Militia - 313 Techno Soldiers
Resident Advisor - dance & electronic music magazine
okayafrica. | Giving you true notes since 247,000 BC
vibrationsmusic.com
Banlieues Bleues : J-1 La 30ème édition du festival Banlieues Bleues commencera ce vendredi 5 avril avec le concert de Carlo Gesualdo et Egberto Gismonti à l'Espace 1789 de Saint-Ouen. La note bleue se promènera ensuite jusqu'au 26 avril dans une dizaine de villes de la Seine-Saint-Denis (93), au 104 (Paris) et à Gonesse (95). En attendant le début des réjouissances, voici ci-dessous... Lire la suite »
Le Dormeur Du Val