Sites de DIY
Alice SurleGateau. Fellow Fellow. DIY. Une semaine à thème chaotique mais je ne vous cache pas que je me sens un peu fatiguée, si ce n'est épuisée… Je sais que c'est une période à passer mais là ce n'est pas évident et les seuls moments qui me comblent sont ceux que je passe sous la couette.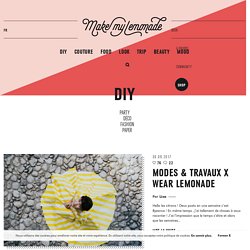 Je taquine mes limites et si je ne veux pas exploser en plein vol, je vais essayer de m'écouter un peu plus. En me relisant je me trouve presque au fond du trou, mais il n'en est rien mais vous savez il y a des moments où on est Up et des d'autres Down, je crois que je traverse un Down, mais je ne vous raconte pas comme le Up va être canon… J'ai des idées en pagaille et aujourd'hui ce qui me prend le plus de temps ce sont des questions administratives et chiantes, comme monter une société… il me tarde que toutes ces choses juridiques soient derrière moi pour pouvoir enfin me consacrer à des choses plus créatives et des choses pour moi! DIY. Creativity is essential for me as an individual, spouse, mom & friend.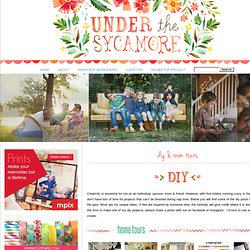 However, with five kiddos running crazy in the house I don't have lots of time for projects that can't be finished during nap time. Below you will find some of the diy posts I've done in the past. Most are my unique ideas. A few are inspired by someone else, the tutorials will give credit where it is due. Torie Jayne. Anne Loiseau. Les Gribouillis & DIY. DIY Tuesday: Mother's Day Gift Idea. I decided to make a mini-book for my mama for Mother's Day (hoping she doesn't see this before then ;)) about "10 Things I Love about You.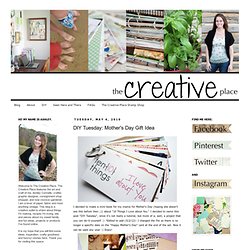 " I decided to name this post "DIY Tuesday", since it's not really a tutorial, but more of a, well, a project that you can do-it-yourself :) *Edited to add (5/2/12): I changed the file so there is no longer a specific date on the "Happy Mother's Day" card at the end of the set. Now it can be used any year :) Enjoy! I made it pocket-size, 2"x3.5" (also business card size). I made a list of 10 things (of course there are way more than 10:)) that I wanted to include in the book. Poulette Magique. Memi The Rainbow. Craftgawker | look to inspire. DIY Doily Lamp.
Wood & Grain. Decorating, DIY, Room Design Ideas - Shelterness. Customisation | madmoiZelle.com. Sélection déco pour optimiser un petit appartement Que tu t'installes dans ton 17m carrés pour la première fois ou que tu cherches à améliorer ta chambre de...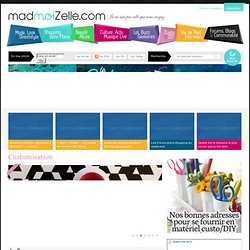 Par Mircea Austen Les nouveaux stickers madmoiZelle sont là ! On a écoulé les 3 000 stickers de février, voici donc une nouvelle fournée de stickers réimprimés ! Si...
---