Assos
What does Transition Network do? Transition Network is a charitable organisation whose role is to inspire, encourage, connect, support and train communities as they self-organise around the Transition model, creating initiatives that rebuild resilience and reduce CO2 emissions. Ultimately it's about creating a healthy human culture, one that meets our needs for community, livelihoods and fun.
About Transition Network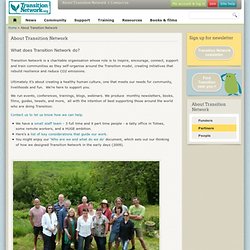 Architecture for Humanity creates solutions to global humanitarian challenges through the power of design. We provide vulnerable communities with vital, innovative and most of all community-driven architectural, planning and construction services. Upon request, any person may obtain from Architecture for Humanity or from the New York Attorney General's Charities Bureau, a copy of the last financial report filed by Architecture for Humanity with the Attorney General's Charities Bureau. Such request should be addressed to Architecture for Humanity at 695 Minna Street, San Francisco, CA 94103 or the New York Attorney General's Charities Bureau at State of New York, Department of Law, Charities Bureau, 120 Broadway, New York, NY 10271. A description of the programs and activities for which the proceeds will be expended can be obtained from Architecture for Humanity at the above listed address.
CARE France
Une seule planète
Envol Vert
Vous avez dit Monnaies Sociales ?!!? Pour introduire le sujet des monnaies sociales et complémentaires, nous aimons... L'équipe TAOA Création : L'association TAOA (There Are Other Alternatives) est déclarée à... Tour du monde des monnaies sociales Nous avons visité, étudié, travaillé avec de nombreux projets et acteurs... Des clubs de troc pour les enfants Lancer un club de troc dans votre école, un projet pédagogique...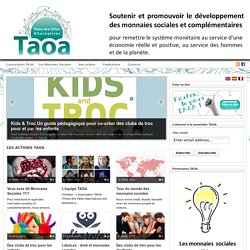 75% de l'air contaminé par l'herbicide Roundup Le système de culture génétiquement modifiés des États-Unis a rendu l'exposition à l'herbicide Roundup quotidienne et selon l'US Geological Survey qui a étudié le phénomène, il se trouverait même dans l'air que les américains respirent. Une nouvelle étude de l'US Geological Survey, validée avant publication en ligne dans la revue Enviromental Toxicology and Chemistry, et... La pollution de l'air, c'est comme une mauvaise série La pollution de l'air, c'est comme une mauvaise série à la téloche. Ça fonctionne en épisodes, on sait ce qui va se passer, même après quelques mois de diffusion, et c'est toujours la même chose.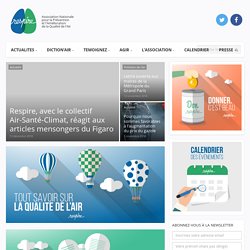 In a context of international news, often dense and brutal, showing many warning signals and repeated social, economic and environmental crises, sustainable development challenges, fight against climate change and energy issues take a very particular dimension. They challenge everyone of us on our individual lifestyles habits and on models that our modern societies have established as a reference. Aware of the challenges, constraints but also opportunities that the energy issues carry over, ENERGIES 2050 is convinced that present and future choices for energy production, but also its use cannot be decided in small circles of experts and insiders anymore. Aware also of the impact of our energy choices on the climate issue and the trajectories of development of our societies, ENERGIES 2050 is convinced that the solution cannot be simply a matter of knowledge, methods and tools and that it can never be merely political, economic, technological or social.
Energies 2050