Assos
What does Transition Network do? Transition Network is a charitable organisation whose role is to inspire, encourage, connect, support and train communities as they self-organise around the Transition model, creating initiatives that rebuild resilience and reduce CO2 emissions. Ultimately it's about creating a healthy human culture, one that meets our needs for community, livelihoods and fun.
About Transition Network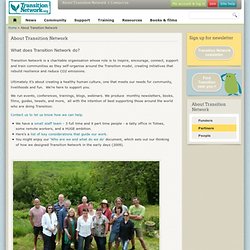 Posted by Garrett Jacobs on Dec 30, 2013 Related program: Year in Review Archives Happy New Year! We kick off 2014 by reflecting on a year of building a more sustainable world through the power of design. Ease the holiday transition with inspiring stories, emotional testimonials and beautiful images of passion and talent.
CARE France
Une seule planète
Envol Vert
Vous avez dit Monnaies Sociales ?!!? Pour introduire le sujet des monnaies sociales et complémentaires, nous aimons... L'équipe TAOA Création : L'association TAOA (There Are Other Alternatives) est déclarée à... Tour du monde des monnaies sociales Nous avons visité, étudié, travaillé avec de nombreux projets et acteurs... Des clubs de troc pour les enfants Lancer un club de troc dans votre école, un projet pédagogique...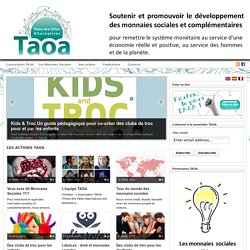 Inscris-toi sur les listes électorales On nous demande régulièrement comment agir pour améliorer la qualité de l'air. La première chose à faire, classique, est de voter, surtout pour ceux qui s'en soucient. En 2014, deux scrutins : les municipales (élire le Maire) et les européennes (élire les députés français qui nous représentent au Parlement européen). Pour voter, il faut avoir... Vision d'une jeune de 20 ans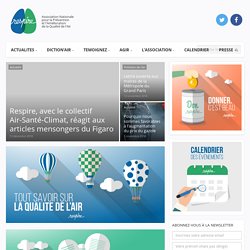 In a context of international news, often dense and brutal, showing many warning signals and repeated social, economic and environmental crises, sustainable development challenges, fight against climate change and energy issues take a very particular dimension. They challenge everyone of us on our individual lifestyles habits and on models that our modern societies have established as a reference. Aware of the challenges, constraints but also opportunities that the energy issues carry over, ENERGIES 2050 is convinced that present and future choices for energy production, but also its use cannot be decided in small circles of experts and insiders anymore. Aware also of the impact of our energy choices on the climate issue and the trajectories of development of our societies, ENERGIES 2050 is convinced that the solution cannot be simply a matter of knowledge, methods and tools and that it can never be merely political, economic, technological or social.
Energies 2050