ruby
Get flash to fully experience Pearltrees
Individual or compiled Plugins can be included individually (though some have required dependencies), or all at once. Both bootstrap.js and bootstrap.min.js contain all plugins in a single file. Data attributes You can use all Bootstrap plugins purely through the markup API without writing a single line of JavaScript.
Pagination is extremely important in any web application. Let's say a client has a database with 10,000 cars for sale. You, the intrepid web developer, are hired to build a web front end to the database. You would never want to return a list of all 10,000 cars at once!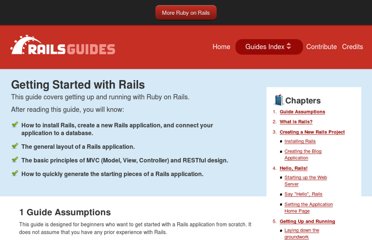 This Guide is based on Rails 3.2. Some of the code shown here will not work in earlier versions of Rails. 1 Guide Assumptions This guide is designed for beginners who want to get started with a Rails application from scratch. It does not assume that you have any prior experience with Rails.
Ruby is a perfect Object Oriented Programming Language. The features of the object-oriented programming language include: Data Encapsulation: Data Abstraction: Polymorphism: Inheritance: These features have been discussed in Object Oriented Ruby . An object-oriented program involves classes and objects.
$ rvm help # Documentation Index If you are going to use RVM installations with gnome-terminal, you'll probably need to change it's default options. Multi-User RVM creates a script in /etc/profile.d, which is being sourced on startup. Also, most people put the RVM sourcing line required to load RVM in their ~/.bash_profile for Single-User installs.
Michael Hartl Contents Foreword My former company (CD Baby) was one of the first to loudly switch to Ruby on Rails, and then even more loudly switch back to PHP (Google me to read about the drama). This book by Michael Hartl came so highly recommended that I had to try it, and the Ruby on Rails Tutorial is what I used to switch back to Rails again.
I kinda stuck to the method Michael Hartl recommended to set up a rails environment, so I will just summarize his instructions for the set-up process on a Ubuntu rig. This is my basic jumpboard from whence I might diverge based on other decision I make along the way. Read the full story at Ruby on Rails Tutorial . Install RVM Michael advised the readers of his tutorial to install the Ruby Version Manager (RVM) in order to allow quick Ruby version changes during development. Not a bad idea.