Music
We're A Record Label From Wales | Serein
Facture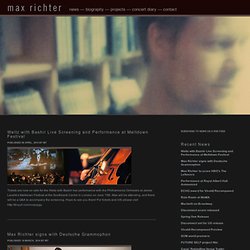 Max Richter • www.maxrichtermusic.com
Published 08 April, 2014 by MT Tickets are now on sale for the Waltz with Bashir live performance with the Philharmonia Orchestra at James Lavelle's Meltdown Festival at the Southbank Centre in London on June 15th. Max will be attending, and there will be a Q&A to accompany the screening. Hope to see you there! For tickets and info please visit http://tinyurl.com/ooaopgy. Published 18 March, 2014 by MT
Martin "Mander" Ander exhibition January 10th, 2013 Martin "Mander" Ander who created the Fever Ray artwork has an exhibition at Tune Up Records in Antwerpen, Belgium from 20 jan to 17 March.
Someone Records
News - Slaapwel Records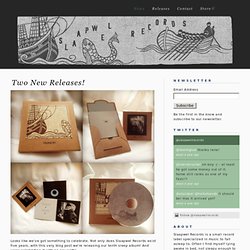 Because it's an undeniable fact a year can not end properly until everyone has posted their year end lists, I asked all artists from the slaapwel roster what their favorites are. Some gave me a top 5 sleepy records, others chose records they listened to the most in 2011 - even if they were old records - so by no means is it a very coherent list, but no doubt the records you see here are worth checking out if you're into Slaapwel-ish music. If you look at those lists, it seems like I should be talking to Nils Frahm, Jefre-Cantu Ledesma & Cory Allen sometime soon :) Special thanks to Simon, who took time to give a little review as well - check for those at the bottom! STEINBRÜCHEL (Top 5 sleepy records with occasional waking up from 2011)Cory Allen - PearlsMatty Bye - Elephant & CastleMachinefabriek - Sol SketchesIn The Country - Sounds and SightsNils Frahm - Felt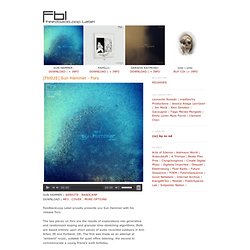 Support Vitor Joaquim creating his new album Geography. Go here: http://ppl.com.pt/en/prj/geography After his latest cd "Filament", considered by the Indie Rock Mag as one of the best Drone/Ambient records of the year, Vitor Joaquim is now preparing his new cd "Geography". Like the previous edition, "Geography" is also released by Kvitnu, the acclaimed Ukrainian label. Like "Filament", this cd will also be published by Ukrainian Kvitnu, counting on with the collaboration of Luis Dourado on graphics, and with sound contributions from Simon Fisher Turner, Carlos Zingaro, Ulrich Mitzlaff and Nuno Rebelo, among others. The output will be scheduled for late September 2012.
feedback loop label
On the 21st of March 2014 we will be celebrating 5 years of Home Normal. It has been an incredible journey to get this far and we never could have reached it without the kind support of talented artists and all the wonderful people who have ever bought one of our releases or attended one of our shows. In this modern digital age with its constant stream of information, we've sought to work as quietly as possible, firmly rooting our ethos that things can be released in a subtle, quiet way. 'Organic' has always been the key word, and we are so thankful that people seem to still appreciate the natural path we've chosen, ignoring all the noise that surrounds our chosen way. To celebrate this great landmark for us, we will be releasing our 5th year compilation 'Elements'. With over 50 artists from our past, present and future involved, this five disc compilation will be raising money for 5 different charities which are close to our hearts.
hn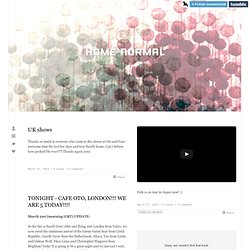 heat death records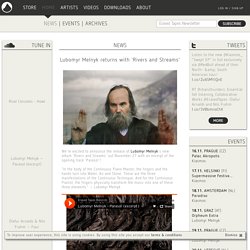 After releasing his critically acclaimed new album 'Spaces' with an exclusive release concert in New York, Nils Frahm announces his European & North American tour with a brand new video. The official music video for album track Says was created by visual artists Romain Assénat and Ana Silva. Romain previously submitted a 'typewriter symphony' for Nils's Screws Reworked online project. 'Listening to 'Says', we wanted to create a visual space fitting with the repeating form and the kind of echo present in this piece. We had the visual idea during a show of Nils in Germany, two days after, we've created a device for capturing this idea: a video-feedback with ink on glass captured in one take, in a very analogue way and without any post-production', he explains.
Erased Tapes Records - Home
- GZH HOME
Richard Skelton Works / Pamphlet Evidence of Capillary Beauty Dismantled / Pamphlet, Print Sightings
*.*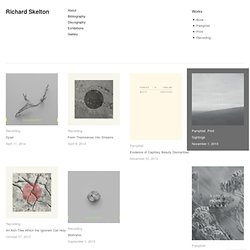 Haruko
Limited CD: booking.haruko@gmail.com Most of the basic tracks for the album were recorded by Susanne Stanglow in an old shooting alley in autumn 2011. Guitar and vocals were recorded live, everything else was added later.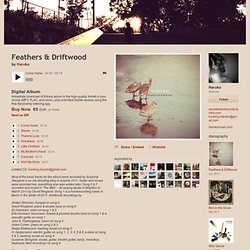 Audio Gourmet Netlabel - Pentadactyl
Handstitched* - Pentadactyl
[antonymes] - Pentadactyl
12k Welcome - Pentadactyl
Akari 12k1080 Lay-by Lullaby 12k1079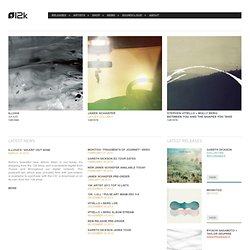 Fluid Audio - Pentadactyl
We're very pleased to have been involved with a re-issue CD of Listening Mirror's "The Heart of the Sky" album. The album originally … Read More Many thanks to Richard Allen at A Closer Listen for taking the time to review all 3 of our latest … Two tracks from Antonymes' There Can Be No True Beauty Without Decay were featured as part of the The Welsh M1 programme with … We've 2 new postcards released later this month.
Pentadactyl
Frédéric  D. Oberland - HOME - Pentadactyl
Two massive new albums are available now from Tympanik Audio. First up is Comaduster's highly-anticipated debut full-length 'Hollow Worlds'. Drawing from a deep well of influences, 'Hollow Worlds' encompasses a distinctive range of musical styles skillfully incorporating elements of industrial, dubstep, EDM, post-rock, glitch, IDM, ambient, and pop music into a wholly polished and cohesive assembly of work that garners cerebral as well as dancefloor allure.
Aeolian