Music
We're A Record Label From Wales | Serein. Facture. Max Richter • www.maxrichtermusic.com. Published 08 April, 2014 by MT Tickets are now on sale for the Waltz with Bashir live performance with the Philharmonia Orchestra at James Lavelle's Meltdown Festival at the Southbank Centre in London on June 15th.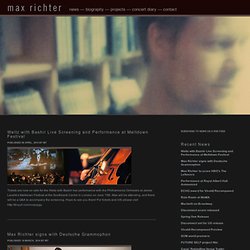 Max will be attending, and there will be a Q&A to accompany the screening. Hope to see you there! For tickets and info please visit Published 18 March, 2014 by MT. Fever Ray. Someone Records. News - Slaapwel Records. Feedback loop label. Hn. On the 21st of March 2014 we will be celebrating 5 years of Home Normal.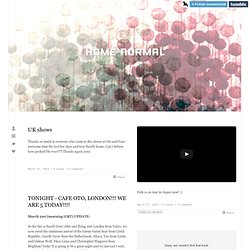 It has been an incredible journey to get this far and we never could have reached it without the kind support of talented artists and all the wonderful people who have ever bought one of our releases or attended one of our shows. In this modern digital age with its constant stream of information, we've sought to work as quietly as possible, firmly rooting our ethos that things can be released in a subtle, quiet way.
'Organic' has always been the key word, and we are so thankful that people seem to still appreciate the natural path we've chosen, ignoring all the noise that surrounds our chosen way. To celebrate this great landmark for us, we will be releasing our 5th year compilation 'Elements'. With over 50 artists from our past, present and future involved, this five disc compilation will be raising money for 5 different charities which are close to our hearts. Type | A record label. Heat death records. Erased Tapes Records - Home. - GZH HOME. *.* Haruko. Audio Gourmet Netlabel - Pentadactyl.
Handstitched* - Pentadactyl. [antonymes] - Pentadactyl. 12k Welcome - Pentadactyl. Fluid Audio - Pentadactyl. Pentadactyl. Frédéric  D. Oberland - HOME - Pentadactyl. Tympanik Audio. Aeolian.
---