Wordpress plugins
SEO Tag Cloud Widget displays the tag cloud in a SEO-friendly way, using html markup. Installation Download the latest version Upload `seo-tag-cloud.php` to the `/wp-content/plugins/` directory Activate the plugin through the 'Plugins' menu in WordPress Go to 'Appearance' or 'Presentation' or 'Design' menu Go to 'Widgets' menu Drag & Drop the SEO Tag Cloud Widget to the place you would like to display the tag cloud Optionally change the title Screenshots This is how the sidemenu will look:
SEO Tag Cloud Widget plugin for Wordpress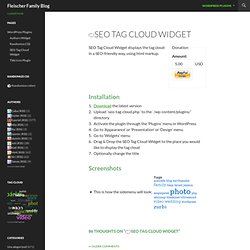 SEO Friendly Images
Olvídate de poner los enlaces de forma manual, selecciona una palabra, la URL de destino y este plugin se encargará de cambiar todas las coincidencias de todos los post de tu blog. Para cada enlace puedes además incluir: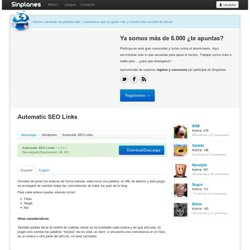 Automatic SEO Links - 2.0 Beta | CVS Projects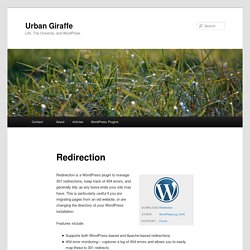 Redirection is a WordPress plugin to manage 301 redirections, keep track of 404 errors, and generally tidy up any loose ends your site may have. This is particularly useful if you are migrating pages from an old website, or are changing the directory of your WordPress installation. Features include:
Redirection – Manage 301 redirections without modifying Apache
Google (XML) Sitemaps Generator for WordPress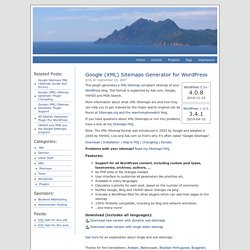 This plugin generates a XML-Sitemap compliant sitemap of your WordPress blog. This format is supported by Ask.com, Google, YAHOO and MSN Search. More information about what XML-Sitemaps are and how they can help you to get indexed by the major search engines can be found at Sitemaps.org and the searchenginewatch blog . If you have questions about XML-Sitemaps or run into problems, have a look at my Sitemaps FAQ .
With Tabbed Widgets plugin one can easily create tab and accordion type blocks of content without writing a single line of code. Simply select the widgets you want to appear as tabs, specify their tab titles and a new tabbed widget is created automatically which you can then place in any of the widgetized areas. Download & Compatibility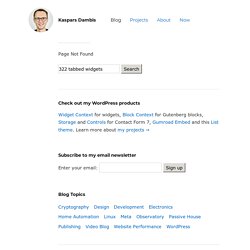 Tabbed Widgets Plugin for WordPress — Konstruktors
Widget Context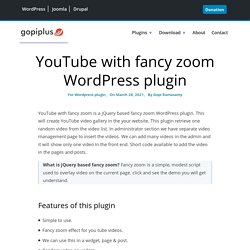 Youtube with fancy zoom | Gopi's Wordpress Plug-in
Youtube with fancy zoom (This is a jQuery based fancy zoom) wordpress plugin create the youtube video gallery in the wordpress website.