Social media
Guide to social media metrics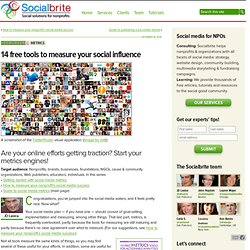 14 free tools to measure your social influence
Tweet A screenshot of the TwitterPoster visual application. (Image by mil8) Are your online efforts getting traction? Start your metrics engines! Target audience: Nonprofits, brands, businesses, foundations, NGOs, cause & community organizations, Web publishers, educators, individuals.
Getting started with social media metrics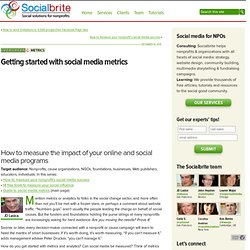 Tweet How to measure the impact of your online and social media programs Target audience: Nonprofits, cause organizations, NGOs, foundations, businesses, Web publishers, educators, individuals.
Maria Ogneva is the Director of Social Media at Attensity, a social media engagement and voice-of-customer platform that helps the social enterprise serve and collaborate with the social customer. You can follow her on Twitter at @themaria or @attensity360, or find her musings on her personal blog and her company's blog. Recently I wrote about the differences in social media monitoring and measurement, as well as the importance of doing both. However, taking the first step to actually start monitoring can be daunting.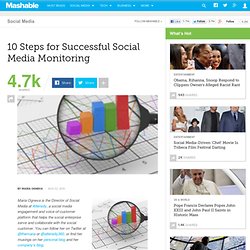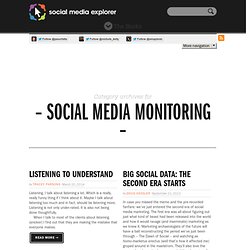 Social Media Monitoring
I'm sure that we all understand that our business's (as well as our personal) reputation on the web is critical to our success and ability to prosper. In the prehistoric '80s and '90s, businesses and their brands pretty much controlled their own public image on the web by "pushing" out marketing and public relations communications to an interested public. Friends, those days are gone forever! Today, it is incredibly easy for anyone to post positive or negative comments and reviews about you or your business online; and these posts by people like you and me can not only go viral very quickly, but can, and do, affect people's behaviors.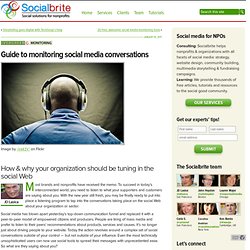 Guide to monitoring social media conversations
Image by √oхέƒx™ on Flickr How & why your organization should be tuning in the social Web Most brands and nonprofits have received the memo: To succeed in today's interconnected world, you need to listen to what your supporters and customers are saying about you. With the new year still fresh, you may be finally ready to put into place a listening program to tap into the conversations taking place on the social Web about your organization or sector. Social media has blown apart yesterday's top-down communication funnel and replaced it with a peer-to-peer model of empowered citizens and producers. People are tiring of mass media and prefer to listen to their peers' recommendations about products, services and causes.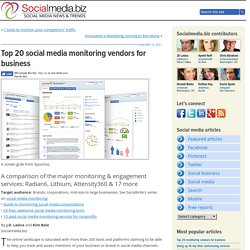 Tweet A screen grab from Sysomos.
Top 20 social media monitoring vendors for business
Social Media Marketing Strategies & Best Practices