Graphic Design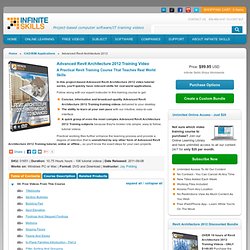 A Practical Revit Training Course That Teaches Real World Skills In this project-based Advanced Revit Architecture 2012 video tutorial series, you'll quickly have relevant skills for real-world applications. Follow along with our expert instructor in this training course to get: Concise, informative and broadcast-quality Advanced Revit Architecture 2012 Training training videos delivered to your desktop The ability to learn at your own pace with our intuitive, easy-to-use interface A quick grasp of even the most complex Advanced Revit Architecture 2012 Training subjects because they're broken into simple, easy to follow tutorial videos Practical working files further enhance the learning process and provide a degree of retention that is unmatched by any other form of Advanced Revit Architecture 2012 Training tutorial, online or offline... so you'll know the exact steps for your own projects.
Problema al cargar la página
FreshFreeStuff.Net | Hand Picked The Best Free Stuff On The Net
Free Vector Downloads, Free Vector Art, Clipart, Web Design, and Graphic Resources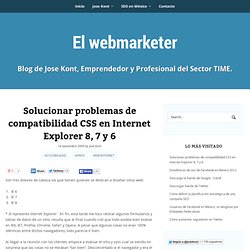 Solución a problemas de CSS en Internet Explorer 6, 7 y 8 | El webmarketer
Son tres dolores de cabeza los que tienen quienes se dedican a diseñar sitios web: * IE representa Internet Explorer . En fin, esta tarde me toco retocar algunos formularios y tablas de datos de un sitio, resulta que al final cuando creí que todo estaba bien evalúe en IE6, IE7, Firefox, Chrome, Safari y Opera. A pesar que algunas cosas no eran 100% idénticas entre dichos navegadores, todo parecía ir bien.
Nerdi
Photographers Index · A-Z | plsr. - photography showcase
It has been long since we posted our last free font collection (see: 20 Free Handwritten Fonts and 21 Incredible Fonts That Shouldn't Be Free ), so we decided it's a high time to do one more. The use of retro and vintage themes in design is still very popular, so it's always good to have a big font collection. That's why we handpicked 26 beautiful and stylish free retro fonts . We had a lot of fun doing the sample images, so if you decide to use some of them – please link back to DeMilked . 1. Riesling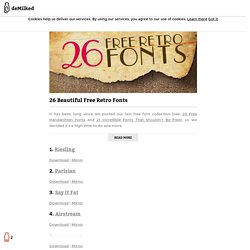 chethstudios Design Magazine - Design Inspiration Photography Web Design All In one Place
Glassy Blues Seamless Textures Posted on 03. Dec, 2009 by WebTreats .
WebTreats ETC - Part 6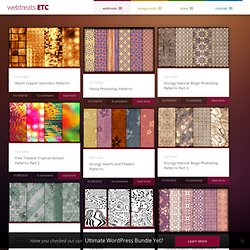 Toro | Fotos y Vectores gratis
Download Free Vectors, Graphics, Photoshop, Illustrator, Stock, Illustration, Web Design, Templates, Themes, Icons
stock vector | free download high quality stock vector for graphic designers