Social Media
Social Media Zahlen 2013 für Xing, Facebook, Google+, Twitter und Co. Aktuelle Social Media Zahlen 2013 für Xing , Linkedin , Pinterest , Facebook , Google+ und Twitter.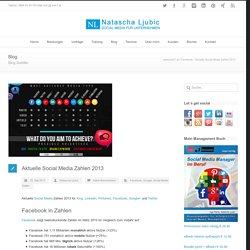 Facebook in Zahlen Facebook zeigt beeindruckende Zahlen im März 2013 im Vergleich zum Vorjahr auf: Social Media Infographics / 50000 verified Twitter accounts #infografia #infographic #socialmedia. Brazilian Website Selling The Facebook Girlfriend Experience. Tired of being single on Facebook?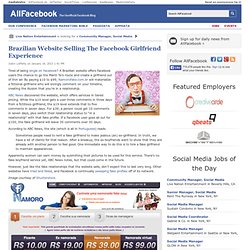 A Brazilian website offers Facebook users the chance to go the Manti Te'o route and create a girlfriend out of thin air. By paying $10 to $99, NamoroFake.com.br will materialize a fictional girlfriend who will lovingly comment on your timeline, creating the illusion that you're in a relationship. ABC News discovered the website, which offers services in tiered pricing. While the $10 level gets a user three comments in three days from a fictitious girlfriend, the $19 level extends that to five comments in seven days. The Times launches 'experimental Tumblr page' for Opinion. The Times today launched what it called "an experimental Tumblr page" outside its paywall offering Opinion content such as additional comment pieces from Times columnists.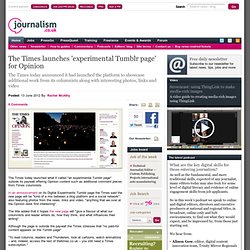 In an announcement on its Digital Experiments Tumblr page the Times said the new page will be "kind of a mix between a blog platform and a social network", also featuring photos from the news, links and video, "anything that we over at the Opinion desk find interesting". The title added that it hopes the new page will "give a flavour of what our columnists and leader writers do, how they think, and what influences their writing". Although the page is outside the paywall the Times stresses that "no paid-for content appears on the Tumblr page". "To read columns, leaders and Thunderers, look at cartoons, watch animations – and, indeed, access the rest of thetimes.co.uk – you still need a Times subscription. " Nine Twitter accounts every journalism student should follow.
By Patrick Foster Facebook, Tumblr and Instragram all have their purposes for college writers, but let's face it, Twitter is the social tool that any modern journalism student must master if she or he wants to earn their living in a newsroom.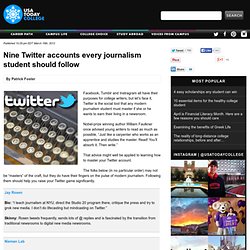 Nobel-prize winning author William Faulkner once advised young writers to read as much as possible, "Just like a carpenter who works as an apprentice and studies the master. How Coca-Cola monitors social media. Coca-Cola has more than 500 brands in 206 countries.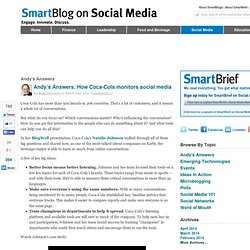 That's a lot of customers, and it means a whole lot of conversations. But what do you focus on? Which conversations matter? Who's influencing the conversation? How do you get this information to the people who can do something about it? «Social Media verteilt die Macht neu» Tagblatt Online, 12.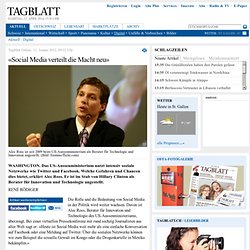 Januar 2012, 09:32 Uhr Alec Ross ist seit 2009 beim US-Aussenministerium als Berater für Technologie und Innovation angestellt. The Social Media Data Stacks. Data is a marketer's best friend.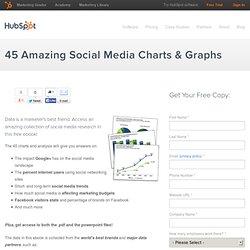 Access an amazing collection of social media research in this free ebook! The 45 charts and analysis will give you answers on: The impact Google+ has on the social media landscapeThe percent internet users using social networking sitesShort- and long-term social media trendsHow much social media is affecting marketing budgetsFacebook visitors stats and percentage of brands on FacebookAnd much more Plus, get access to both the .pdf and the powerpoint files! Social Media is NOT Just For Interns! (Says a Disgruntled NPR Social Media Manager) By Foster Kamer 11/16/11 2:48pm Share this: Can a Fail Whale shed tears?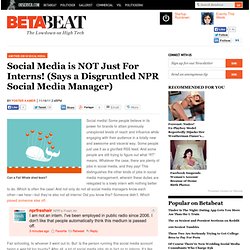 Social media! Some people believe in its power for brands to attain previously unexplored levels of reach and influence while engaging with their audience in a totally new and awesome and visceral way. Google+ Brand Pages for Ford, MTV, Mashable Likely Coming | Digital. Social Media (Marketing) als Thema für Diplomarbeiten | Onlinelupe. Häufig erreichen mich eMails von Studenten, die entweder kurz vor Ihrer Diplomarbeit (oder auch Bachelor- oder Masterarbeit) stehen oder mittendrin stecken und noch nach Informationen oder auch Umfrageteilnehmerin zum Thema Social Media Marketing suchen.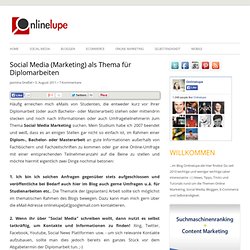 Mein Studium habe ich 2007 beendet und weiß, dass es an einigen Stellen gar nicht so einfach ist, im Rahmen einer Diplom-, Bachelor- oder Masterarbeit an gute Informationen außerhalb von Fachbüchern und Fachzeitschriften zu kommen oder gar eine Online-Umfrage mit einer entsprechenden Teilnehmeranzahl auf die Beine zu stellen und möchte hiermit eigentlich zwei Dinge nochmal betonen: 1.
Ich bin ich solchen Anfragen gegenüber stets aufgeschlossen und veröffentliche bei Bedarf auch hier im Blog auch gerne Umfragen u.ä. für Studienarbeiten etc.. Die Thematik der (geplanten) Arbeit sollte sich möglichst im thematischen Rahmen des Blogs bewegen. Dazu kann man mich gern über die eMail-Adresse onlinelupe[at]googlemail.com kontaktieren. Convention Zürich.
Dipl.Des.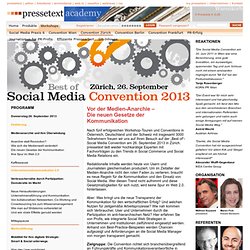 (FH) Maren Fick ist Creative Director und Social Media Beraterin für Unternehmen und Institutionen, Dozentin an der FH Wiener Neustadt, an der Werbeakademie Wien und am WIFI Wien, Gastvortragende und Jury-Mitglied an der Universität für angewandte Kunst sowie Schulungs- und Workshopleiterin in Unternehmen. Nach 15 Jahren Berufserfahrung in internationalen Werbeagenturen in Sydney, Düsseldorf, Hamburg und Wien ist sie seit 2009 als freie Konzeptionistin und Creative Director tätig.
How Will Google+, Facebook, LinkedIn, and Twitter Look in One Year? - Benzinga Insights - Why social media is a massively important tool for any journalist. Journalism is changing in front of our very eyes and social media is responsible for a large part of that change and most people within the industry see it as a bad thing as print media and traditional advertising models come under pressure.
People share information on services like Twitter , bloggers break news and plenty of sites copy and paste the work of people in traditional media. It might seem like social media is mostly a negative thing for the industry but journalists are having to embrace the new mediums and those who don't are missing out. Social media tools should be an integral part of every journalism course because those who don't understand it or who fail to embrace it will get swallowed up themselves in the tide of change.
Statistiken zu den Nationalratswahlen. Wahlkampf: Wie nutzen Politiker Social Media? » für, Krattiger, Facebook, Wahlkampf, Philipp, Kutter » Blogwerk Firmenblog. Am 9. Social Media Gipfel gaben zwei junge Politiker Einblick in ihre Social Media-Aktivitäten. Auch für sie gilt: Die geschickte Kombination von On- und Offline-Aktivitäten macht den Erfolg aus. Und: Zeit bleibt eine knappe Ressource. Stefan Krattiger, 26 und Gemeindepräsident von Aegerten im Kanton Bern und Philipp Kutter, 34 und Stadtpräsident von Wädenswil im Kanton Zürich beschrieben am 1.
Juni im NZZ Bistro by Tibits, was sie tun, um via Facebook die Gunst der Wähler für sich zu gewinnen. Welcome to Google Docs. FHS eSociety Blog » Der Einsatz von Social Media im Abstimmungskampf – Beobachtungen aus St. Gallen. Am vergangenen Sonntag hat die die Bürgerschaft der Stadt St. Gallen über das Projekt zur Neugestaltung von Marktplatz, Bohl und Blumenmarkt abgestimmt. Bei einer Beteiligung von 46.8% der Stimmberechtigten wurde die städtische Vorlage mit 11177 zu 9785 Stimmen abgelehnt. Gemäss TAGBLATT hat es einen heftigen Abstimmungskampf gegeben. Gegenwärtig wird allenthalben eine verstärkte Bürgerbeteiligung in politischen Prozessen gefordert. Als Mittel dazu werden vor allem die Werkzeuge der Social Media als geeignet angesehen, also Facebook, Twitter und Co. Social Media Policy. St.Galler Tagblatt Online - «Facebook wird genauso gross wie Google» Tagblatt Online, 16. Mai 2011, 11:28 Uhr Lars Hinrichs sieht bei den grossen Internetunternehmen noch keine Blasenbildung – im kleinen Bereich tummeln sich mittlerweile viele Investoren, die hohe Bewertungen bezahlen.
Wenn Social Media aus dem Ruder läuft: Pril "Hähnchengeschmack" Freedom Filter. Google's Secret Social Initiative Delayed Until Spring 2011 [EXCLUSIVE] Using Twitter to Track Dropped Calls. The New York Times Introduces The Evolution of the Hyperlink. Ben the Bodyguard. Coming soon to iPhone® and iPod touch®
---