Buch "Semantic Web & Linked Data", DGI
LOCKSS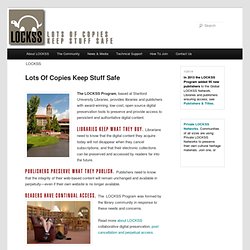 The LOCKSS Program, based at Stanford University Libraries, provides libraries and publishers with award-winning, low-cost, open source digital preservation tools to preserve and provide access to persistent and authoritative digital content. Librarians need to know that the digital content they acquire today will not disappear when they cancel subscriptions, and that their electronic collections can be preserved and accessed by readers far into the future. Publishers need to know that the integrity of their web-based content will remain unchanged and available in perpetuity—even if their own website is no longer available. The LOCKSS Program was formed by the library community in response to these needs and concerns.
dara_gesis
Suchen Sie in unserem Bestand von insgesamt 27900 Volltexten: Herzlich willkommen beim Social Science Open Access Repository! Sie finden auf unseren Seiten einen stetig wachsenden Bestand von sozialwissenschaftlichen Dokumenten im Volltext, die frei für Sie verfügbar sind. Wenn Sie Dokumente recherchieren möchten, nutzen Sie die einfache oder erweiterte Dokumentensuche oder bedienen die Browsen und Suchen-Funktion. Wenn Sie als Autorin oder Autor Ihre Texte verfügbar machen möchten, können Sie sich auf diesen Seiten über die Vorteile und die zu beachtenden Schritte informieren. Über die in der oberen Navigation angebotene Dokument-hinzufügen-Funktion können Sie Ihre Dokumente selbstständig hochladen.
SSOAR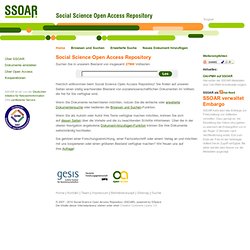 Open-Source-Werkzeuge und -Services unterstützen GeisteswissenschaftlerInnen im gesamten Forschungsprozess – insbesondere beim Erstellen digitaler Editionen. Im Langzeitarchiv für Forschungsdaten können vielfältige digitale Materialien – u.a. XML/TEI-kodierte Texte, Bilder und Datenbanken – sicher gespeichert, publiziert und durchsucht werden.
TextGrid 1.0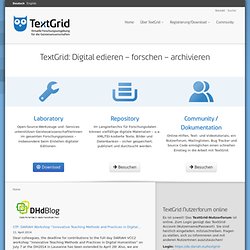 Publish Statistics on your Webserver The Nesstar Server is built as an extension to a normal web server. As well as providing all the usual facilities for publishing web content, this server provides the ability to publish statistical information that can be searched, browsed, analysed and downloaded by users. This is done either by using a standard web browser using Nesstar WebView, the web-interface of Nesstar Server.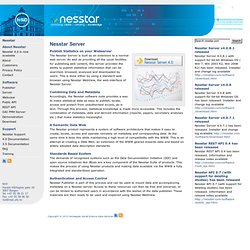 Nesstar
Image by cameronneylon via Flickr Jon Eisen asked a question on Friendfeed last week that sparked a really interesting discussion of what an electronic research record should look like. The conversation is worth a look as it illustrates different perspectives and views on what is important.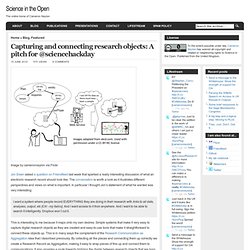 Capturing and connecting research objects
The Association of American Publishers have launched a response to the OSTP White House Executive Order on public access to publicly funded research. In this they offer to set up a registry or system called CHORUS which they suggest can provide the same levels of access to research funded by Federal Agencies as would the widespread adoption of existing infrastructure like PubMedCentral. The bottom line is that it is necessary to bear in mind that this is the same group that put together the Research Works Act, a group with a long standing, and in some cases personal, antipathy to the success of PMC. There is therefore some grounds for scepticism about the motivations of the proposal.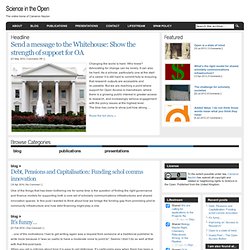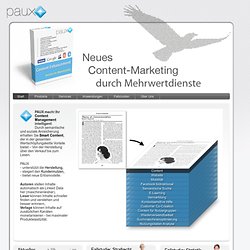 PAUX Technologies GmbH - Start
Details anzeigen Kategorien anzeigen Infos anzeigen PAUX macht Ihr Content Management intelligent: Durch semantische und soziale Anreicherung erhalten Sie Smart Content, der in der gesamten Wertschöpfungskette Vorteile bietet – Von der Herstellung über den Verkauf bis zum Lesen.
Schemapedia
Falcons Entity Explorer
Falcon-AO: A practical ontology matching tool - Home
Watson Semantic Web Search
This is the Watson Web interface for searching ontologies and semantic documents using keywords. This interface is subject to frequent evolutions and improvements. If you want to share your opinion, suggest improvement or comment on the results, don't hesitate to contact us... At the moment, you can enter a set of keywords (e.g. "cat dog old_lady"), and obtain a list of URIs of semantic documents in which the keywords appear as identifiers or in literals of classes, properties, and individuals. You can also use "jokers" in the keywords (e.g., "ca?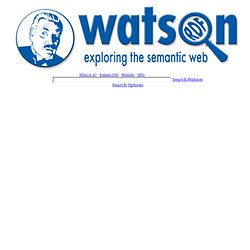 Find 42
Aktuell ... Artikel lesen
e-lib.ch
Sem Mashup Pipes
RODIN, portaneo
KIBB / Wissenslandkarte