Programmation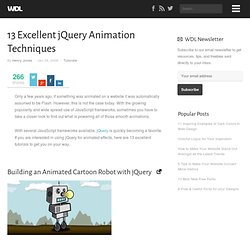 Only a few years ago, if something was animated on a website it was automatically assumed to be Flash. However, this is not the case today. With the growing popularity and wide spread use of JavaScript frameworks, sometimes you have to take a closer look to find out what is powering all of those smooth animations. With several JavaScript frameworks available, jQuery is quickly becoming a favorite. If you are interested in using jQuery for animated effects, here are 13 excellent tutorials to get you on your way. Building an Animated Cartoon Robot with jQuery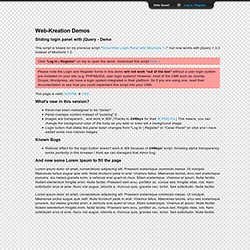 Sliding Login Panel with jQuery 1.3.2
Sliding login panel with jQuery - Demo This script is based on my previous script " Show/Hide Login Panel with Mootools 1.2 " but now works with jQuery 1.3.2 instead of Mootools 1.2. Click " Log In | Register " on top to open the demo.
ModalBox — An easy way to create popups and wizards
Mozilla Firefox
Way back in June, Thomas Reynolds released iPhone-style-checkboxes for jQuery , a progressive enhancement for checkboxes which makes them into the beautiful iPhone toggle switches.
iPhone Toggle Switches // Elijah Miller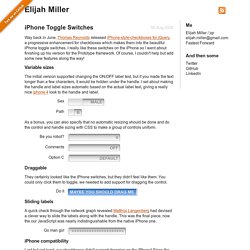 SugarCRM Forums