Sites
Ducks Fan Kali | Hotties of Hockey
LOLcaption.com - Funny Pictures, Fail Pics and YouTube Videos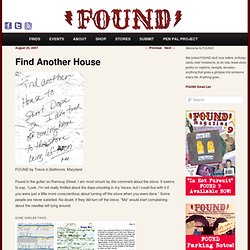 FOUND Magazine | Life
FOUND by Travis in Baltimore, Maryland Found in the gutter on Ramsay Street. I am most struck by the comment about the stove. It seems to say, "Look, I'm not really thrilled about the dope-shooting in my house, but I could live with it if you were just a little more conscientious about turning off the stove when you were done."
Friendship Ecards, Free Friendship Cards, Funny Friendship Greeting Cards at someecards.com
Jewgle: Stop searching and call your mother.
Emergency Yodel Button
HockeyDrunk: where professionalism can stfu!
HockeyJerseyConcepts
Wild About Design
PuckDrawn
Blog - icethetics.info
The Hockey Uniform Database
Alex Ovechkin - NHL's Colorful Characters - Photos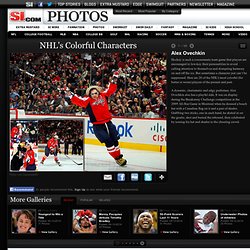 Hockey is such a consummate team game that players are encouraged to low-key their personalities to avoid calling attention to themselves and disrupting harmony on and off the ice. But sometimes a character just can't be suppressed. Here are 20 of the NHL's most colorful (for better or worse) players of the present and past. A dynamic, charismatic and edgy performer, Alex Ovechkin also has a playful side. It was on display during the Breakaway Challenge competition at the 2009 All-Star Game in Montreal when he donned a beach hat with a Canadian flag on it and a pair of shades.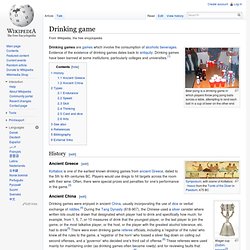 Beer pong is a drinking game in which players throw ping pong balls across a table, attempting to land each ball in a cup of beer on the other end Drinking games are games which involve the consumption of alcoholic beverages. Evidence of the existence of drinking games dates back to antiquity. Drinking games have been banned at some institutions, particularly colleges and universities.[1]
Drinking game