Projekt Digital egenmakt
Våra projekt 2011-2012 - flexlär 2011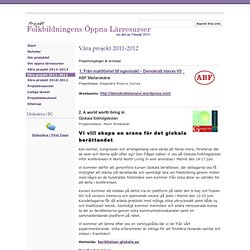 Projektomgången är avslutad ABF Mellanskåne Projektledare: Alejandra Pizarro Correa 2. A world worth living in Glokala folkhögskolan
Dyslexiförbundet - FMLS
Top 10 Mistakes Wineries (and Other Businesses) Make on Facebook–Part 2 - Blog Your Wine
Continuing on from my post yesterday, these are my top 5 mistakes wineries (and other businesses) make on Facebook. 5. Not Embracing the Human Element As the Internet is evolving, it is becoming inherently more human. You can't just setup a website, or in this case a Facebook Page and hope people love you and your content! In order to embrace the human element, it is wise to show your audience what you look like.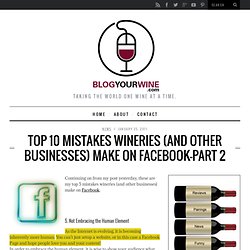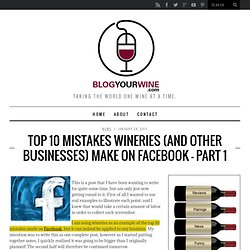 This is a post that I have been wanting to write for quite some time, but am only just now getting round to it. First of all I wanted to use real examples to illustrate each point, and I knew that would take a certain amount of labor in order to collect each screenshot. I am using wineries as an example of the top 10 mistakes made on Facebook, but it can indeed be applied to any business. My intention was to write this as one complete post, however as I started putting together notes, I quickly realized it was going to be bigger than I originally planned! The second half will therefore be continued tomorrow.
Top 10 Mistakes Wineries (and Other Businesses) Make on Facebook – Part 1 - Blog Your Wine
GoAnimate for Schools and Educators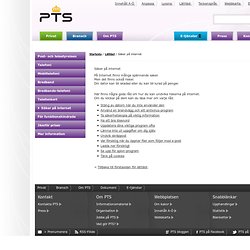 Säker på Internet
Startsida / Lättläst / Säker på internet Säker på internet På Internet finns många spännande saker. Men det finns också risker. Din dator kan bli skadad eller du kan bli lurad på pengar. Här finns några goda råd om hur du kan undvika riskerna på internet.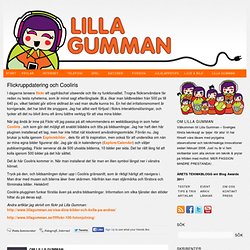 Flickruppdatering och Cooliris : Lilla gumman
I dagarna lansera flickr ett uppfräschat utseende och lite ny funktionalitet. Trogna flickranvändare får redan nu testa nyheterna, som är minst sagt efterlängtade. Bl.a. ökar man bildbredden från 500 px till 640 px, vilket faktiskt gör större skillnad än vad man skulle kunna tro. En hel del irritationsmoment är korrigerade, det har blivit lite snyggare.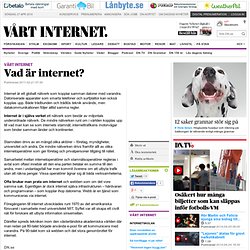 Vad är internet?
Internet är ett globalt nätverk som kopplar samman datorer med varandra. Datoriserade apparater som smarta telefoner och surfplattor kan också kopplas upp. Både trådbunden och trådlös teknik används, men datakommunikationen följer alltid samma regler. Internet är i själva verket ett nätverk som består av miljontals underordnade nätverk. De mindre nätverken runt om i världen kopplas upp till vad man kan se som internets stamnät; internettrafikens motorvägar som binder samman länder och kontinenter.
Fjällräven Israel is an online shop focused on selling Fjällräven bags and backpacks of different sizes and for different uses. Its clean, professional web design makes shopping an easy, pleasant experience, both quick and trust-inspiring. The homepage is extremely user-friendly, letting visitors browse the website through navigation links in the main menu on top or through image and text teasers in the bottom of the page.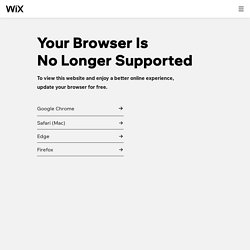 English A: Online Vocabulary Aid
Vi har fått en bra plats på biblioteket i Falkenberg - precis i blickpunkten för de som kommer in. Jag har pratat med hantverkarna i QMade-gruppen och alla kommer med sina handarbeten. Om Lilian får in sin vävstol i bilen, är ovisst... men kanske...? Hallands Nyheter är informerade.
QMade har fokus på ditt hantverk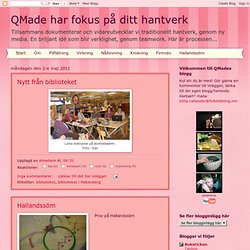 Ett ansikte bakom webbplatsen Denna webbplats handlar om IKT iskolan, dvs. hur man kan använda datorer som ett pedagogiskt redskap. Mitt namn är Mats Öström och jag har arbetat med IKT-utveckling på Ross Tensta Gymnasium i Stockholm under mina 10 år där. Unde de sju första åren arbetade jag som lärare och de tre sista åren som IT-pedagog (med enstaka kurser).
Välkommen till Webmajjen - WebmajjenWebmajjen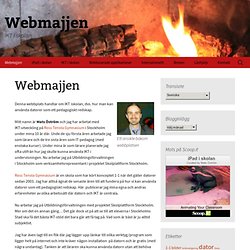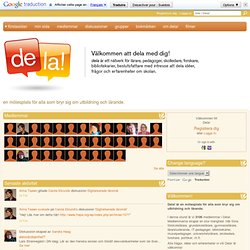 Här arrangerade Dela! det andra seminariet i serien "Öppna digitala lärresurser - en del av dagens undervisning". Denna gång var den praktiska användningen av öppna digitala lärresurser i fokus. I panelen: - Björn Kindenberg, grundskolelärare, Stockholms stad - Karin Aaseby, gymnasielärare, Värmdö - Margareta Hellström, lärarutbildare, pedagogisk konsult vid KTH - Mats Pertoft, riksdagsledamot, Miljöpartiet - Mikael Damberg, riksdagsledamot, Socialdemokraterna - Marie Carlsson, förlagschef för läromedelsförlaget Libers skolutgivning - Fredrik Paulsson, forskare, Technology-Enhanced Learning, Umeå universitet
It Ikapp
Camtasia Studio, Screen Recorder Software, Product Tour
Camtasia Studio Features Top New Features TechSmith Fuse TechSmith Fuse, our new mobile app, makes it simple to get exactly what you need from your devices into your projects. Send your photos and videos straight from your mobile device into Camtasia's media bin.
Uploading a Video with Blogger
Creating a Podcast with Blogger
How to create a blog with Blogger
Blogger: Skapa din gratisblogg
VERKTYG FÖR LÄRANDE
Välkommen in i Bagarmossen