Blogs Musées internationaux
Musematic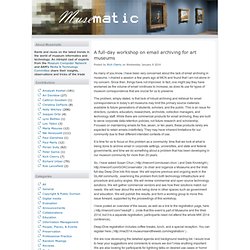 Museums and the Web 2012 finished up yesterday, with a closing plenary called Epic fail – a forum on failure and 'failing forwards' with Seb Chan, Jane Finnis and Bruce Wyman. For two hours, we heard about 5 failed technology projects, discussing what didn't work and why, and any positive outcomes. Maybe that's why I woke up this morning thinking about the Bump app for iPhone. So here's my top 10 list of failed technology initiatives. I'm not going to discuss specific failed projects, but those technologies we, as a community, thought were worth pursuing and, for some reason or another, just didn't end up becoming an integral part of our musetech landscape. I also want to stress that this list in no way is intended to dismiss the very real value of these technologies, or diminish the efforts of those who saw that value and tried to get programs off the ground.
*arts marketing.jp
Musematic
Fresh & New(er)
Sometimes the bad guys come out on top Sometimes the good guys lose We try not to lose our hearts, not to lose our minds Sometimes the bad days maintain their grip Sometimes the good days fade Hurts the brain to think, hurts the hand to drink (Ohm, Yo La Tengo) Yeah its been an "interesting" year – in the manner of that Chinese curse (that apparently wasn't actually Chinese at all). There's been a lot going on and the "unnecessarily busy" times of New York City do grind you down. As does the general intensity of injustice and disparity. It doesn't seem to be that much better back home either.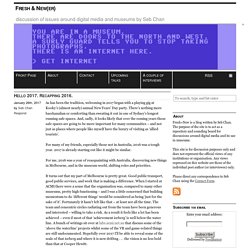 Culture Geek – Digital Arts Marketing
Culture professionals network
Ask a Curator
MuseumNext - Europe's big conference on the digital side of museums
En 2006, le Centre Pompidou, sous l'impulsion du philosophe Bernard Stiegler, a créé en son sein l'Institut de recherche et d'innovation pour anticiper, accompagner, et analyser les mutations des pratiques culturelles permises par les technologies numériques, et pour contribuer parfois à les faire émerger. En août 2008, l'Iri a acquis un statut d'association de recherche autonome dont les membres administrateurs sont le Centre Pompidou, le Centre de Culture Contemporaine de Barcelone, Microsoft France, le Goldsmiths College de l'université de Londres, l'Université de Tokyo, l'Institut Mines-Telecom, l'ENSCI, Alcatel Bell Labs et France Télévisions. Le Strate Collège Designer et l'Ecole d'Art des Rocailles et Ars Industrialis sont également membres de l'association.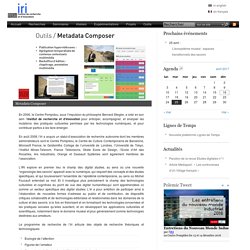 "The words we use in attempting to change museum directions matter. We need translators within each cultural context. We do not yet have precise words or even uniform understanding of the words we use. But we do have 'and.'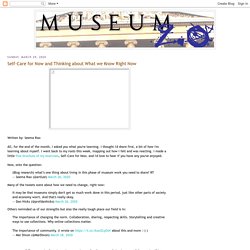 COMMUNICATING THE MUSEUM