Love
Ending a Long Term Relationship Facts. So My Friend Got These Coupons From His Girlfriend.. I'm So Jealous.. How Men Really Think. Romantic Ideas | How to be Romantic. Keep the passion alive with some of these romantic ideas for your boyfriend, girlfriend, husband, or wife!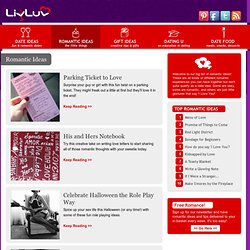 In our experience, the best ones aren't necessarily grand romantic gestures with candles and champagne, some of the most memorable ideas are thoughtful little things that say 'I love you!' Things like love letters, a fun after dinner menu of love, or a simple note written in glow in the dark paint. But that doesn't mean elaborate romantic ideas can't be a lot of fun too! Romantic Date Ideas: I Know You. Do you know your date?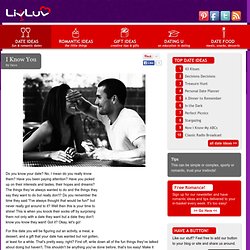 No, I mean do you really know them? Have you been paying attention? Have you picked up on their interests and tastes, their hopes and dreams? 10 Timeless Guidelines for a Happy Relationship. Relationships are under a lot of pressure these days and I want to help.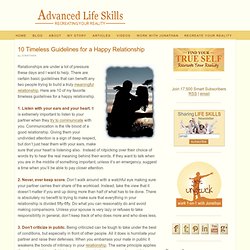 There are certain basic guidelines that can benefit any two people trying to build a truly meaningful relationship. Here are 10 of my favorite timeless guidelines for a happy relationship. There is a pillow that connects distant lovers through heart beats. Pillow Talk is a project aiming to connect long distance lovers.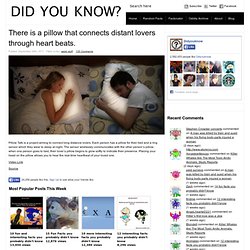 Each person has a pillow for their bed and a ring sensor which they wear to sleep at night. The sensor wirelessly communicates with the other person's pillow; when one person goes to bed, their lover's pillow begins to glow softly to indicate their presence. Placing your head on the pillow allows you to hear the real-time heartbeat of your loved one. Video Link Source. True love: When he died, his wife commissioned this sculpture. Dates. 67 Cheap Date Ideas for the Recession-Era Romantic. By Kyle O'Connor on April 29, 2009 When you're in the middle of the worst recession since the Great Depression, it's not always easy to come up with the cash to impress your date.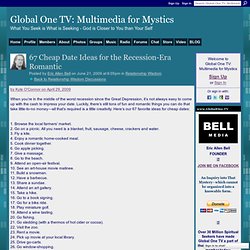 Luckily, there's still tons of fun and romantic things you can do that take little-to-no money—all that's required is a little creativity. What Does Love Mean? When my grandmother got arthritis, she couldn't bend over and paint her toenails anymore.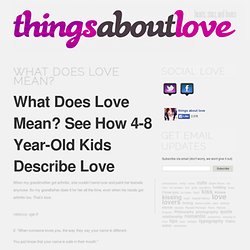 So my grandfather does it for her all the time, even when his hands got arthritis too. That's love. 2.
---