Funny
Best Of DYAC
DudeOnSkis | highDEAS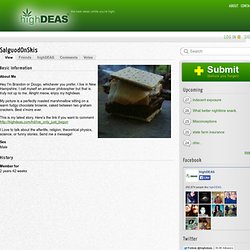 Hey I'm Brandon or Dougo, whichever you prefer, I live in New Hampshire. I call myself an amatuer philosopher but that is truly not up to me. Alright meow, enjoy my highdeas. My picture is a perfectly roasted marshmallow sitting on a warm fudgy chocolate brownie, caked between two graham crackers. Best s'more ever.
Really Smart Girl | MakeUseOf Geeky Fun
He could be your boss one day… | MakeUseOf Geeky Fun
Peace Vincent Gallo
Wow, to every smug spectator, (blabbering their mouths from the peanut gallery,) I won't even bother to take the time out to tell you what to go out and get; such as a heart, or something better to do than flap your lips with ignorant and heartless comments. Not to mention, the bulls**t "comeback" responses ya'll have made to each individual's intelligent and heartfelt comments, post and prior to yours! No one asked you to take a look at these magnificent pictures and no one asked you for your opinion. Furthermore, and in fact lastly, ask yourself this one question; "Am I channeling my thoughts and passions for the good of what I'm reacting to?
Don't mind me, just building my house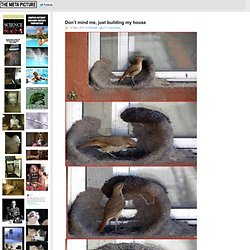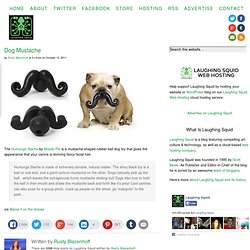 Dog Mustache
The Humunga Stache by Moody Pet is a mustache-shaped rubber ball dog toy that gives the appearance that your canine is donning fancy facial hair. Humunga Stache is made of extremely durable, natural rubber. The shiny black toy is a ball on one end, and a giant cartoon mustache on the other. Dogs naturally pick up the ball…which leaves the outrageously funny mustache sticking out!
modern pooch : your daily doggy fix
Thanks to my brother (who just landed in Tokyo) for this! "Conan started to pose in prayer like us whenever he wanted treats," said Joei Yoshikuni, a priest at Jigenin temple on the southern island of Okinawa. "Clasping hands is a basic action of Buddhist prayer to show appreciation.
the goodbye shirt
19 Best Angry Windshield Notes
Useful Dog Tricks performed by Jesse
Not A Morning Dog Video
DEAR BLANK, PLEASE BLANK - Pìcame – Visual arts smugglers.
Un progetto ironico e geniale di Jared Wunsch e Hans Johnson. Le stampe si possono acquistare online ma la cosa più divertente è inviare le proprie submission e vedersele pubblicate sul sito. Altri esempi dentro al post. UPDATE: si può scaricare gratis l'app per iPhone da qui. An ironic and brilliant project by Jared Wunsch and Hans Johnson.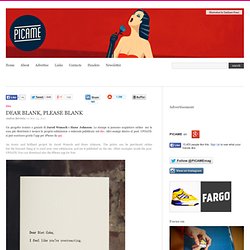 Dog Goes Nuts During Soldier Homecoming Video