Funny
Best Of DYAC. DudeOnSkis | highDEAS. Hey I'm Brandon or Dougo, whichever you prefer, I live in New Hampshire.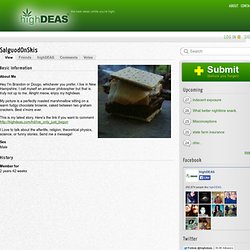 I call myself an amatuer philosopher but that is truly not up to me. Alright meow, enjoy my highdeas. My picture is a perfectly roasted marshmallow sitting on a warm fudgy chocolate brownie, caked between two graham crackers. Best s'more ever. Really Smart Girl | MakeUseOf Geeky Fun. He could be your boss one day… | MakeUseOf Geeky Fun.
Peace Vincent Gallo. Don't mind me, just building my house. Wow, to every smug spectator, (blabbering their mouths from the peanut gallery,) I won't even bother to take the time out to tell you what to go out and get; such as a heart, or something better to do than flap your lips with ignorant and heartless comments.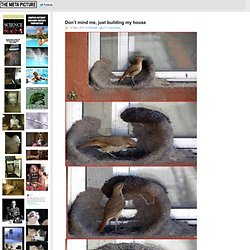 Not to mention, the bulls**t "comeback" responses ya'll have made to each individual's intelligent and heartfelt comments, post and prior to yours! No one asked you to take a look at these magnificent pictures and no one asked you for your opinion. Furthermore, and in fact lastly, ask yourself this one question; "Am I channeling my thoughts and passions for the good of what I'm reacting to? Dog Mustache. Modern pooch : your daily doggy fix. The goodbye shirt. 19 Best Angry Windshield Notes. Useful Dog Tricks performed by Jesse. Not A Morning Dog Video. DEAR BLANK, PLEASE BLANK - Pìcame – Visual arts smugglers. Un progetto ironico e geniale di Jared Wunsch e Hans Johnson.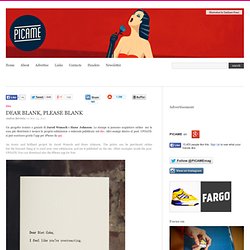 Le stampe si possono acquistare online ma la cosa più divertente è inviare le proprie submission e vedersele pubblicate sul sito. Altri esempi dentro al post. UPDATE: si può scaricare gratis l'app per iPhone da qui. An ironic and brilliant project by Jared Wunsch and Hans Johnson.
Dog Goes Nuts During Soldier Homecoming Video.
---