Drinks
Super Fruity Sangria. This Sangria recipe maximizes the fruit content and adds a new twist, using a white wine, instead of the traditional reds.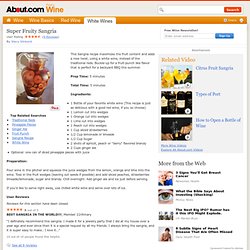 Buckle-up for a fruit-punch like flavor that is perfect for a backyard BBQ this summer. Prep Time: 5 minutes Total Time: 5 minutes. S'moretini Shooters. Me again.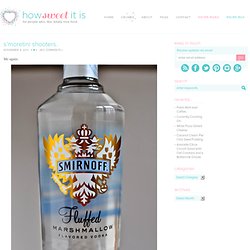 Here to convince you that you need yet another trendy, insanely-flavored bottle of booze. I do what I can. I know what you're thinking. "Does marshmallow vodka really taste that different from that whipped cream vodka you already insisted that I buy? Cocktail Guide. How to Make Caramel Apple Shots. Photo: Michelle Oddis Once in a while, a party trick comes along that grabs our attention.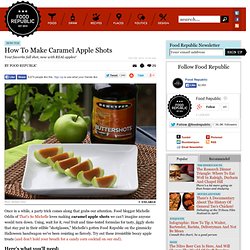 Food blogger Michelle Oddis of That's So Michelle loves making caramel apple shots we can't imagine anyone would turn down. Using, wait for it, real fruit and time-tested formulas for tasty, jiggly shots that stay put in their edible "shotglasses," Michelle's gotten Food Republic on the gimmicky Halloween bandwagon we've been resisting so fiercely. Try out these irresistible boozy apple treats (and don't hold your breath for a candy corn cocktail on our end).
Here's what you'll need: Jolly Rancher Vodka Tutorial. Skittles Vodka Tutorial. 50 Smoothies : Recipes and Cooking. 1.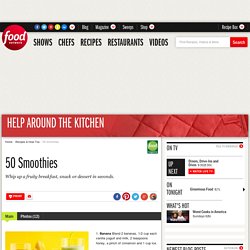 Banana Blend 2 bananas, 1/2 cup each vanilla yogurt and milk, 2 teaspoons honey, a pinch of cinnamon and 1 cup ice. 2. Strawberry-Banana Blend 1 banana, 1 cup strawberries, 1/2 cup each vanilla yogurt and milk, 2 teaspoons honey, a pinch of cinnamon and 1 cup ice. 3. Strawberry Shortcake Blend 2 cups strawberries, 1 cup crumbled pound cake, 1 1/2 cups each milk and ice, and sugar to taste. 7UP Mixers. Caramel Macchiato Cider with Cinnamon Cream. Try Kitchen View!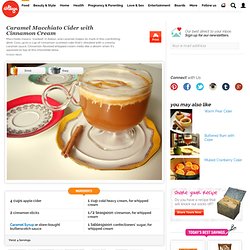 Take your computer to the kitchen and view this recipe full-screen, with step-by-step directions. Enter Kitchen View 1 Make Caramel Syrup and allow to cool. Pour into a squeeze bottle with a tip. 2 On the stove, simmer apple cider and cinnamon sticks in a saucepan for at least 10 minutes. 3 In a mixing bowl, whip cold heavy cream with a whisk or the whisk attachment of your electric beaters. When soft peaks form, add cinnamon and confectioners' sugar and continue beating until stiff peaks form. 4 Pour hot cider into glasses, and top each with a large dollop of whipped cream. Wine Types Chart. 10 Jello Shots Worth the Hangover. The Ultimate Strawberry Lemonade. One of the first times I ever realized that – HEY!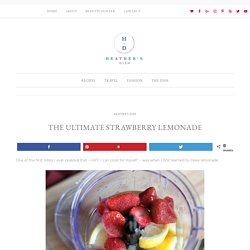 I can cook for myself! – was when I first learned to make lemonade. I magically found the refrigerated lemon juice at our house and followed the directions to make my own lemonade. I stirred and stirred and stirred again until that sugar was finally dissolved.
---