PhD Theoretical framework
Do You Live In A City? Hmm. Let's Find Out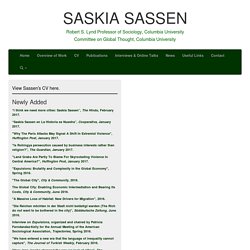 Saskia Sassen's research and writing focuses on globalization (including social, economic and political dimensions), immigration, global cities (including cities and terrorism), the new technologies, and changes within the liberal state that result from current transnational conditions. In each of the three major projects that comprise her 20 years of research, Sassen starts with a thesis that posits the unexpected and the counterintuitive in order to cut through established "truths". Her first multi-year project led to The Mobility of Labor and Capital (Cambridge University Press 1988).
Theory Talks: Theory Talk #20: David Harvey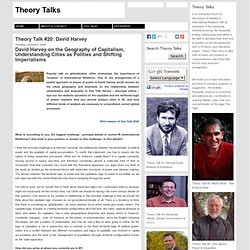 What is, according to you, the biggest challenge / principal debate in current IR (International Relations)? And what is your position or answer to this challenge / in this debate? I think the principal challenge is to theorize 'correctly' the relationship between the territoriality of political power and the spatiality of capital accumulation.
Design History and Theory | Team
Univ.Prof. Alison J. Clarke PhD, MA (RCA) BA (Hons) Design History MA (RCA) History of Design with Distinction PhD. (Lond.)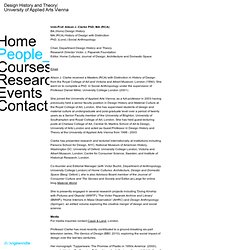 Society for Visual Anthropology » Blog Archive » Visual Research Conference, CFP 2012
Society for Visual Anthropology
Call for Papers, American Ethnological Society Spring Meeting in collaboration with the Society for Visual Anthropology Boston, Park Plaza Hotel, 10-12 April 2014 Theme: In/visibility: Projects, Media, Politics Keynote presentation by Faye Ginsburg, New York University, "Cripping the Camera: 'f##k inner beauty!'" Additional plenary presenters include John Jackson, Jr., Lucien Castaing-Taylor, Véréna Paravel, Anna Grimshaw, and Michael Herzfeld Organizer email: samuel.martinez@uconn.edu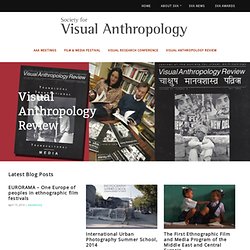 Ohio State University, Department of History of Art Columbus, OH, April 11 - 12, 2014 Proposals due: January 17, 2014 (extended deadline) This conference seeks papers that address and examine the shifting trajectories and connected histories of individual objects and ideologies across time and space. Over the last decade, there has been increased interest in network culture in ancient cultures, the early modern world, and postmodern globalization. This conference will focus on the ways in which material culture – singular artworks, objects, and technologies – reveals what Sanjay Subrahmanyam proposes as "the at times fragile threads that connect the globe."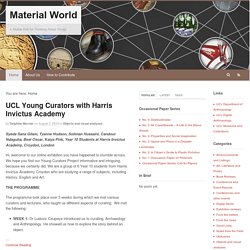 Material World | A Global Hub for Thinking About Things
Book.aspx
Material Cultures - Why Some Things Matter D Miller Ed
Stephen Wolfram is celebrating the tenth anniversary of the publication of A New Kind of Science, a milestone in the development of complexity science that is more significant than any other for me, as it was reading through that book in 2007 that gave me the motivation and the sense of purpose to begin writing about urbanism and complexity science. Although I had taken a personal interest in urbanism as an undergraduate student of economics and computer science, mostly out of a sense of outrage at its condition as a practice whether technical, artistic or political, I was hard pressed to explain to my entourage my decision to go to graduate school for an urban planning degree. It seemed utterly disconnected from anything I had been involved in previously, and offered dire career prospects as well (in my defense, this time period is described by famous technologists as the "nuclear winter" of the industry, so my planned career had already been derailed).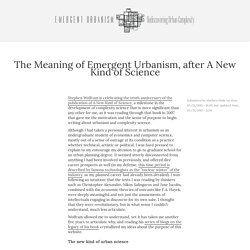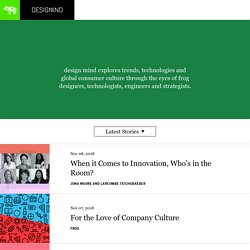 These Drones Will Save Your Life By Cormac Eubanks - January 17, 2014 The word "drone" usually conjures up negative images of invisible eyes in the sky and shadowy, unknown forces. As frog designers, we are natural optimists who see these unmanned aerial vehicles as an opportunity to improve people's lives – and possibly even save them. This is our vision of a future where drones are not spies, weaponry or scary agents of evil; they can be trusted aids that assist humans tasked with doing some of the most dangerous work we know. In this world, these devices -- with their sensors and bleeding edge technology -- become extensions of our society's infrastructure and essential to our well-being.
From Evaluation to Inspiration January 13, 2014 It's time to shift from a culture of evaluation to a culture of inspiration. Failure: The Good F-Word January 10, 2014 The value of failure is that it creates a dent in our usual routines and propels us to re-evaluate our strengths, as well as seek out new creative solutions. No one can escape life´s inevitable curve balls, but perhaps by meeting them with the right mindset—with an awareness of our underlying strength and adaptability—we can learn to embrace adversities, and harness their capacity to lead to greater well-being and resilience. What's Sparking Me Now January 08, 2014 I am everyday surprised, humbled, and giddy excited about bike commuting and its impact on creativity, people, and cities across the world – specifically on local community connectivity, release and mindfulness, manufacturing, and fashion.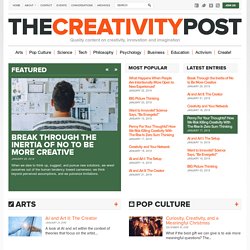 Downloads - The Public Policy Facilitator's Toolbox
DIY Urbanism Competition Call for Artists Now Available « Pop UP Pearl
22 Mar Park(ing) Day, San Francisco. [photo courtesy of SPUR] Call for Artists Now Available! Pop UP Pearl (and Cleveland!)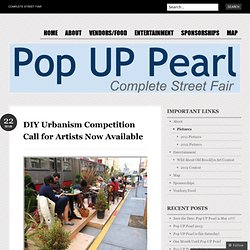 Our cities and city regions are facing an urgent challenge to create jobs and economic growth- but how can this be balanced with the need to improve social cohesion and create sustainable communities? And what are the opportunities for durable growth and investing in Green Infrastructure and how does a high quality environment attract and retain talent and confidence? So Green Growth: New Shoots will ask the critical questions. How can our cities generate smart, sustainable and inclusive growth, making the most of our green credentials and people's passions, potential and proficiencies? We could contend that these assets are amongst our most valuable advantages. With the right leadership and stewardship this could become a distinct competitive advantage for future growth!
Green Growth New Shoots | GGNS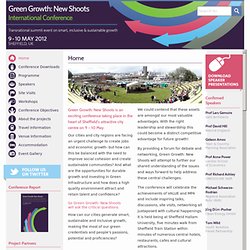 ebookbrowse search | download | share Popular Documents last week mounth all
Platform Support License Information Full details of the license are available here. Accolades Imagine an environment where concepts and notes, images, as well as URLs, file objects and datasets of rows and columns can all be placed together on the same page and governed within a single structure and metadata (tags, relationships), and you will get an idea of what VUE is all about. VUE is a very ambitious project whose simple interface belies the power and potential that it has to offer.
Visual Understanding Environment - Gallery
Introduction At Except, we use VUE almost every day; because of its simplicity, we have found it to be the most useful tool available for quickly making system maps and causal loop diagrams. Click for full image Using VUE The two maps shown here are an example of how we use the program.
unnamed pearl
PHILLY WORKS
Tactical Urbanism Salon
roberto_verganti_presentation.mp3 (audio/mpeg Object)