Design & Art > e-shopping platforms
eBay: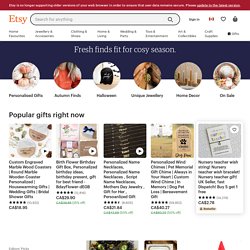 Close Sign In Using Facebook or Forgot your password? Forgot your username or email? Reopen your account?
Advertisement Times when online-shops were boring and unattractive are over. To attract customers' attention designers tend to design online-shops according to the atmosphere it has to create. An online-store in which retro-products are offered is designed in a retro-look. And shops which are aiming to attract young customers are designed in vibrant colors and modern style. Furthermore, interactive browsing through the store, implemented with Flash and JavaScript, gains on popularity as well.
Design Showcase Of Creative Online-Shops - Smashing Magazine
New Zealand Design Store | NZ Design, Art & Kiwi Gifts | NZ Art & Design Store endemicworld.com | Shop Online
top3 by design- australia's design store
Loja Público Marcas
The best online design stores | Life and style
frankworks.eu Applied handmade arts and crafts by British designers from Whitstable-based design shop Frank. Its textiles in particular are gloriously sunny (01227 262500). twentytwentyone.comHot European furniture design, cool ceramics and wonderful vintage items (020-7837 1900). corollacream.co.ukDelightful vintage finds, such as this popular 1960s coffee pot by J&G Meakin, featuring the Aztec design. Word of warning: vintage stock, by its nature, varies (01304 381842). pedlars.co.ukThe place to go for decorative accessories hard to find on the high street: unusual lighting from the likes of Tord Boontje, wall stickers and hooks, and a superbly evocative vintage section (01330 850400).