CULTURE + CITY
A estação Baixa-Chiado PT Bluestation é mais uma vez palco de uma agenda agitada; março foi o mês escolhido e moda é a palavra-chave. O programa é da autoria de Rita Rolex, responsável pelo gabinete de relações públicas da ModaLisboa e co-diretora do Estoril Fashion Art Festival, que, inspirada no interior arquitetónico da estação, lançou a questão: "não é o metro, afinal, o corredor urbano por excelência?". Como já é habitual, todos os eventos são de entrada livre, e desta vez a multiplicidade de iniciativas inclui desde dicas personalizadas de styling da Pulp Fashion, à construção de um vestido com os Storytailors ou até a possibilidade de ser fotografado como um dos mais bem vestidos do dia.
Março é Moda na Baixa-Chiado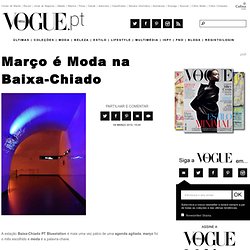 unnamed pearl
Free Love in Times Square
BIG♥NYC sculpture ©Courtesy Times Square Alliance For decades Times Square has been a destination for the New Year's Eve countdown. Now it could be a romantic rendezvous for Valentine's Day with events scheduled in the heart of New York City called "Free Love in Times Square." For the 4th year, the Times Square Alliance commissioned a public Valentine sculpture for the pedestrian walkway in celebration of February 14.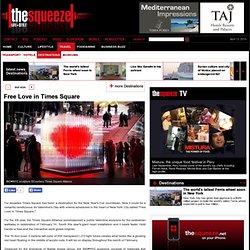 LOL Project | ça fait du bien
PUBLIC ART - Armory Arts Week
Armory Art Show Houses Multitude Of Talent
The Armory Show at Piers 92 and 94 opens to the public Thursday as Art Fair week in the city continues. To view our videos, you need to enable JavaScript.
Publicado em 29 de Fevereiro de 2012. Apesar de os cidadãos nova-iorquinos possuírem 17 milhões de telemóveis, a Grande Maçã ainda preserva, nas suas ruas, 13.659 cabinas telefónicas. Foi a pensar nesta estatística que o Departamento de Melhoramento Urbano decidiu transformar estes pedaços obsoletos de metal em mini-bibliotecas, como nos conta o arquitecto de intervenção urbana John Locke, responsável pela ideia. Locke, que tem nome de visionário, colocou dentro das cabinas uma infra-estrutura de madeira – cor-de-laranja e com dez divisórias para livros – criando uma forma inteligente de lhes dar uma nova vida e contribuindo para a vida em comunidade. Os livros foram doados pelos cidadãos. A primeira instalação, porém, não foi bem-sucedida.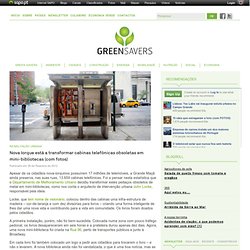 Nova Iorque está a transformar cabinas telefónicas obsoletas em mini-bibliotecas (com fotos)