Hypercube
8.1 Généralités On distingue généralement les topologies statiques où le réseau d'interconnexion est fixe, en anneau, tore 2D, hypercube, graphe complet etc. des topologies dynamiques, modifiées en cours d'exécution (par configuration de switch). Chaque topologie de communication a des caractéristiques spécifiques, qui permettent de discuter de leurs qualités et de leurs défauts. Ces caractéristiques sont, en fonction du nombre de processeurs interconnectés, le degré du graphe d'interconnection, c'est-à-dire le nombre de processeurs interconnectés avec un processeur donné, le diamètre, c'est-à-dire la distance maximale entre deux noeuds, et le nombre total de liens, c'est-à-dire le nombre total de ``fils'' reliant les différents processeurs. Les topologies de communications avec un petit nombre de liens sont plus économiques mais en général leur diamètre est plus important, c'est-à-dire que le temps de communication entre deux processeurs ``éloignés'' va être plus important.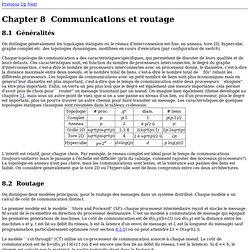 Communications et routage
download?doi=10.1.1.75
<html xmlns = "http://www.w3.org/1999/xhtml" lang = "en" xml:lang = "en" > <head profile = "http://www.w3.org/2005/11/profile http://a9.com/-/spec/opensearch/1.1/" > <meta http-equiv = "Content-Type" content = "text/html; charset=UTF-8" /> <title> CiteSeerX &mdash; Document Not Found </title>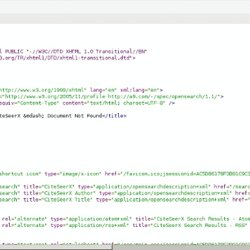 etd2165.pdf (Objet application/pdf)
Summit is the Simon Fraser University research repository, a place to bring together selected scholarship and research of SFU and to promote this work to the wider world via Open Access. These selected research outputs include theses, research reports, journal articles, digital images, book chapters, data and other scholarly and teaching related works. These works are open to the world - search or browse the content.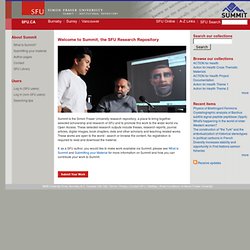 Plus Parallel Processing TextThe current text, Introduction to Parallel Processing: Algorithms and Architectures, is an outgrowth of lecture notes that the author has developed and ...www.ece.ucsb.edu/Faculty/Parhami/text_par_proc.htm Introduction to Parallel ProcessingIntroduction to Parallel Processing: Algorithms and Architectures.
Introduction to parallel processing ...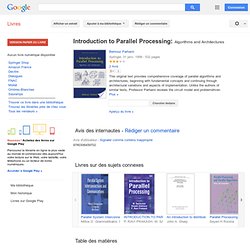 0000566.pdf (Objet application/pdf)
Hypercube (graphe)
Un article de Wikipédia, l'encyclopédie libre. Les hypercubes, ou n-cubes, forment une famille de graphes. Dans un hypercube , chaque sommet porte une étiquette de longueur